When winter's wrath hits hard, a car with all-wheel drive and good tires is your best bet to help navigate the roads safely.
All-wheel drive feeds power to all four wheels and provides maximum forward traction. It is especially helpful in wintry conditions and when driving over moderate off-road terrain. Its lightness and compactness makes AWD the system of choice for cars and crossovers. Many modern systems exact only a slight fuel-economy penalty, and their engagement is seamless.
But AWD has limitations: It does nothing to improve braking or regular cornering. Thus, such systems don't enable you to drive the same way or at the same speed as you would on a dry road.
If you're considering a new car and live in an area where roadways could be covered with ice, snow, or other traction challenges, take a look at the models below to find AWD choices in a variety of vehicle categories.
These highlighted models were ranked tops in our 2015 auto survey when we asked subscribers to rate their vehicles' performance in snowy conditions. The results revealed that some AWD and 4WD systems are better than others.
Below, SUVs and wagons are ranked for winter driving based on 47,982 subscriber ratings. All respondents had driven their vehicles without changing to winter tires on at least six snowy days during the winter of 2014 to 2015. The rankings are based on 2012 to 2015 models that have at least two model years' worth of data.
1. Subaru Outback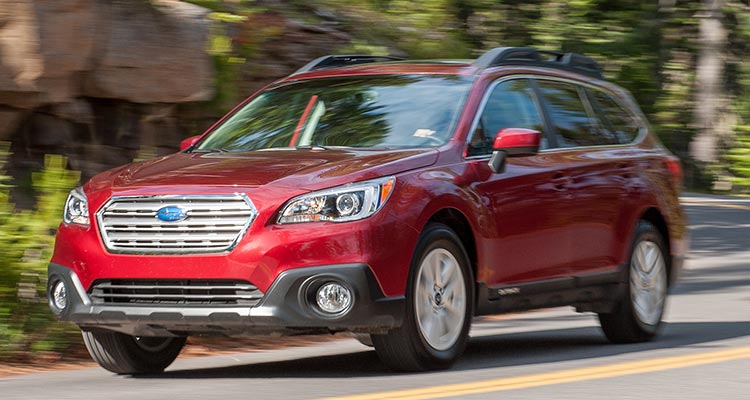 An SUV alternative for the nonconformist, the Outback wagon is roomy and functional, and it appeals to the practical-minded buyer. It rides very comfortably, with secure handling. Standard AWD delivers reassuring traction in wintry conditions. The 2.5-liter four-cylinder returns 24 mpg overall and drives through a standard continuously variable transmission. Opting for the 3.6-liter six-cylinder makes the car quicker, quieter, and thirstier, conceding 2 mpg. The controls are all easy to use, including the touch-screen infotainment system. The wagon's generous rear seat is roomy enough for three adults. The generous cargo area is comparable to a Forester or Toyota RAV4, with a lower loading height to boot. The affordable EyeSight safety suite adds blind-spot monitoring and forward-collision warning with automatic braking.
Read the complete Subaru Outback road test.

2. Subaru Crosstrek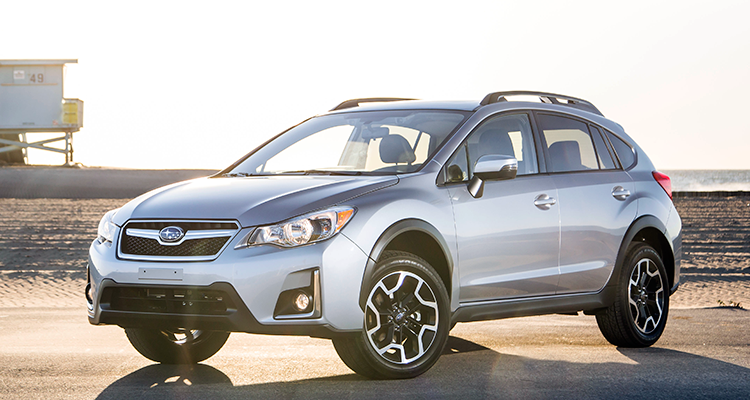 The Crosstrek is a small quasi-SUV version of the previous-generation Impreza hatchback, with a raised ride height that gives it enough clearance to slosh through deeply rutted roads. It may appeal to those people who live at the end of a dirt road and don't want anything big and bulky. The cabin is rather noisy, the ride is stiff, and the 148-hp, 2.0-liter four-cylinder engine occasionally has to work hard, but fuel economy is a gratifying 26 mpg. The costlier Hybrid, and its 28 mpg, has been discontinued for 2017. In the end, the regular Impreza hatch may be a better choice: It's quieter, quicker, cheaper, and better-riding, even if its lower ride height makes cabin access a bit more difficult.
Read the complete Subaru Crosstrek road test.

3. Subaru Forester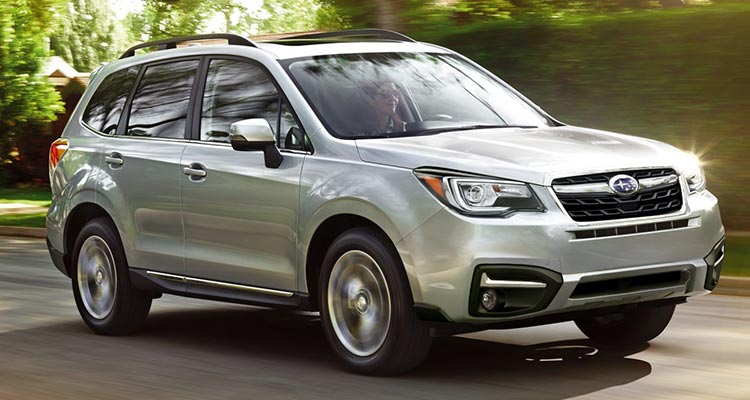 Hitting the sweet spot among small SUVs, the Forester delivers a spacious interior, impressive safety equipment and crashworthiness, and outstanding visibility in a right-sized, affordable package. Fuel economy is excellent at 26 mpg overall, especially given the standard AWD. The ride is supple, and handling is very secure. Engine noise is pronounced at times. Controls are straightforward and easy to use. The infotainment and connectivity systems have finally been updated with an intuitive touch screen. Midtrim Foresters bring a lot of content for the money, but it's easy to crest $30,000 with options packages. A feisty turbo comes with XT trim but compromises the value equation. The optional (and recommended) EyeSight system includes lane-departure warning and front-collision warning.
Read the complete Subaru Forester road test.

4. Audi Q5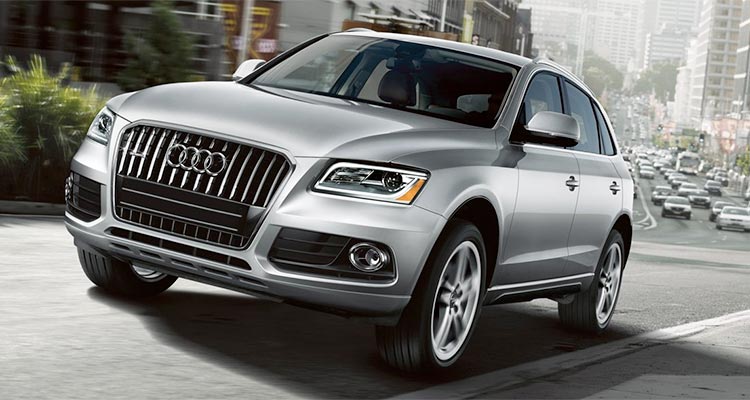 The Q5 is almost as fun and as rewarding to drive as a sports sedan. The ride is steady and composed, and the cabin is quiet. Audi's turbocharged four-cylinder engine and eight-speed automatic racked up 21 mpg overall in our tests. Though the four-cylinder delivers plenty of performance, it is louder and less refined than the 3.0-liter, supercharged V6, which is a real treat but bumps up the price considerably. The cabin is elegantly modern, with very supportive seats, but rear-seat and cargo space are modest. The infotainment system takes some getting used to but ultimately proves logical with familiarity. A sportier 354-hp SQ5 and a hybrid are available. A redesigned Q5 is on the horizon.
Read the complete Audi Q5 road test.

5. Chevrolet Suburban/GMC Yukon XL
If you need space for seven or more people, all their stuff, and towing capacity to boot, little else but the supersized Suburban or Yukon XL will do. These behemoths have a sumptuous and quiet interior, power-folding second- and third-row seats, and available blind-spot monitoring and cross-traffic alert. Beyond that, they're pretty much your standard hauler, with a 5.3-liter V8 mated to a six-speed automatic and a respectable 16 mpg overall. The touch-screen infotainment system is easy to use, and the magnetic ride suspension on some trims improves ride comfort and handling response and capability. Recent updates include available lane-keeping assist, plus Apple CarPlay.
Read the complete Chevrolet Suburban/GMC Yukon XL road test.

6. Jeep Wrangler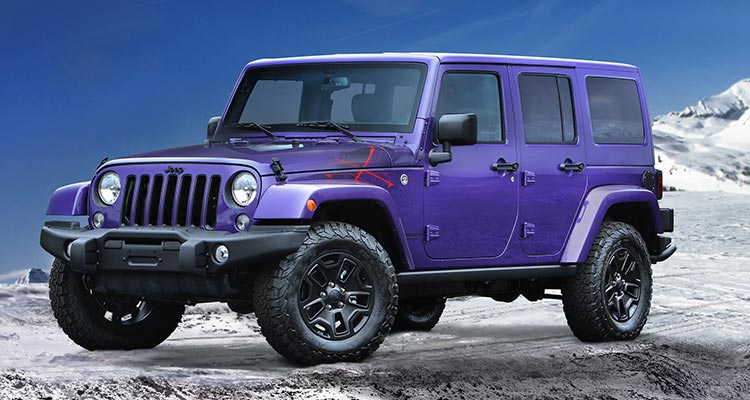 As an everyday vehicle, the Wrangler trails most SUVs, but few vehicles are better for off-road use. The Wrangler uses Chrysler's 3.6-liter V6 and five-speed automatic, which returned 17 mpg overall in our tests of an Unlimited. Though the Wrangler may be better than ever before, the ride rocks and jiggles constantly, and handling is clumsy. Wind noise is very loud at highway speeds. Getting in and out is awkward, and the interior is uncomfortable. Off-road performance is legendary, and the Rubicon version performs better there than our tested Unlimited Sahara did. Insurance Institute for Highway Safety side-crash results for the two-door are poor, and the four-door scored marginal; but offset frontal and small-overlap results for the four-door are good.
Read the complete Jeep Wrangler road test.

7. Chevrolet Tahoe/GMC Yukon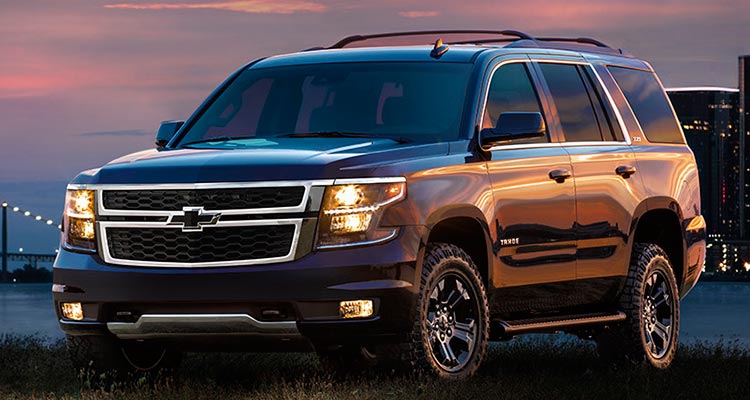 The Tahoe and Yukon have a luxurious and quiet interior, decent second- and third-row seats, and available features such as blind-spot monitoring and cross-traffic alert. Beyond that, fuel economy from the 5.3-liter V8 and six-speed automatic is 16 mpg. But the engine doesn't feel responsive enough in everyday driving. The touch-screen infotainment system is easy to use. The ride is stiff, although the Magnetic Ride Control suspension on some trims improves ride comfort and handling response and capability. Properly equipped versions can tow 8,500 pounds. But car-based SUVs have better handling and are more efficient. Lane-keeping assist is now available.
Read the complete Chevrolet Tahoe/GMC Yukon road test.

8. Jeep Grand Cherokee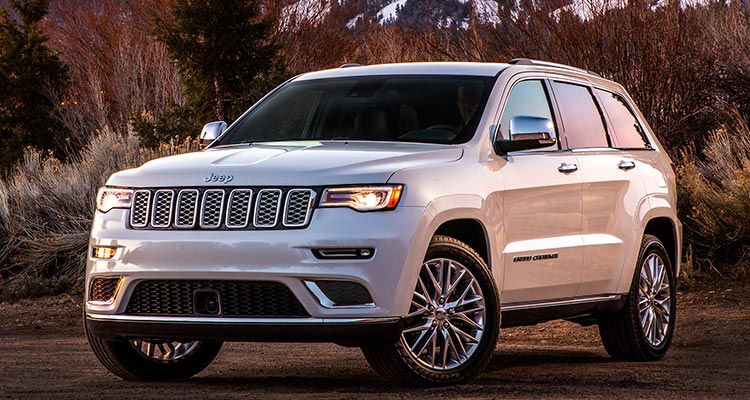 We like driving the Grand Cherokee, with its solid, upscale interior; comfortable seats; and supple, controlled ride. Handling is competent, fit and finish is excellent, and the eight-speed automatic shifts smoothly. The standard 3.6-liter V6 returned just 18 mpg, though. We also tested the diesel, which racked up 24 mpg overall. Two V8s, a 5.7-liter and the SRT's 6.4-liter, are optional. The Uconnect infotainment system, with its large, well-labeled touch screen, is one of the best we've tested. Appropriately optioned, the Jeep makes a good tow vehicle or a capable off-roader. Updates for 2016 include engine stop-start for the revised V6, Siri Eyes Free, and an easier-to-use shift lever.
Read the complete Jeep Grand Cherokee road test.

9. Toyota 4Runner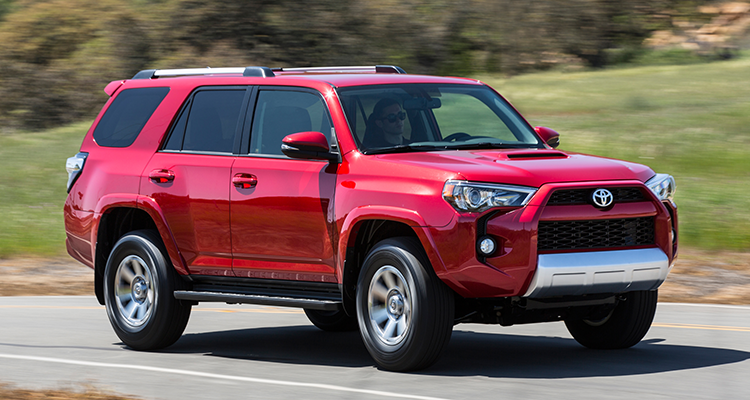 Tough and ready to tackle off-roading adventures, the truck-based 4Runner falls short of most modern SUVs. Its rough-sounding 4.0-liter V6 is powerful and reasonably fuel-efficient. But the ride is unsettled, and handling is clumsy. The body leans while cornering, and the bobbing and bouncing ride chips away at driver confidence. Limited versions have a tighter suspension with somewhat better control, but at the expense of a stiffer ride. A high step-in and low ceiling compromise access and driving position. The SR5's 4WD system is part-time only. A third-row seat is optional, and the power-retractable rear window is handy.
Read the complete Toyota 4Runner road test.

10. Ford Expedition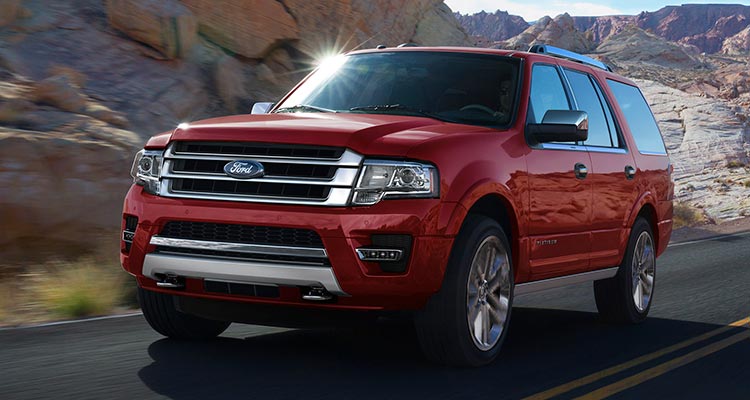 This imposing SUV's 3.5-liter turbocharged V6 delivers more power and better fuel economy than the V8 it replaced. Paired with the standard six-speed automatic, our Expedition returned 14 mpg overall in testing, a 1-mpg improvement. The V6 also has plenty of torque for trailer towing. Regular- and long-wheelbase versions are available, as well as eight-passenger seating. And that's where the fun stops. The aging Expedition trails the competition because of its clumsy handling, noisy cabin, and low-rent interior. For the 2016 model year, Sync 3 replaces the much-maligned MyFord Touch infotainment system.
Read the complete Ford Expedition road test.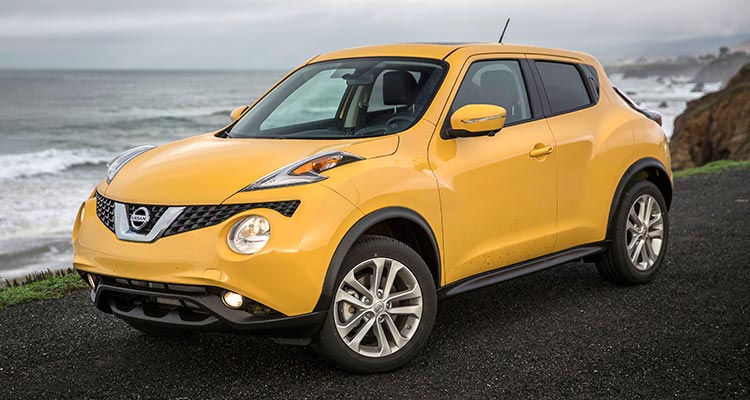 Worst SUVs/Wagons in Snow