Featured Products
We rigorously test products and services—check out our product reviews and ratings and make the smart choice.
Latest From Consumer Reports
Inside the April 2017 Issue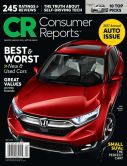 From Our President: Marta L. Tellado
This month, as we reveal our 10 Top Picks—the best cars of the year—and our best and worst lists of new and used cars, we're also looking at concerns over dangerous shifters and bringing you up to speed on the state of self-driving vehicles. We're breaking down this complex technology to let you know exactly where things stand. Get all the details.
More