Featured Products
We rigorously test products and services—check out our product reviews and ratings and make the smart choice.
Latest From Consumer Reports
Inside the May 2017 Issue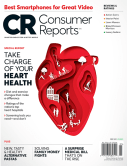 From Our President: Marta L. Tellado
With heart disease responsible for about one in seven deaths—and with about 800,000 Americans suffering a heart attack yearly—chances are you or someone you love has been touched by heart disease. CR is committed to empowering you when it comes to having the trusted knowledge you need to ensure the good health of you and your family.
More