Stuffing, or dressing as it is called in some parts of the South, is arguably the favorite dish on the Thanksgiving table for many people. But in the time-crunched frenzy of putting together a holiday feast, preparing made-from-scratch stuffing may feel like one task too many.
Still, you don't want something you (and your guests) look forward to eating all year to disappoint. So to help ease your Thanksgiving stress, CR's food-testing team put nine packaged stuffing mixes to the test—and found three that you can feel good about serving.
What Makes for a Good Stuffing?
First, our experts set the criteria for a successful stuffing.
Texture is what stuffing is all about. It should be uniformly moist and soft, not mushy or soggy, with pieces that hold their shape rather than break down into a pastelike consistency.
A few chewy or crunchy bread pieces are fine, but they shouldn't dominate and should be spread evenly throughout the dish. Cornbread stuffings can have crumbly pieces and a slightly grainy texture, which is common to cornbread.
The herb, bread, salt, and fat flavors in the stuffing should be balanced, with no off-notes or particular flavor overwhelming the others. The herbs should have a clean taste, not harsh, and the flavors should be well-blended.
The Taste Test
In blind tastings, expert tasters reviewed nine stuffings in two categories—herb/chicken and cornbread—in separate taste groups. Over a period of two days, each stuffing was prepared twice following the manufacturers' instructions. Some called only for the addition of broth or water and butter, while others included fresh onion and celery, and even carrots.
Of the five herb/chicken stuffings—including gluten-free and whole-wheat varieties—Pepperidge Farm Herb Seasoned Classic Stuffing, Stove Top Cornbread Stuffing Mix, and Glutino Gluten Free Pantry Cornbread Stuffing, ranked in order, received good taste ratings.
Nutrition Notes
Stuffing is essentially bread, salt, and butter, so it probably comes as no surprise that it isn't the healthiest food being served on the Thanksgiving table.
All of the stuffings except one received fair nutrition scores. Stove Top Whole Wheat Stuffing Mix for Chicken scored good for nutrition because it was higher in fiber than the others and the directions called for just 1½ tablespoons of butter per package, vs. 4 tablespoons for the other products.
Unfortunately, this stuffing ranked at the bottom of the herb stuffings in our tests for taste. It received a good rating, but the harsh, dehydrated seasonings overwhelmed the flavor, and the stuffing had a slightly bitter taste with chewy dehydrated vegetable pieces.
Per ½ cup prepared, the stuffings we tested ranged from 132 calories (Aleias Gluten Free Savory Stuffing Mix) to 177 calories (Great Value Chicken Flavored Stuffing Mix and Stove Top Lower Sodium Stuffing Mix for Chicken).
To cut back on the sodium in the stuffings, we used 33 percent less sodium chicken broth, and our tasters did not find a big difference in flavor compared with stuffings made with regular broth. We also used unsalted butter.
Still, the sodium count ranged from 250 mg (Stove Top Lower Sodium Stuffing Mix for Chicken) to 604 mg (Glutino Gluten Free Pantry Cornbread Stuffing) per serving.
"If sodium is a concern, consider Stove Top Lower Sodium Stuffing Mix for Chicken and making it with lower sodium broth and unsalted butter," says Ellen Klosz, who oversaw our stuffing testing. "Its mild base lends itself nicely to 'doctoring up' with fresh herbs, chestnuts, apples, carrots, or more onion and celery."
Making Stuffing Healthier
In addition to using lower sodium broth and unsalted butter, try using less butter than what's called for in the instructions or switch to olive oil or a lower-fat vegetable oil-based spread. Adding plenty of chopped vegetables—onions, carrots, and celery—or even fruits like apples or pears will stretch the stuffing and lower the calorie, fat, and sodium content per serving.
And if you must have sausage in your stuffing, use chicken or turkey sausage. They're lower in calories and fat than pork sausage, although the sodium count is still high. You can also halve the amount in the recipe and still get the sausage flavor.
Keep an eye on portions. When you're spooning stuffing out at the dinner table, serve yourself about an ice-cream-scoop-sized helping; that should be about ½ cup. You want to leave room on your plate—and in your Thanksgiving Day calorie budget—for other favorites. But if you really love stuffing and must have more, skip the other starchy sides, such as mashed potatoes and dinner rolls.
Remember, too, that a safe stuffing is a healthier stuffing. Whether in the oven or on the stove, stuffing is best prepared outside the turkey. The juices from the turkey can be absorbed by the stuffing, and those juices could contain salmonella or other food-poisoning-causing bacteria. To make sure the stuffing inside a bird is safe, you have to cook it until it reaches a temperature of 165° F. By the time it gets there, the turkey itself will likely be overcooked. If you want to get the flavor of the turkey juices in your stuffing, spoon them out of the roasting pan once the turkey is ready and mix them into the stuffing before serving.
3 Creative Ways to Spruce Up Stuffing
Stuffing takes well to all kinds of seasonings, so you can try different versions. Start with one of the Pepperidge Farm winners as your base, follow the stovetop directions on the package, and then pick from the three options here.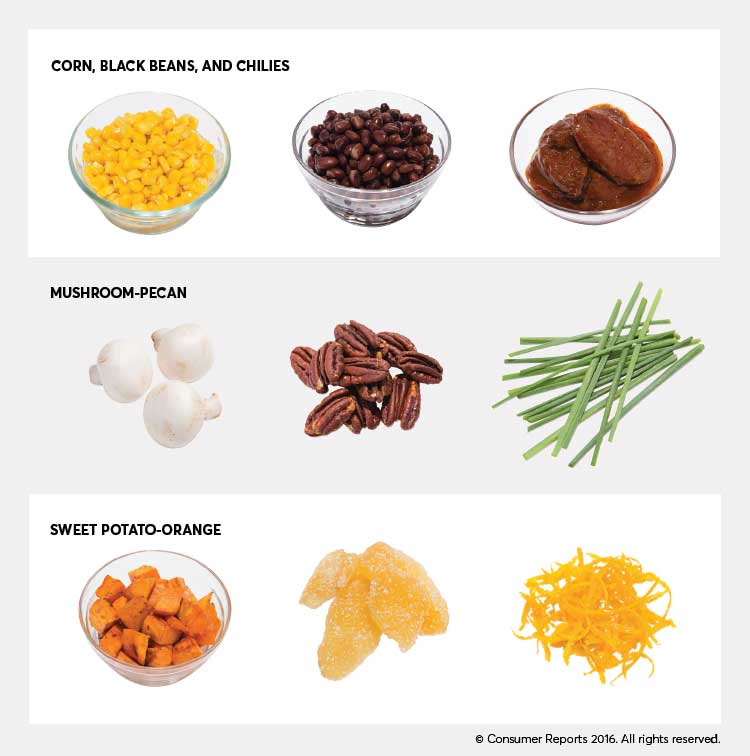 Corn, Black Beans, and Chilies
1 cup frozen corn kernels, thawed
2 tablespoons chipotle chilies, chopped
¾ cup canned black beans, drained and rinsed
Combine corn and chilies with celery and onions called for in the package recipe. Add stuffing mix, broth, and beans. Heat through and serve.
Mushroom-Pecan
1 tablespoon extra-virgin olive oil
1 cup diced mushrooms
½ cup toasted pecans
1 tablespoon finely chopped chives
1 large egg
Using 1 tablespoon of olive oil (instead of the butter called for in the package recipe), sauté mushrooms with celery and onions. Add stuffing mix and broth. When liquid is absorbed, add pecans, chives, and egg, and toss. Place mixture in a buttered 8x8-inch dish; bake for 30 minutes at 400° F.
Sweet Potato-Orange
1 sweet potato, peeled, diced, and roasted
¼ cup orange juice
2 teaspoons crystallized ginger, finely chopped
1 tablespoon orange zest
(For this recipe, use ½ cup broth instead of 1½ cups called for in the package recipe.) Combine roasted potatoes, sautéed celery, and onions. Heat through. Add stuffing mix, broth, and orange juice. Mix well. Reduce heat and add crystallized ginger and orange zest. Heat through and serve.
Shopping links are provided by eBay Commerce Network and Amazon, which makes it easy to find the right product from a variety of online retailers. Clicking any of the links will take you to the retailer's website to shop for this product. Please note that Consumer Reports collects fees from both eBay Commerce Network and Amazon for referring users. We use 100% of these fees to fund our testing programs.