This model is no longer available or might have limited distribution.
Aerus Lux Guardian Ultra vacuum cleaner
See Prices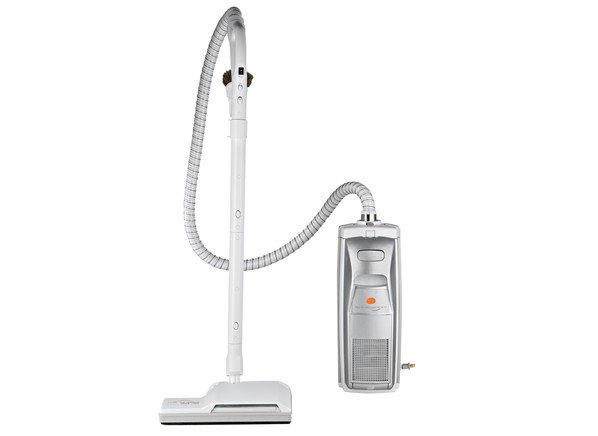 This 21-pound bagged canister from Aerus has an easy-to-reach power button, full-bag indicator, HEPA filtration, suction control, brush on/off switch, and a 20-foot, retractable cord. This model lacks manual carpet pile-height adjustment.
About
This 21-pound bagged canister from Aerus comes with an easy-to-reach power button, along with a brush on/off switch for moving between carpeted and bare floors without scattering dust and debris. It has suction control, which gives you the option to adjust the flow of air from the hose for cleaning delicate curtains or upholstery, and a relatively short 20-foot cord that retracts automatically. This Aerus also comes with a full-bag indicator, along with a HEPA filter designed to block fine particles and benefit people with respiratory problems. This model lacks manual carpet-pile adjustment, a feature that would let you raise or lower the vacuum for different pile heights.
Specs
Bag Bag Denotes whether the model has a disposable bag. A growing number of vacuums, particularly upright models, use a container that can be emptied, eliminating the bag. To capture fine-dirt particles, however, these models must use a filter (such as a HEPA filter) that can need routine cleaning or replacement. Replacement filters tend to be significantly more expensive than bags. While vacuums with bags may also use filters, the bag acts as a prefilter that helps to keep the fine-dirt filter cleaner, thus extending its performance until cleaning or replacement. Another caveat: Emptying the dustbin and cleaning a filter can be messy, and handling it may expose you to dust and other allergens.
Yes
Weight (lbs.) Weight Weight of the vacuum cleaner, to the nearest pound.
21
Cord length (ft) Cord length The length, in feet, of a model's power cord.
20
Features
Brush on/off Brush on/off An on/off switch for the rotating brush lets you stop the brush from rotating when using tools or cleaning bare floors. This helps eliminate scattered dirt on bare floors and reduces the risk of injury if the vacuum tips over during use. It also reduces the risk of damaging a carpet or the finish of a bare floor if the vacuum sits in place at the low-height setting.
Yes
Easy on/off Easy on/off A switch that's located on the handle or where your foot can activate it is more convenient than one on the body of the vacuum.
Yes
Manual-pile adjust Manual-pile adjust Lets you adjust the height of the machine to a carpet's pile height to allow for easy movement and thorough cleaning. Adjustments are automatic on some models, but we prefer the manual control afforded by some models.
No
Suction control Suction control This feature reduces the flow of air through the hose, which can be helpful when cleaning upholstery and curtains.
Yes
Retractable cord Retractable cord Common in canisters, not uprights, a retractable cord is one you can rewind via a slight tug or a push button.
Yes
Full-bag/bin indicator Full-bag/bin indicator Some models have a feature alerting the user when the dust bag or container is full, which impairs the vacuum's ability to clean. Some such models that are bagless simply have a clear bin, letting you see when the bin is full. Other models have an electronic indicator.
Yes
High efficiency particulate air (HEPA) filter High efficiency particulate air (HEPA) filter High-efficiency particulate-air (HEPA) filters provide the highest level of vacuum-cleaner filtration. In our tests, models with a HEPA filter have been very effective at reducing emissions. However, some models that don't have HEPA filters have performed just as well in our tests, and such vacuums may cost less than HEPA models.
Yes
Folds for storage Folds for storage Handle folds to minimize storage space.
No
Provided by eBay Commerce Network and Amazon, Consumer Reports Price & Shop makes it easy to find the right product from a variety of online retailers. Clicking "Shop" will take you to the retailer's website to shop for this product. Please note that Consumer Reports collects fees from both eBay Commerce Network and Amazon for referring users. We use 100% of these fees to fund our testing programs.
Why use Consumer Reports Price & Shop?
Unbiased: Retailers cannot influence placement.
Ad-free: As an integrated part of Consumer Reports, you shop in a completely ad-free environment.
New products only: You will never find used or refurbished products for sale.
Consumer Reports is an independent, non-profit organization dedicated to helping consumers. We do not accept advertising.