This model is no longer available or might have limited distribution.
Aquasource AT1203-00 (Lowe's) toilet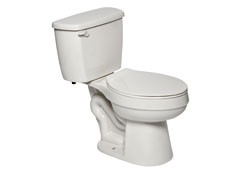 This model has been tested by our experts.
About
The Aquasource AT1203-00 (Lowe's) is part of the Toilet test program at Consumer Reports. In our lab tests, Toilet models like the AT1203-00 (Lowe's) are rated on multiple criteria, such as those listed below.
Solid waste removal: The ability to move simulated waste through the bowl and trap.
Noise: Flush quietness without the seat.
Bowl cleaning: How well flushing cleaned the bowl's front and sides.
Specs
Resists soil and odor Resists soil and odor Indicates a large water surface, which helps prevent soiling and odors.
Yes
Resists drainline clogs Resists drainline clogs Indicates this model sent simulated solid waste farther, potentially reducing drain-line clogs.
Yes
Comfort height Comfort height Comfort height models have a seat height between 17 and 19 inches to the top. These also meet Federal ADA requirements.
Yes