Britax and the Consumer Product Safety Commission today announced the recall of more than 700,000 strollers because the mounts meant to secure a car seat in place can fail, causing an infant car seat to detach. Britax has received 33 reports of car seats detaching and falling off the stroller, resulting in 26 injuries to children that included scratches, bruises, and bumps to the head. In addition, the company has received 1,337 reports of the mount becoming damaged.

The recall, which was announced on the CPSC's Facebook page, includes the Britax B-Agile and Bob Motion strollers that use Click & Go receivers (mounts) to attach an infant car seat (see red arrows in images above and below). Models included in the recall were sold in the U.S., Canada, and Mexico from May 2011 to February 2017 for $250 to $470 for the strollers and travel systems.
To see whether your stroller is affected, check the recall notices posted on the websites of the CPSC or Britax. You can find the model number on the inside of the metal frame of your stroller or on the box it came in.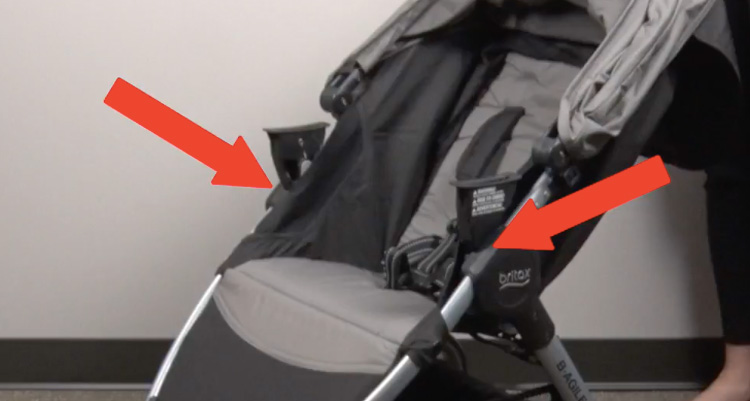 Arrows indicate the two Click & Go mounts that should be replaced.
What to Do
Britax has cautioned parents and caregivers to stop using the stroller as a travel system, meaning with the car seat attached. "You can continue to safely use your stroller in the fully reclined mode for an infant, without the car seat attached to the stroller," Britax said in its recall announcement. You can also continue using the car seat in your car.

Problems with the strollers can occur if the mounts used to attach the car seat, called Click & Go, become damaged when the stroller is folded, stored, or dropped. Though this didn't happen when Consumer Reports tested several versions of the Britax B-Agile stroller, we did observe that when the stroller was folded the brackets remained sticking out, leaving them prone to damage.

Britax is asking owners to throw away the Click & Go mounts that came with the stroller and to request a free repair kit by calling 800-227-0300 or by going to us.britax.com/recall. The repair is an easy fix and can be done without tools. To see how, watch the video on Britax's YouTube channel.

This isn't the first time that Britax Agile and Bob Motion strollers have been recalled. In 2014, the CPSC announced the recall of almost 225,000 strollers because fingers could get caught in the hinge of the folding mechanism, causing partial amputations, broken bones, and cuts, among other injuries. The company made that recall after receiving eight reports of injuries that included one partial fingertip amputation, one broken finger, and several severe finger lacerations. The strollers in that recall were sold between May 2011 and June 2013.
More stroller options. To find the right stroller for your family, see our full stroller ratings and recommendations.