People lined up to order the Tesla Model 3 before the company even unveiled it. But even after the electric car took the stage March 31, many details were unclear. Now, we have more answers—thanks in part to tweets from Tesla CEO Elon Musk.
We have combed the company's press information and Tesla's social media to create this FAQ, which we will continue to update as more information becomes available.
When Will the Model 3 Be Available?
Tesla says Model 3 production should start in late 2017. But Tesla has a habit of announcing ambitious goals, and the public and press getting overly excited by them. Starting production usually means small batches of "pilot" production that are used for regulatory purposes and are not for public sale. Ramping up to mass production at an annualized rate of 200,000 vehicles will take several months at least—meaning it should be early 2018 before deliveries occur en masse.
How Much Will It Cost?
Tesla has said the base-spec Model 3 will cost around $35,000 before federal and state tax credits (more on that later). As we've found with Teslas, though, the price accelerates quickly when you need more functionality or power.
If I Order One Today, When Would It Arrive?
Within 48 hours of the March 31 unveil, there were at least 276,000 orders and climbing, each order requiring a $1,000 deposit. That means—based on Tesla production forecasts—if you placed an order today, your Model 3 likely won't be ready until well into 2019.
For the typical car buyer, we advise holding off being the first on your block to own an all-new car. There are almost always quality glitches with new models on the assembly line, and the Tesla Model S has been no exception.
But if you ordered now, you would receive yours well into the second year of production. Any initial teething problems should be identified and solved by then. That said, it still takes commitment to reserve a product you don't know all the details about, including when it will roll into your driveway.
Will the Model 3 Use Front-, Rear-, or All-Wheel-Drive?
Like the Model S, the Model 3 will offer both rear- and all-wheel drive using either a single- or dual-motor setup.
Does the 0-60 MPH Time of Just Under Six Seconds Apply to the Dual-Motor Cars?
The 0-60 mph times for the base-model, single-motor car are said to be less than six seconds. But the dual-motor cars should be significantly quicker. We rode shotgun in a dual-motor Model 3 at the launch event, and our 0-60 estimate was under five seconds. Whether it will have a Ludicrous Mode or go to "Maximum Plaid" remains to be seen.
Is the Front-End Styling Finalized?
Many who have seen the Model 3 have criticized the grille-free, duck-billed monochromatic front end (which no doubt contributes to the car's aerodynamics). Musk has said the front end of the car will receive "some tweaking."
Will the Model 3 Be a Hatchback?
Despite its similarity in shape to the Model S, the Model 3 will be a sedan with a traditional trunk opening. Musk tweeted that, in order to provide the necessary rear seat headroom (under Model 3's massive glass rear roof), the cross-car support beam had to be moved to the base of the rear window, which precludes the use of a hatchback. In response to Twitter comments about the small size of the opening, Musk said it would be enlarged for the production vehicles.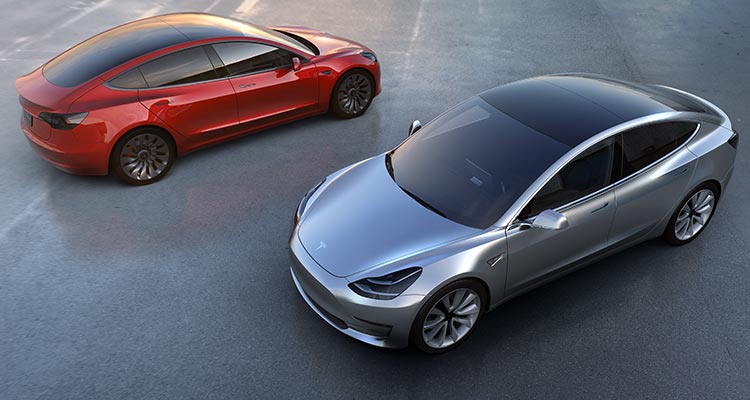 Will Child Seats Fit in the Model 3's Rear Seat?
Yes, the Model 3 will accommodate two large child seats or three if the seats are "slim."
How Far Can the Model 3 Go on a Charge?
Tesla says the Model 3 should travel 215 miles on a full electric charge. This is important, as the car does not have a gasoline engine, so you are constrained by the availability of recharging plugs. Most of the affordable EVs have a range around 80 to 120 miles, so a Tesla in this price range could be a real game changer.
One reason for such range is the Model 3's very low coefficient of drag. Musk said it will be on the order of 0.21, which would make it one of the most (if not the most) aerodynamic production vehicles on the road. The most aerodynamic mass-market vehicles built today, including the Tesla Model S and the 2016 Toyota Prius, have a Cd of around 0.24. The Nissan Leaf has a Cd of 0.28, while the Toyota Sienna minivan has a Cd of 0.31.
Will the Model 3 Only Have a Single Screen Display?
Tesla said the cars at the reveal (which have a single center-mounted screen that included minimal instrumentation) were "production intent." However, when asked on Twitter about the lack of a separate instrument panel or head-up display, Musk said that the instrument layout "will make sense after part 2 of the Model 3 unveil."
Will the Model 3 Come Standard With All Autopilot Features?
Tesla's Autopilot consists of hardware and software. All Model 3s will have Autopilot hardware and safety features as standard, with "convenience" software features as an extra-cost option. We interpret this to mean that all Model 3s will have front- and side-collision avoidance, while the software for adaptive cruise control, lane-keeping assistance, automated lane changing, and automatic parking will be an extra-cost option that could be activated with over-the-air software updates.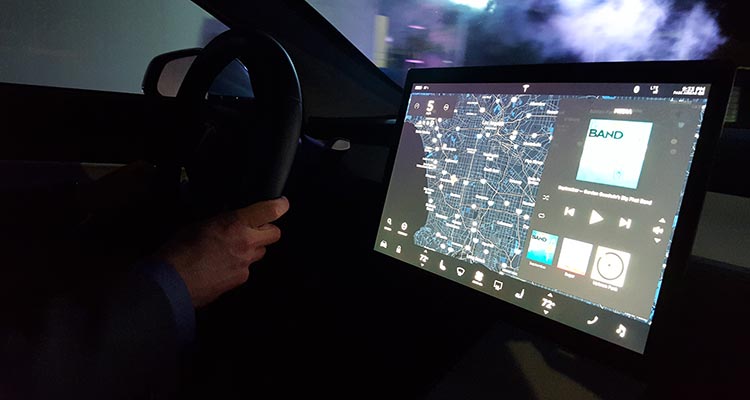 Who Will Be the First to Get Their Model 3?
Earlier reports said that existing Tesla customers will get priority over new customers. In his Twitter Q&A, Musk clarified that early orders will gain buyers priority in their geographic area.
Will Tesla Model 3 Buyers Be Eligible for the $7,500 Federal Tax Credit?
Maybe not all of them. The Federal tax credit has a cap: After a manufacturer sells a cumulative 200,000 eligible pure-electric vehicles, the IRS 30D(a) tax credit for that manufacturer's vehicles remains at 100 percent of its original value for one quarter, then the credit is halved in value ($3,750) for two quarters, then drops to 25 percent ($1,875) for one quarter. After that, the credit is eliminated.
Tesla is already on the road to 200,000 EVs sold with its Model S and Model X; if it quickly hits its sales goals with the Model 3, the tax credit will expire well before all of the existing Model 3 pre-orders have been filled.
Musk said, "Our production ramp plan should enable large numbers of non X/S customers to receive the credit." Musk also tweeted, "We always try to maximize customer happiness, even if that means a revenue shortfall in a quarter. Loyalty begets loyalty."
While Musk was non-committal about scheduling deliveries to provide a tax incentive to the maximum number of buyers, Tesla could stagger retail delivery so that more customers could get the full tax credit – then offer discounts in lieu of credits on Model 3s sold to early depositors who fall outside the tax-credit window.
Shopping links are provided by eBay Commerce Network and Amazon, which makes it easy to find the right product from a variety of online retailers. Clicking any of the links will take you to the retailer's website to shop for this product. Please note that Consumer Reports collects fees from both eBay Commerce Network and Amazon for referring users. We use 100% of these fees to fund our testing programs.