Best Adjustable Dumbbells From Consumer Reports' Tests
These compact strength-training sets make working out at home easier
When you shop through retailer links on our site, we may earn affiliate commissions. 100% of the fees we collect are used to support our nonprofit mission. Learn more. If you want to work out more, one of the best ways is to make it easier. And having equipment at home can make it easy to get a workout in without having to travel to a gym.
But when it comes to strength training, there are limits to what you can fit in your house or apartment. You may not have the space or the funds to assemble even a fraction of a typical gym setup, which often has rows of machines and multiple racks of dumbbells and other weights.
That's where adjustable dumbbells come in handy. You can use them for a full-body strength-training routine, and stash them in a small space.
After all, to get the most benefit from a strength-training routine, using the right amount of weight for a particular exercise is important, as is continuing to challenge your muscles as you get stronger. That means periodically upping the weight. You might need to go heavier for your bicep curls than your tricep extensions, for instance.
Adjustable dumbbells have a handle and a variety of weight plates that sit in a cradle. With a switch of a lever, dial, or pin you can quickly and easily change the amount of weight you use.
"They're more affordable and space-efficient than having multiple sets of dumbbells that you have to find a spot for," says Cedric Bryant, PhD, president and chief science officer for the American Council on Exercise. They're also a good choice when more than one member of a household lifts weights, because they can easily accommodate different strength levels, Bryant says, noting that both he and his wife use a set at home.
How CR Tests Adjustable Dumbbells
Our testers used the dumbbells for their regular lifting routine, including both standing and seated exercises (on a bench) in our lab. They were experienced with dumbbell-based resistance training and strong enough to evaluate each set through the highest weight (up to 55 pounds).
Each model received an Overall Score and a rating for ease of use, adjustability, and weight combinations. While no set got excellent ratings in every category, most did well enough to earn our recommendation. (CR members can access our full ratings.) The exception? The Ritfit Adjustable Dumbbells. But this traditional set still performed well, and at $220 was the least expensive.
If you're looking to buy an adjustable dumbbell set, our testers suggest you consider these factors: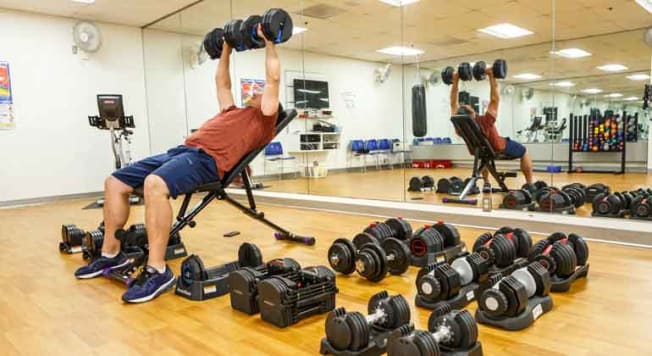 "The right dumbbell for you really depends on the range of weights that you're used to working with and your goals, such as increasing strength, endurance, or muscle size," says Bernie Deitrick, who oversees exercise equipment testing at CR.
Beginners will want to start with lighter weights. But in order to get stronger or bigger, you'll need to overload the muscles, Bryant says. "You have to increase the reps, load, or sets, and a combination of these is ideal," he says. So you want a weight set that's going to grow with you in a way that matches your goals.
Among the adjustable dumbbell sets we tested, the lowest weight ranged from 5 to 10 pounds and the highest was 50 or 55 pounds, which is an amount you might use for deadlifts, chest and back moves, and total-body exercises, such as walking a short distance while carrying a heavy weight in one or both hands (known as a farmer's carry). The one exception was the Flybird Adjustable Dumbbell, which topped out at 25 pounds. (If you decide you need more resistance later on, you can add a resistance band to your moves. Simply anchor the band under your feet or around a sturdy object and hold the other end(s) in your hands with the weight.) Note that the Flybird and the Ativafit 55 Pound Adjustable Dumbbells are sold singly; the other products in our ratings come in pairs. While you can certainly do one-sided moves, you'll save time and have more exercise options if you have two. The prices listed in our ratings are per pair.
Weight variability is another consideration; it gives you more options for customizing your workout. The ones in our tests with the greatest variability had 15 different weight combinations, many of them in 2.5-pound increments, which you won't typically find in stand-alone dumbbells over 15 pounds. (Lighter dumbbells usually come in smaller increments—3, 5, 8, 12, and 15 pounds—while heavier weights usually go up in 5- to 10-pound increments.) 
Smaller increments make it easier to safely jump to the next level. Here's a good guideline for building strength from Bryant: For a given move, a sign you're getting stronger is when you can easily complete the upper end of your normal rep range for two workouts in a row. For example, say you usually do 8 to 12 reps of biceps curls with 15-pound dumbbells. If you can lift that weight 12 times with good form and without really struggling by the last rep for two consecutive workouts, you should add weight. 
Generally speaking, you want to increase the weight you're using by no more than 5 percent, which is where smaller increments come in handy, although it's not always doable based on the weights you have available. For this reason, a set that progresses only in 10-pound increments (or for smaller muscle groups, sometimes even 5-pound increments) may not be ideal for beginners, Deitrick says.
Look for Ease of Adjustment
Each dumbbell needs to be modified to add the correct weight. Some sets make this more difficult than others, requiring more than one adjustment per dumbbell and sometimes more than one hand to select the right weight. (The dumbbell can become unbalanced if you don't get the adjustment correct in some cases.) The Core Home Fitness Adjustable Dumbbell Set, which earned CR's Best Buy designation, is automatically balanced and has an easy one-handed adjustment.
Each dumbbell has a handle or base frame that you add weights to. With some sets, the length of the dumbbell remains the same whether you're lifting lighter or heavier, which can make the weight more difficult to control and get in the way during certain exercises, Deitrick says. (The farther the weights are from the center of the handle, the harder your core and other muscles have to work to stabilize the weight. This can provide a welcome challenge, but beginners may find it awkward.) Four of the models varied the length of the dumbbell with the weight.
For some weight exercises, you may want to hold a single dumbbell by one end (think behind-your-head tricep extensions). The rectangular construction of the PowerBlock Pro Series makes them more difficult to hold individually in that orientation. The slug system for selecting the weights made the set more challenging to control as well.
Many sporting-goods stores that carry weight equipment will have models on the floor that you can pick up and test, which Bryant recommends doing. "Try them with different exercises that you normally do, and make sure they feel comfortable," he says. Two criteria our testers evaluated that were factored into our ratings were how comfortable the weights were to hold and to rest on their legs in between sets (like when you're seated on a bench). The adjustable dumbbells below, listed in alphabetical order, are some of the top performers from our tests.