How to Get the Most From Your Air Fryer
Fries and wings are just the start. But there is a learning curve when cooking with this small appliance.
When you shop through retailer links on our site, we may earn affiliate commissions. 100% of the fees we collect are used to support our nonprofit mission. Learn more.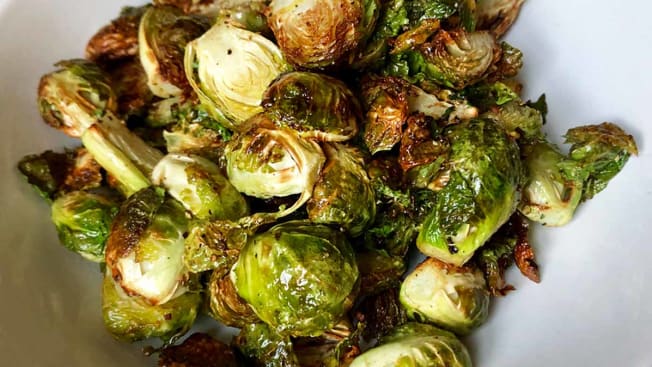 For a busy home cook, adding an air fryer to your roster of small appliances provides a chance to rethink the way you prepare meals.
The promise: Your favorite foods, quick and crisp, with little or no oil.
The reality: An air fryer's easy enough to use, but there's a learning curve to getting the food you love just right. At least that's what CR staffers learned when they put air fryers to work in their home kitchens.
Read on for a quick look at our lab tests, tips for making the most of your machine, details on what our staffers cooked and how it turned out, and—in case you're inspired to try it yourself—three air fryers that performed well in our tests and sell for $100 or less.
In the lab, CR's test engineers cooked popular foods—frozen fries, wings, and chicken nuggets—in the models that you'll see in our air fryer ratings.
Then, to learn more about cooking with one of these appliances, eight CR staffers took air fryers home. They cooked a variety of foods for themselves and their families over two weeks. And while these anecdotal findings aren't factored into the ratings, they do highlight the pros and cons of owning one of these appliances.
"Convenience foods, like par-fried/flash-frozen french fries, turn out really good," says Paul Hope, a CR reporter and a classically trained chef who tried out one of the air fryers. "These foods have already been half fried in the conventional manner at the food plant, then frozen to be heated fully in your home."
But convenience foods are just the beginning. The manual of our top-rated air fryer, for example, includes recipes for roasted brussels sprouts, roasted tomatoes, citrus green beans, and twice-baked potatoes.
The staffers were surprised by how well the air fryers cooked vegetables—asparagus, cauliflower, kale chips, corn on the cob—that kids gobbled up.
Several staffers also liked how well the air fryers reheated foods that should be crispy outside and hot inside. (In the case of reheating a slice of pizza, the air-fried version was crispier than microwaved pizza and ready much quicker than if it was reheated in the oven.)
But not every food turned out well—disappointments included turkey burgers and chicken legs.
Another surprise? Even though they eat up a considerable amount of counter space, most air fryers we tested have baskets with small capacities, from 2 to 4 quarts. (That's what we measured, and it's often smaller than the claimed capacity.) That's not great when cooking for a crowd—so buy the biggest capacity you can if you regularly feed a gang.
5 Tips for Better Air Frying
1. Pat foods dry. Before air frying, pat dry anything unbreaded that you want crispy or browned, such as meat, fish, and vegetables.
2. Avoid overfilling the basket. An air fryer relies on a fan to circulate hot air to cook food quickly. Crowd the basket and you'll prevent the hot air from reaching all the food, which slows down cooking and could give you uneven and soggy results. Some models have maximum-fill lines, and the manual may offer guidance, too. As a rule, our experts say not to fill the basket more than 3⁄4 full if there is no max-fill line marked on the basket.
3. Check food often. Unlike cooking food in the oven, you can't flip on the light and check a food's progress through the window. With an air fryer, you can't see the ingredients as they cook—they're tucked away in a drawer-style basket—making it harder to get a sense of how it's going. And our staffers found that cooking times can vary significantly. To avoid overcooking, check on your food every so often while it's cooking. (On some models, this is as simple as pulling out the drawer, but on others, you might need to pause cooking before you do so; consult your manual for specifics.)
4. Flip the food as it cooks. Use tongs or shake the basket during cooking for more even results.
5. Experiment with homemade favorites. Sure, store-bought fries taste great, but an air fryer makes easy work of the real thing: For crispy homemade french fries, cut potatoes into uniform pieces, and soak in water for 30 minutes. Then drain, rinse, pat dry, and coat lightly with oil before air frying.
Even people who love to cook and do it often found that they learned along the way—including two staffers who tested recipes for food sites before joining CR. They air-fried over a dozen dishes each, and here's what they have to say about a few standouts. Keep in mind that cooking temps and time will vary depending on the air fryer you use.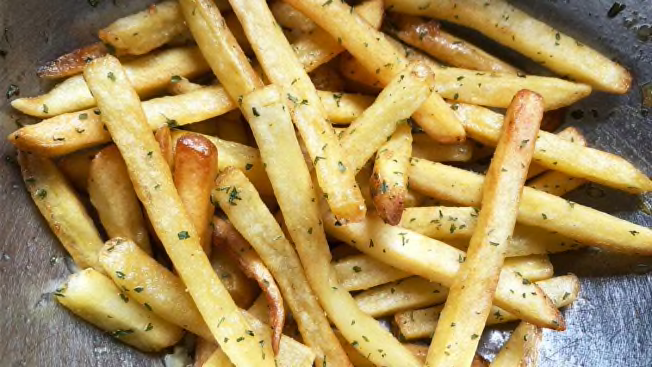 Verdict: "These frozen fries tasted convincingly like deep-fried—not dried out like oven-heated frozen fries can get," says Perry Santanachote, a CR reporter. "When they were done, I seasoned them with garlic oil, like I do with deep-fried fries, and they held up beautifully."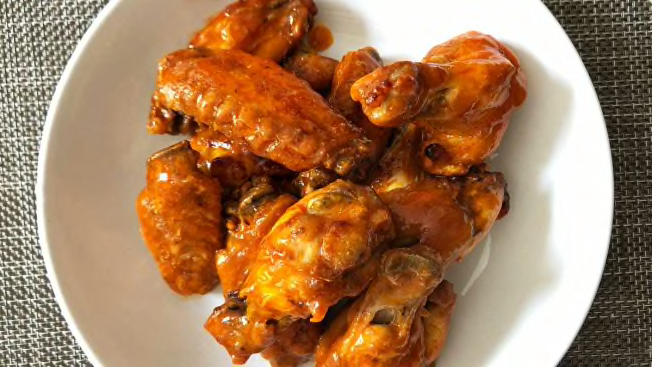 Verdict: Delicious but not crispy like deep-fried results. Santanachote says they were on a par with oven results. She brushed the inside of the air fryer basket with a little oil to prevent the wings from sticking and cooked them for 20 minutes, flipping them halfway through. The basket could fit only 10 wings—a pain if cooking for more than two people.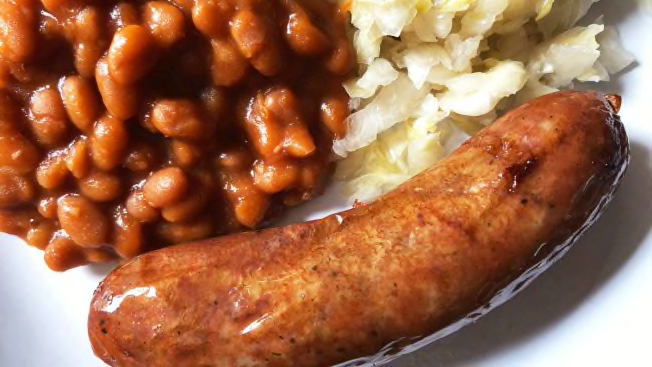 Verdict: It heated up much crispier and faster than it does in the oven, and without any oil. The bratwurst came preboiled, so Santanachote air-fried it for 12 minutes, flipping it halfway.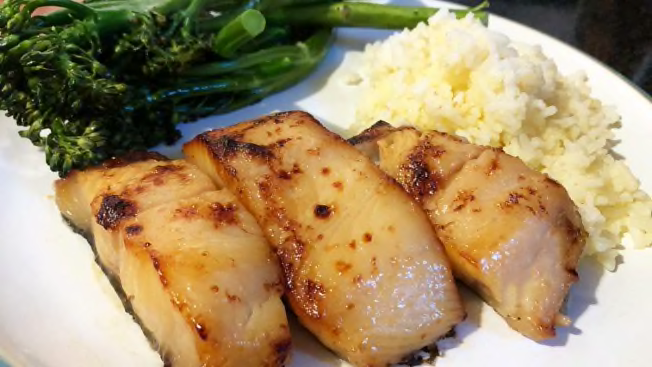 Verdict: "The fish was a little rubbery," Santanachote says. She used the preset fish setting, but she learned later upon referring to the manual that the setting is meant for fish sticks—not fresh fish. Her advice? Try cooking fresh fish skin side down, using the highest temperature, for 5 to 8 minutes—just until caramelized on top without overcooking.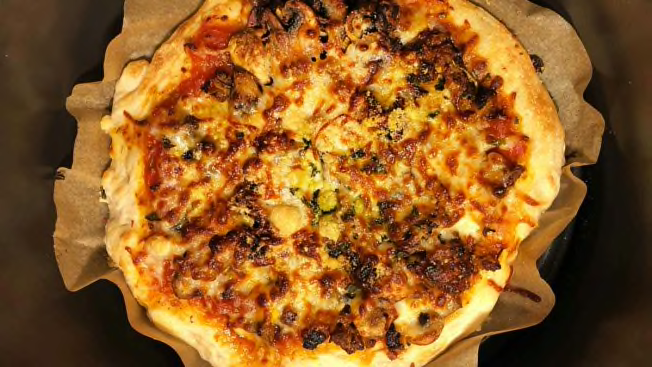 Verdict: Using store-bought pizza dough, staffer Mary Farrell cooked the crust on both sides before adding the toppings and cooking for an additional 8 minutes. "The toppings were cooked perfectly, but the crust was still a little underdone," she says. "I'd try it again, and cook the crust slightly longer than I did before adding the toppings."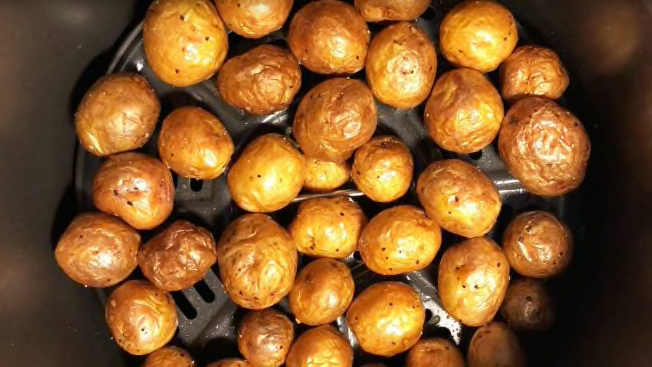 Verdict: Crispy outside, creamy inside. "And they took less time than when I cook them in the oven at the same temperature," Farrell says. She drizzled a little olive oil and salt and pepper on small potatoes, then air-fried for 12 minutes, stopping the air fryer three times to toss the potatoes for more even browning.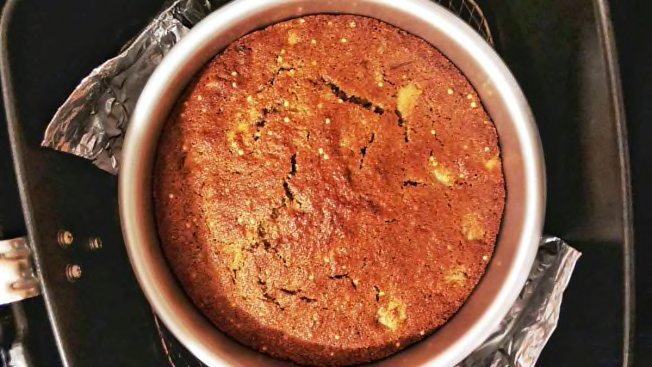 Verdict: "It turned out beautifully," Santanachote says. "The top was extra crispy, like a giant muffin." To start, she used her own recipe, lined a 6-inch cake pan with parchment paper, and lightly coated with cooking spray. She added a foil sling, which gives you something to grab when removing the hot pan from the air fryer basket. In 30 minutes the banana bread was done.
Impressive Air Fryers for $100 or Less
You'll see more than 20 models in our air fryer ratings. Here's a look at three air fryers that sell for $100 or less.
Cooking With Countertop Appliances
Countertop appliances have come a long way over the years. On the "Consumer 101" TV show, Consumer Reports expert Sara Morrow shows host Jack Rico how it's possible to cook an entire meal without using your oven or range.