Quietest Air Fryers From Consumer Reports' Tests
Based on our testing, these are the best air fryers that emit the least amount of noise
When you shop through retailer links on our site, we may earn affiliate commissions. 100% of the fees we collect are used to support our nonprofit mission. Learn more.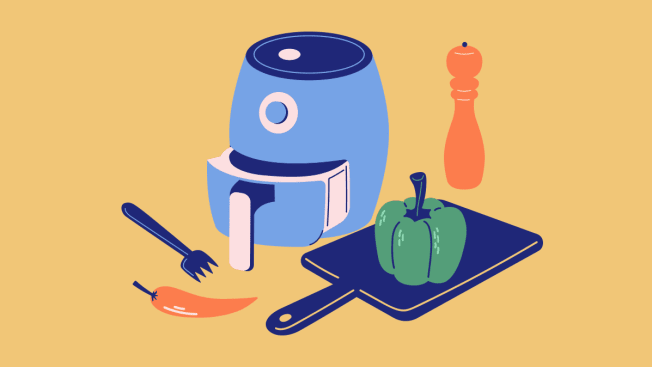 Countertop air fryers can get quite loud, and that could be annoying, especially if you're trying to hold a conversation or listen to a podcast while you cook. Sure, a low hum isn't a big deal when you're whipping up a quick basket of fries, but it's certainly a different story if you're cooking a Cornish hen over the course of an hour.
Fortunately, some air fryers are quieter than others, and the experts at Consumer Reports have run exhaustive tests to zero in on not only the quietest air fryers but also the quietest air fryers that are the best to use.
To test air fryers for noise, we start by measuring the sound level of our lab with the appliance turned off, says Larry Ciufo, lead engineer for CR's air fryer tests. We then take another reading—this time, with the air fryer on for 30 seconds and the sound meter placed 6 feet high and 3 feet away. We repeat that process and average the two readings to calculate each model's noise score. The higher the score, the quieter it is.
According to our testing, air fryer noise ranges from 40 decibels (a quiet office) to 60 dBA (a conversation in a restaurant). In addition, some air fryers use analog timers, which tick. And while that tick might not be very loud, its staccato nature may be a nuisance if you're sensitive to sound.
For this roundup, we've eliminated quiet air fryers that struggled in our ease-of-use and cleaning tests. What remains are only the quiet air fryers that have also earned either the Consumer Reports' recommended badge or CR Best Buy status. As with most air fryers, each comes with a one-year warranty. For more information about air fryers, check out our air fryer buying guide. And to get all the scores and specs on the full lineup of air fryers we've tested, see our air fryer ratings.
CR's take: The Chefman TurboFry 4.5 Quart air fryer is a shining star in our air fryer ratings. It aces our noise and controls tests and earns a Very Good rating for cleaning. Despite its larger claimed capacity, the interior basket measures just 2.7 quarts.
CR's take: A CR Best Buy, the Chefman TurboFry Touch operates quietly, and aced our noise tests with a sound level that's barely above the quietest we found. With a measured capacity of just 2.4 quarts, it earns high marks for controls and ease of cleaning, and has a digital display. However, it doesn't come with programmed settings—which means you'll need to have a general idea of the temperature and time required for each dish.
CR's take: The Dash Digital Tasti-Crisp is small but mighty—earning a Very Good rating for controls and cleaning. It shares the honor of being the quietest air fryers in our ratings with its analog counterpart below. At a measured capacity of 1.9 quarts and an overall size of less than a square foot, this 6-pound model is one of the most compact air fryers in our ratings.
CR's take: Much like its digital sibling above, the analog Dash Express Tasti-Crisp is small and quiet. This model is also among the most affordable. It has a measured capacity of 1.9 quarts and an overall footprint of less than a square foot. It's also among the lightest-weight models at just 6 pounds. Though it receives only a middling mark for its controls (we think the analog dial is a bit harder to wrangle than a digital screen), it earns a Very Good rating for cleaning.
CR's take: The GoWise USA GW22731 is a CR Best Buy. While it's a fraction louder than the other models we recommend in this piece, it still earns an Excellent score in our noise tests. But at 4.9 quarts, it's also the largest air fryer on this list, and therefore the best option if you want something that's both quiet and good for a crowd. The GoWise is a bit tricky to clean, but it has very easy-to-use controls.
CR's take: The Williams Sonoma Open Kitchen Digital Air Fryer, a Williams Sonoma exclusive, earns a middling score for its controls but aces the noise test. It has a stylish brushed stainless steel exterior, with a 3.6-quart interior basket. It's also pretty easy to clean. This model is designed with a digital display and programmed settings.