Best and Worst Air Purifiers of 2022
We've tested dozens of models. Some blew us away, while others simply blew it.
When you shop through retailer links on our site, we may earn affiliate commissions. 100% of the fees we collect are used to support our nonprofit mission. Learn more.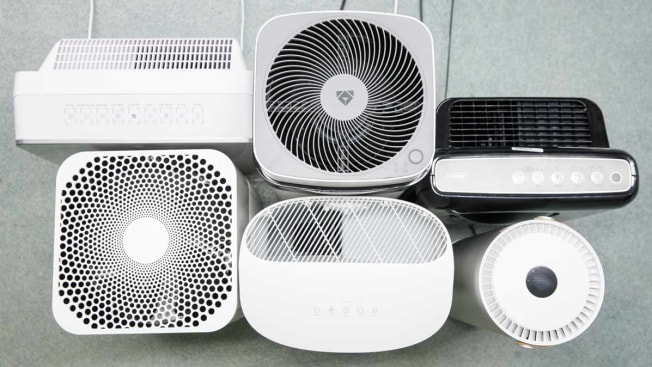 For many allergy sufferers, winter is a time of year to look forward to. As colder weather moves in, outdoor irritants like pollen and ragweed retreat enough to give anyone who is susceptible a short reprieve. But just because those particulates are not present doesn't mean sufferers are in the clear.
As temperatures drop, people in homes across the country are turning on the heat and closing windows, which shuts off the best option for increasing ventilation and giving indoor pollutants an opportunity to escape. And these sometimes harmful particulates, such as dust and mold, are ever-present in our living spaces. Without fresh air circulating through your home, air pollution indoors can reach concentrations five times higher than air pollution outdoors, according to the Environmental Protection Agency. But a good air purifier can reduce some of those pollutants and help you breathe easier.
"The best air purifiers we've tested are able to remove small particles from your air whether at high or low speed," says Misha Kollontai, who oversees testing of air purifiers at Consumer Reports. "They are able to do so at a relatively low noise level, which is great since they are operating around the clock."
On the flip side, Kollontai observes that the worst air purifiers on our list struggle to clean the air on both low and high speeds, adding, "Oftentimes, poor performance in removing particles like smoke and dust is accompanied by a lot of noise, which can be bothersome in a living area."
To test air purifiers, we inject smoke and dust particles into a sealed chamber and measure how well each model removes particles between 0.1 and 1 micron. (Human hair has a diameter of 100 microns.) We use a particle counter to measure the change in particle concentration as the air purifier runs for 15 minutes at the highest speed, and then at a lower speed. And because these run day and night, we measure noise levels, in decibels, at every speed, and calculate annual operating costs for filter replacements and energy use to run the machine 24 hours a day.
The three top models in our air purifier ratings earn an Excellent or Very Good rating for particle reduction at a low speed while keeping noise to a minimum. (They all aced the high-speed test, as do many models.)
Here's a closer look at the three best air purifiers we tested, followed by the three worst. They're listed alphabetically.
CR's take: With the recent addition of the Alen BreatheSmart 75i Pure to CR's ratings, there's a new reigning champ in the air purifier space. The 75i proves to be top-notch at capturing and removing dust and smoke while running at its highest and lowest levels, earning an Excellent score in both tests. Holding a conversation or getting work done while the unit runs should be easy enough: The model receives a Good score for noise levels on high and low speeds. Another reason this model receives high marks? Its energy and operating costs, including filter replacements, run roughly $140 annually, which is significantly less than the other standout models on the list. And it covers up to 1,300 square feet, which is significantly more than the Blueair Classic 605.
CR's take: Man, can this machine clear a room. It's one of only four models that earn Excellent scores for particle removal at both the high- and low-speed settings. The Blueair Classic 605 runs whisper-quiet at low speeds, but it's noisy on high speed. It'll clean the air quickly, but you won't want to be in the room while it does, especially if you're having a conversation or watching TV. Of course, you pay for all that performance. It's one of the most expensive air purifiers in our ratings, and that's just the initial cost; filter replacements and energy use will set you back around $225 per year. The machine weighs a hefty 30 pounds but has casters that make it easy to cart from room to room. Its claimed capacity is a room of 775 square feet.
CR's take: The Samsung Cube Stack is one of only four models that earns Excellent scores for particle removal at both the high- and low-speed settings. But it certainly comes at a price. The stack is two Samsung Cube models placed one on top of the other to produce a much stronger cleaning machine. To get the desired effect, you'll need to purchase two units, making it the most expensive air purifier in our ratings. It's also not as quiet as the top-rated model, and its annual cost is around $209 for filters and energy use. Test engineers find the stack to be best suited for large rooms, and given that it weighs 49 pounds, it's best to keep it stationary. An indicator light will flash when it's time to change the filter, and its functions can be controlled by an app.
CR's take: The Levoit LV-H132 Air Purifier doesn't deliver on an air purifier's basic premise—to sanitize the air of harmful pollutants. It earns Poor ratings for dust, pollen, and smoke removal on both high and low speeds, making it one of the worst-performing air purifiers that CR has tested. The maker claims it will clean the air in rooms up to 129 square feet, but CR's particle-reduction tests find that the machine just doesn't cut it. Though it's relatively quiet and has a fairly inexpensive annual operating cost, its ineffectiveness makes these qualities feel like moot points.
CR's take: The Molekule Air won followers through an aggressive social media campaign touting a patented PECO filter, which the maker claims will destroy airborne pollutants at the nanoscale level. CR didn't test those claims, but in our tests for particle reduction, the machine wasn't able to adequately clean the air in the room. The Molekule Air earns a Poor score in our test for particle removal at low speed and receives a Fair rating at high speed. So while we can't say whether the company's proprietary PECO technology destroys gases, viruses, and mold, we can say with certainty that the appliance falls short in its ability to reduce airborne particle pollution. For that you pay $800, plus $182 per year to run it. Molekule says the purifier can handle rooms up to 600 square feet. But based on our calculated rate of cleaning, we wouldn't put this machine in any room larger than 100 square feet.
CR's take: This is a case of "you get what you pay for." The lowest-ranking air purifier in our ratings happens to carry the lowest retail price. Pure Enrichment claims the Pure Zone Mini 2-in-1 removes close to 98 percent of dust and smoke, but when put to the test, the unit fails to live up to that. It earns a Poor rating for dust and smoke removal on both the lowest and highest settings. Conveniently, the Mini 2-in-1 is portable and rechargeable. That means it can be turned on in your car or on a plane, as demonstrated on the product's website. This helps the machine earn an Excellent rating for energy output and the cheapest operating cost—$29 annually—of all the air purifiers on our list, but with such poor results, it's not much more than a white noise machine.