Using a dishwasher can save you more than 230 hours a year, compared with washing your dishes by hand. That's according to the Energy Star rating, anyway. That means more than half an hour of your day, every day of the year, can be saved by this all-but-essential kitchen appliance. But with hundreds of models available, and inventory often in flux, how should you go about choosing the best dishwasher to suit your needs?
Our comprehensive dishwasher ratings cover more than 100 models from almost 25 brands, including Bosch, LG, Samsung, and Viking. And our article on the best dishwashers zeroes in on the top scorers of the bunch.
But not all dishwashers will match everyone's priorities and budget. That's why we've put together this buying guide—to help you separate the must-have features from the nice-to-haves, and explain what you can expect for various prices.
(Once you've bought a new dishwasher, maintaining it will substantially lengthen its life—and if something does go wrong, look to repairs before replacing it. Finally, you'll want to get the right dishwasher detergent to complement your machine and dishes.)
How We Choose the Best Dishwasher
We test dishwashers year-round, spending 28 hours evaluating each one and identifying its features. Our testers load each dishwasher with 10 place settings of white ceramic dishes with baked-on food, then run it on the normal cycle (or the model's equivalent) with the high-temperature wash and heated-dry options selected, if available. When the cycle is complete, we record cycle time and the amount of water and energy used. We use a photo-imaging machine to determine precisely how clean each dish is, and we test how well each machine dries plastics. Panelists also judge noise levels. 
Dishwashers that perform well but don't hold up over time aren't helpful. That's why we also conduct surveys with thousands of our members to collect data on each brand's predicted reliability and owner satisfaction. This data is then converted into individual scores, which you can see on each model's ratings page. It's also incorporated into each model's Overall Score. 
When buying a dishwasher, look for exterior dimensions that fit your kitchen, as well as interior dimensions that fit your cleaning needs.
Does the Dishwasher Fit Your Kitchen?
Conventionally sized dishwashers are intended for a cavity that's 24 inches wide and 24 inches high. They're the most commonly sold type, and they're what Consumer Reports buys and tests most often.
If you have a small kitchen, you might consider buying a dishwasher intended for an 18x24-inch cavity. They've been growing in popularity, and Consumer Reports tests a handful of them. 
Whichever you choose, remember that if you've retiled your floors or redone your counters, the height of that cavity in your kitchen may have changed. So before you make your final selection, carefully measure your space and ask the retailer for the specific height of the model you're interested in. Don't forget to account for adjustment of the leveling feet. 
Do Your Dishes Fit the Dishwasher? 
Take a close look at the configuration of the dishwasher's interior—the spacing of the tines and the placement of the silverware baskets and racks, for instance. Whether you'll need extra space for oversized bowls or a spot for chopsticks, make sure the design accommodates. If you're shopping in a store, consider taking some of your dishes with you to make sure they fit. Rack designs are not all the same, and dishes might not fit like they did in your old machine.
Almost any dishwasher uses less water than washing dishes by hand. And hundreds of current dishwasher models qualify for Energy Star, a certification for models that use no more than 3.5 gallons during a normal cycle (like flushing a modern toilet twice), and less than the equivalent of 270 kilowatt-hours of energy per year (about $37 worth of electricity, based on today's national average cost).
At CR, we've found that dishwashers often use slightly more water and energy than advertised. But the difference adds up to only few dollars' worth of extra utility costs per year. However, every little bit counts, and if efficiency and sustainability are especially important to you, you can opt for a CR Green Choice dishwasher. We believe these options to be among the most efficient models you can buy, and the least likely to affect the environment negatively. You could also look for models on the Energy Star Most Efficient list or in the Consortium for Energy Efficiency's Top Tier.
Dishwasher Finishes and Design
Stainless steel is the most popular finish for kitchen appliances. But other finishes are available, from white or glossy black, at lower prices, to various brushed-metal looks, at the higher end. Integrated (hidden) controls and bar-style handles are also considered to be an upscale look, and they're available on several of our top-performing models.
On certain models, the brand logo is also gone. Along with a recessed pocket handle replacing a bar, this type of machine coordinates seamlessly with appliances from other brands if they have similar finishes. 
Some dishwashers have a stacked-drawer design; the compartments can be used simultaneously or separately. However, these models are expensive, and they haven't performed as well overall as most conventional dishwashers in Consumer Reports' lab tests.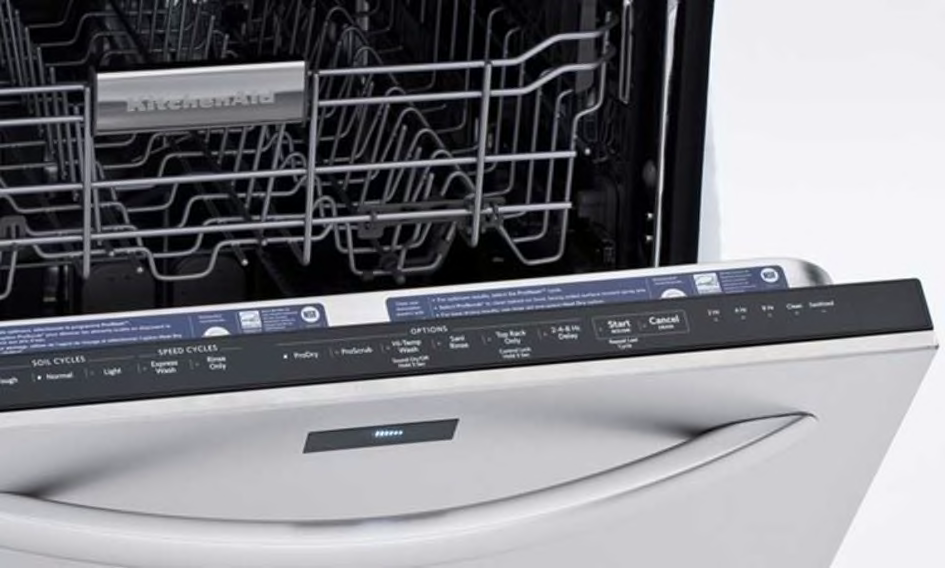 If you're buying a dishwasher right now, you might notice supply issues and inflated prices. Until inventory and costs return to pre-pandemic levels, you might have to wait to buy the dishwasher you want (including some of our recommended models), or settle for something less ideal. Here's what you can expect for your money.
Dishwashers for $500 or Less
There aren't too many of these left, after the double-digit inflation we've seen on appliances in the past couple of years. Those that are still available tend to have plastic tubs, which, according to Consumer Reports' tests, don't resist stains as well as stainless steel tubs. We've also found that these dishwashers are relatively noisy. But CR's Larry Ciufo, who is in charge of testing dishwashers, says that if you need a machine that simply gets your dishes clean for this price, regardless of the other downsides, "you can still find a dishwasher that might be right for you." 
Dishwashers for $500 to $1,000
This is the sweet spot for many buyers, particularly around $800. Many models in this price range earn our top ratings for cleaning performance and predicted reliability—two factors we weigh heavily in our ratings overall. They also often tend to operate quietly and have at least a few other quality-of-life features, such as adjustable racks and a third rack.
Dishwashers for $1,000 or More
The styling becomes more upscale, and the dishwashers are fully loaded with special features, so you don't have to pick and choose. 
Dishwasher Features That Matter
The best dishwashers combine stellar performance with clever components to save you time, money, and effort.
A Whirlpool brand, Amana makes dishwashers that are in the lower price range, usually $500 or less.
This Italian brand's products tend to come in above $1,000.
This European brand makes dishwashers that sell for about $500 to well over $1,000. Bosch is part of BSH Home Appliances, which also makes Thermador and Gaggenau appliances.
Electrolux is the parent company, and you'll see both brands at big-box stores, independent appliance stores, and other national retailers. The Electrolux models go for around $1,000. The Frigidaire models start around $375, and the midpriced Frigidaire Gallery models are $450 to $750. Frigidaire Professional models are more expensive; you'll see them for $900 or more.
F&P is the only brand currently making dishwasher drawers. A stacked pair sells for around $1,250 or more. F&P does not make full-sized conventional dishwashers.
This brand is sold at big-box stores, independent appliance stores, and other national retailers for $475 to about $1,800 for its GE, Café, and GE Profile models, and over $2,000 for its Monogram line. GE is owned by Haier.
Ikea sells budget-friendly dishwashers that are made by other dishwasher brands, such as Whirlpool and Electrolux.
Kenmore is sold at Sears and has three lines: Kenmore, Kenmore Elite, and Kenmore Pro. Prices range from approximately $500 for a basic Kenmore model to more than $1,000 for those in their Elite and Pro lines.
This high-end brand is part of Whirlpool. Models sell for $900 or more.
LG dishwashers are sold mostly in big-box stores, and prices range widely, from $600 to about $1,000, and more for LG Signature models.
A Whirlpool-owned brand, Maytag makes dishwashers in the midpriced range, from $600 to $1000.
This European brand makes higher-priced dishwashers. CR has tested models that sell for $1,450 and up.
Samsung dishwashers are available in big-box stores for about $500 to just over $1,000.
Thermador is a high-end brand, with dishwashers selling for $1,400 to $2,300. Thermador is part of BSH Home Appliances, maker of Bosch and Gaggenau appliances.
Known for its pro-style kitchen appliances, Viking dishwashers are sold mainly in independent stores for $1,000 or more.
This brand is sold mostly at big-box stores for $500 to about $1,000. Whirlpool also makes Jenn-Air, KitchenAid, and Maytag appliances, all at different prices.
The Lowdown on Prerinsing
Thanks for sharing.
Oops, we messed up. Try again later
Recently Tested Dishwashers
BEST TIME TO BUY:
February, June, July, September, November, December
Do you know when is the best time to buy Dishwashers? Learn more
More From Consumer Reports