When you shop through retailer links on our site, we may earn affiliate commissions. 100% of the fees we collect are used to support our nonprofit mission.
Learn more.
Most Americans get their pizza fresh from the pizzeria or from the supermarket, in the form of frozen pies. But there's a growing appetite for pizza made from scratch—or "semi-scratch" using store-bought dough—at home. The DIY trend accounted for nearly 10 percent of pizza sales in 2015, up from just 3 percent in 2013. Appliance manufacturers are taking notice, including several at the 2016 Design & Construction Week in Las Vegas who are launching new pizza ovens.
The most innovative product is GE's Monogram Pizza Oven, which came out of FirstBuild, a microfactory in the company's Louisville headquarters that harnesses the brainpower of the maker movement to develop unique appliances for small batch production (the Opal Nugget Ice Maker is the most successful creation to date).
The Monogram Pizza Oven fits into the small space of a standard wall oven cavity, yet is spacious enough to fit a pizza peel and large pie. It can crank up to 750 degrees, the perfect temperature for crisp pizza, in about 30 minutes. The oven incorporates a compact interior ventilation system, so no special installation or construction is required. That's a good thing, since the price tag on the oven is $9,900. Look for it in the third quarter of 2016.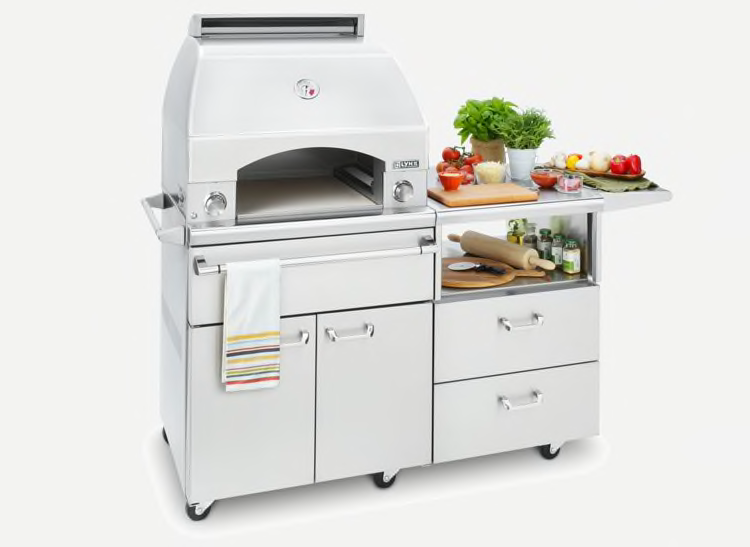 Outdoor Pizza Ovens
There are also plenty of new outdoor pizza ovens on display at the show, including the Lynx Napoli Pizza Oven, a gas-fired model that comes on a freestanding cart, or that can be built into an outdoor countertop. The oven reaches 750 degrees in about 20 minutes so it's a bit faster than GE's. And at $4,000, it costs a lot less, though it's still a luxury product.
If you're looking for the authenticity of wood-fired pizza, the Italian manufacturer Fontana offers stainless steel ovens for as little as $1,400. The Fontana Gusto Wood Oven, its original dual-chamber model introduced 40 years ago, is still the best seller, starting at $4,900. Thanks to their thin firebrick inserts, Fontana ovens can reach optimal baking temperatures in 15 to 30 minutes, compared with the 2 to 4 hours of other wood-fired ovens.
While manufacturers of residential pizza ovens are clearly playing on America's enormous taste for pizza, there's a lot more these ovens can do, everything from breads to cookies to roasted meats. So before you make the investment, make sure you're willing to embrace the full menu of possibilities.