When you shop through retailer links on our site, we may earn affiliate commissions. 100% of the fees we collect are used to support our nonprofit mission.
Learn more.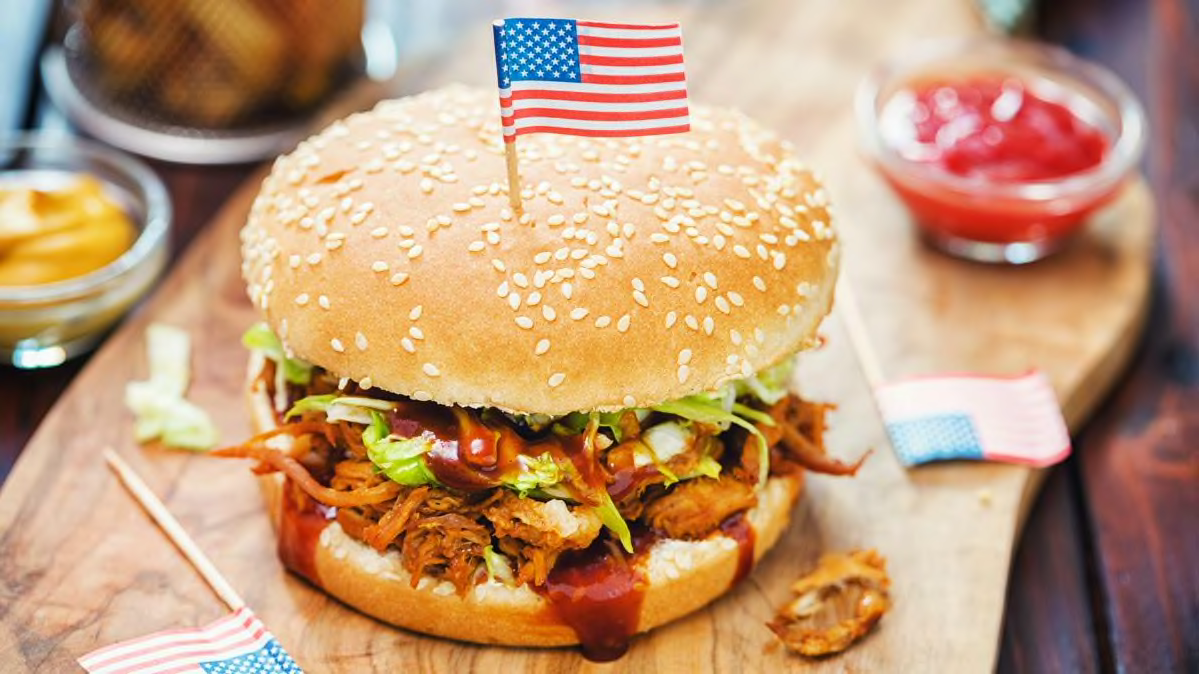 The grill may be the star of your cookout, but using a supporting cast of small kitchen appliances to help prep your menu can get you a standing ovation. No one has to wait around for the food, and you'll actually get to chit-chat with guests and enjoy the party.
Here are ways you can make amazing side dishes, prep meat, and keep food warm, plus the appliances that can make all that work a whole lot easier.
Slow Cooker
Succulent Ribs
Cooking ribs low and slow over hot coals is great, but it takes a lot of time and pretty much hogs up all the space on the grill. Cheat with a slow cooker instead: Slather several racks with barbecue sauce and let them cook on low overnight. Then finish them on the grill for a beautifully browned crust.
More on Countertop Appliances
Tender Pulled Pork
Pork shoulder—another cut of meat that likes it low and slow—can take 8 hours to cook on the grill. You don't have 8 hours to kill? No problem. Free up your time by using a slow cooker that'll make fall-apart tender pork while you sleep. All you have to do the next day is shred the pork, douse it with sauce, set the slow cooker to the keep-warm setting, and prepare yourself for all the compliments.
Toaster Oven
Warm, Toasted Buns
A perfectly juicy medium-rare chargrilled burger . . . served on a cold, hard bun? Not a great combo. Elevate your burgers with toasted buns. Plug a toaster oven into your outdoor outlet and toast away as you grill so that everything's done at the same time. A bonus: You free up room on the grill for more meat!
Food Processor
Crisp Coleslaw
You could slice all that cabbage by hand, but wouldn't your time be better spent doing basically anything else, like practicing your badminton serve or bocce toss? The food processor can render pounds of vegetables into fluffy piles of slaw in mere minutes. Do this in advance and keep it chilled. When it's go-time, just quickly toss it with dressing.
Fresh Burgers
The most surefire way to be crowned cookout king? Grind your own burger meat. You could get creative, too, like making turkey or salmon burgers. Here's a pro tip: Cut the protein into large chunks and stick them in the freezer until they're very cold but not frozen. Processing meats cold will give you a more uniform grind with less shredding.
Quick Chimichurri
If you haven't tried this garlicky herb condiment for your cookout, it can add great flavor to your barbecue foods. It goes with practically anything—steak, chicken, veggies. And the best part is, with a food processor, you just throw in the few ingredients and you're done.
Multi-Cooker
Easy Egg Salad
Eggs that are cooked using the pressure-cooker mode on a multi-cooker peel like a dream, so you can say goodbye to the painstaking peel-by-hand method. Plus, a multi-cooker, which has a tightly fitted lid, will keep your house from smelling like hard-boiled eggs.
Better Baked Beans
Most people "prepare" baked beans by opening a can, and there's no shame in that. But if you want to take it up a notch and make them from scratch, a multi-cooker will turn out tender, creamy baked beans without you having to stand over the stove for even a second. You can also set the cooker to keep the beans warm throughout your barbecue.
Sous Vide Cooker
Perfect Grilled Steak
If your guests complain that your meat is overcooked, you can either kick 'em in the shins or use a sous vide! These precision cookers take all the guesswork out of cooking meat. Just vacuum seal your steak, chicken, chop, etc., in the plastic bag that comes with the tool, and place it in a water bath with the sous vide immersion circulator. Set the desired internal temperature and give it a few hours to cook. The best part is you can sous vide hours in advance and put the meat in the fridge until you're ready to feast. Then all that steak needs is to kiss the flaming-hot grill to develop some char.
One sous vide to try: The Anova Precision Sous Vide Cooker. It clamps onto any size pot. You can control the temperature with an easy-to-use scroll wheel instead of having to get into an app, which is what a lot of other sous vide cookers require. You can get the Bluetooth model at Walmart ($130) and Jet ($114); or the WiFi model at Amazon ($157). One thing to be aware of: It's compact but almost 15 inches long, so you may have to store it in a large kitchen cabinet rather than a drawer. But you're likely to find that sous vide cookers are worth it.
Cooking With Countertop Appliances
Countertop appliances have come a long way over the years. On the "Consumer 101" TV show, Consumer Reports expert Sara Morrow shows host Jack Rico how it's possible to cook an entire meal without using your oven or range.