When you shop through retailer links on our site, we may earn affiliate commissions. 100% of the fees we collect are used to support our nonprofit mission.
Learn more.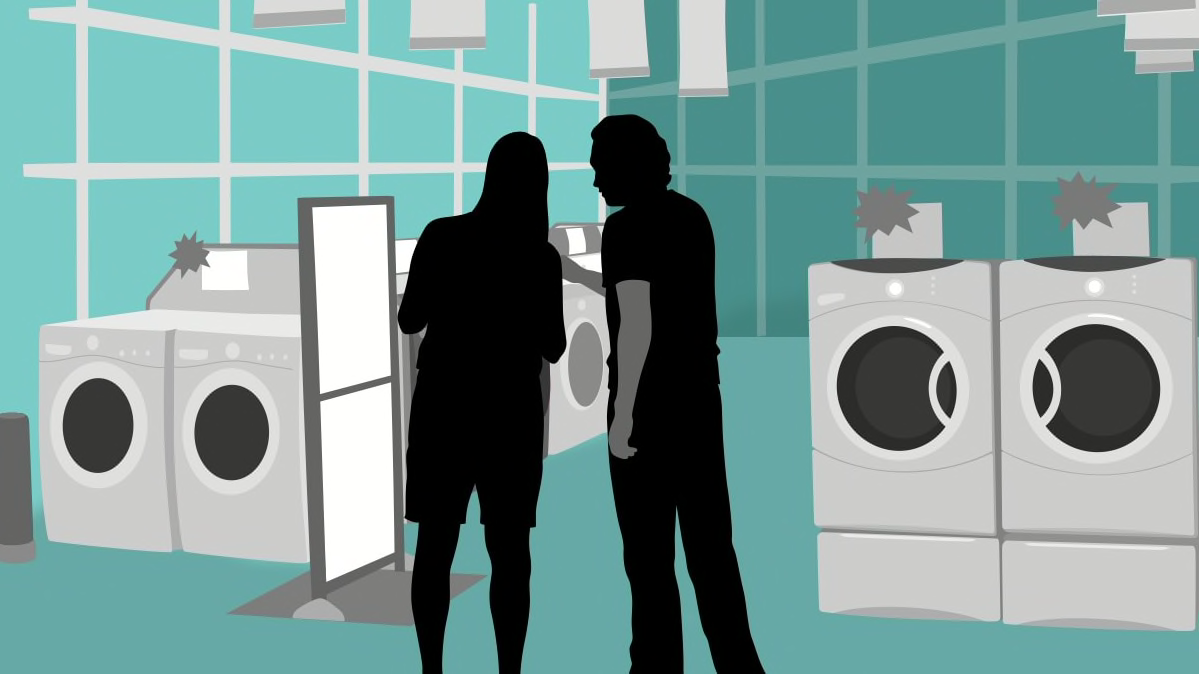 CR test engineer Richard Handel, who oversees our washer and dryer testing, puts every machine we rate through a battery of tests in our laundry lab.
As you shop for new appliances, Handel recommends focusing on the following five factors. Then consult our washing machine and clothes dryer buying guides—and shop for models in our washer and dryer ratings.
1. Determine Your Washer Type
The washer is the room's workhorse and a much more complicated machine than a dryer, so zero in on it first.
Front-loaders typically earn the highest scores in our cleaning tests, and they tend to use less water than top-loaders. In these, the tub's fast spinning extracts much of the water, which cuts down on drying time. But wash times are longer. Though mold can be a problem with any washer type, CR members continue to report mold buildup in front-loaders.
Top-loaders overall tend to cost less, and of this type, "top-load agitator washers are usually your least expensive option," Handel says. They also offer the shortest cycle times, but many are tough on fabrics—without being as tough on heavy stains. Top-loaders with a center agitator also use the most water of all three types—and extract less of it, making the dryer's job more difficult.
High-efficiency (HE) top-loaders, the type without an agitator, generally clean better and have bigger capacities than agitator models. But HE models have longer cycle times and can also be rough on fabrics.
When space is especially tight, you could consider a compact set, but there's a trade-off: "Compacts are expensive, and your options are limited, plus performance varies widely," Handel says.
2. Pick the Right Partner
"The dryer's moisture sensor feature detects the laundry's dampness and shuts off the machine when clothes are dry," Handel says. "That's easier on fabrics and saves energy." All the full-sized dryers in our ratings have moisture sensors.
To connect your new dryer to the exterior vent, use the shortest length possible of a heavy-gauge metal duct. "Unlike plastic and foil accordion-style ducts, metal won't sag and lint is less likely to accumulate, reducing the risk of a fire," Handel explains.
3. Correctly Size Up Your Space
Height and depth vary a lot from machine to machine, so measuring thoroughly is critical, Handel says. A machine with bigger load capacity can grow the dimension 2 or 3 inches wider than the standard 27 inches. (Compacts, by contrast, are uniformly 24 inches wide.)
Measure the area available for your washer and dryer, then check the machine dimensions in our ratings. Allow about an inch between the appliances, and at least 6 inches of clearance in back for water hookups and venting.
To avoid an instal­lation headache, also measure all the doors into your home and the laundry room to be sure new appliances will clear each threshold.
4. Avoid Bad Vibrations
A front-loader's tub spins at a high speed to extract water. That speed combined with the tub rotation—similar to a dryer's—can cause the washer to transmit vibrations to wood-framed floors. Most manufacturers have minimized the vibrations that full-sized front-loaders transmit, but all the compact front-loaders we tested shake—some more than others. So note the vibration scores in our ratings, and, to lessen any chance of vibration, make sure your washer is perfectly level when it's installed.
5. Take Note of Noise
Depending on where your laundry room is located, you may appreciate machines that are quiet, or quieter. If so, consider a washer and dryer that scored Very Good or Excellent in our noise tests. You'll know they're working, but they shouldn't disturb you.
Editor's Note: This article also appeared in the August 2018 issue of Consumer Reports magazine.