When you shop through retailer links on our site, we may earn affiliate commissions. 100% of the fees we collect are used to support our nonprofit mission.
Learn more.
Breaking up is hard to do, especially when you're Sears and Whirlpool, which announced this week that they're cutting ties after a century of doing business together.
As of Friday, Whirlpool will no longer supply the struggling retailer with Whirlpool appliances, in addition to other brands that Whirlpool manufactures. Sears is selling off its remaining Whirlpool inventory.
Despite the split, consumers shopping for Whirlpool appliances probably won't see any major disruptions, says Tom Young, senior director of business development at Gap Intelligence, a market research company.
"Sears is most negatively effected in this," he says. "Consumers will have fewer selections at Sears, making it less valuable as an appliance store."
But there are plenty of choices for where you shop for appliances, he adds. JCPenney added appliances to its offerings last year after a 33-year hiatus, and Amazon now sells appliances from Kenmore, Sears' store brand.
"And since Amazon is now offering Kenmore, more e-commerce players will emerge," Young says.
What You Can Expect at Sears
If Sears has been your go-to place to buy major appliances, you can still find other major brands there.
According to Gap Intelligence, during the week of Oct. 15, brands from the Whirlpool family made up 15 percent of Sears' inventory of major appliances (washers, dryers, refrigerators, ranges, dishwashers, and over-the-range microwaves). Here's the breakdown of brands sold at Sears in mid-October: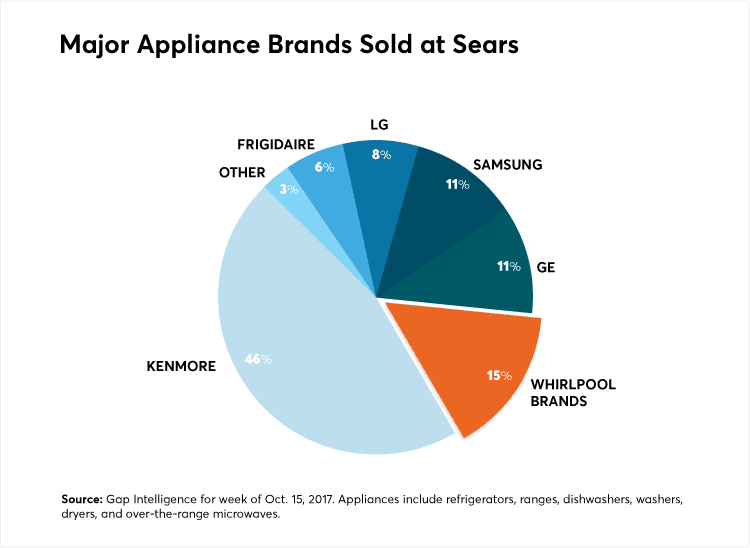 Until recently, Sears had been selling a wider range of Whirlpool appliances than its competitors. Below, the number of models from the Whirlpool family on the floor at five major retailers earlier this month.
Sears: 162 models
Home Depot: 158 models

Best Buy: 133 models

Lowe's: 120 models

Costco: 8 models
Those numbers will change in short order. And it would appear that Sears has been closing ranks over the past year.
"Across all brands, the assortment of appliances consumers see in Sears stores is down by 17 percent over the past 12 months," says Christine Edwards, a senior market analyst at Gap. "That's the exact opposite of what we're seeing at Best Buy, Home Depot, and Lowe's, who are expanding the number of different brands and models offered."
Then there's e-commerce. Earlier this year, Sears teamed up with Amazon to sell Kenmore appliances online. That's good for consumers.
In our most recent appliance retailers survey, we heard from more than 56,000 subscribers on major appliance purchases. Amazon and Abt Electronics were tops in overall satisfaction. Sears trailed far behind but earned the same ratings for price, selection, service, and installation as Home Depot, Lowe's, and Best Buy.
And What About Whirlpool?
"Our total sales to Sears are approximately 3 percent of our global sales," Kristine Sherman, senior manager of global media and public relations for Whirlpool, told CR. "The majority of this 3 percent represents Kenmore-branded appliances."
And, in fact, that aspect of the companies' relationship lives on.
"We will continue to make Kenmore-brand appliances for Sears," Sherman says. Whirlpool makes washing machines, dishwashers, and refrigerators that bear the Kenmore badge.
In addition to Whirlpool-branded appliances, the company also manufactures Amana, Jenn-Air, KitchenAid, and Maytag kitchen and laundry appliances.
In terms of where Whilrpool appliances might land, the folks at Gap expect more to show up on the floor at JCPenney. Gap says JCPenney could capitalize on the fact that its stores anchor some of the same malls as Sears.
CR's Take on Whirlpool Appliances
In our major appliance labs, we've tested hundreds of appliances manufactured by Whirlpool.
"If you're considering an appliance from one of Whirlpool's brands, know that in our tests of electric smoothtop ranges and French-door refrigerators, most scored Very Good overall," says Jim Nanni, associate director of appliance testing at CR. "These brands also do very well in our tests of dishwashers and front-loading washers, with the majority scoring Very Good or Excellent."
However, Whirlpool brands typically trail the competition in our tests of top-freezer refrigerators and gas ranges, mustering scores of Good, for the most part.
Every year we survey hundreds of thousands of readers to learn about their experiences with the appliances they own, to let you know how likely they are to break. You'll see brand reliability charts in our ratings of all major appliances.
For laundry-appliance reliability, for example, Whirlpool lands in the middle of the pack. "When it comes to the reliability of washers and dryers, our most recently published brand-reliability results found that that Maytag and Whirlpool aren't the most or least reliable brands," says Simon Slater, a CR manager of survey research.
Among Whirlpool brands, reliability varies by appliance type, so it pays to take a look at the charts in our ratings for the type of appliance you need. "For example, our survey on ranges found that Maytag and KitchenAid gas ranges are more prone to breaking than most other brands in our analysis, and we can't recommend them at this time," Slater says. "But that's not the case for electric ranges."