When you shop through retailer links on our site, we may earn affiliate commissions. 100% of the fees we collect are used to support our nonprofit mission.
Learn more.
Back-pain sufferers are admittedly desperate and willing to try anything—shoe inserts, devices that zap them with electric pulses, or braces to wrap around their lower back. And sales of back creams, patches, and wraps amounted to nearly $1 billion last year.
But "many of these items are expensive, and research doesn't always show that they work," says Gerardo Miranda-Comas, M.D., an assistant professor of rehabilitation medicine at the Icahn School of Medicine at Mount Sinai in New York City. And the American College of Physicians, in its new guidelines, finds good evidence only for heating pads. Here are some things to consider before you invest in over-the-counter products.
Worth a Try
Heating Pads, Wraps, and Bottles
They cause blood vessels to dilate, which can increase blood flow to tissue and ease pain.
Cost: ThermaCare Lower Back & Hip Heatwraps, which are disposable, cost about $7; the SoftHeat Pain Relief for Whole Body Wellness Wrap, which is reusable, runs about $20.
What experts say: A 2016 analysis in the Journal of Chiropractic Medicine found that heat wraps increase muscle temperature and blood flow to tissue, says Alan Hilibrand, M.D., a spokesman for the American Academy of Orthopaedic Surgeons and co-director of spine surgery at the Sidney Kimmel Medical College of Thomas Jefferson University in Philadelphia.
CR's take: It's worth trying one, but don't use it for more than 20 minutes at a time. "I've had patients who fall asleep with them on and as a result develop mild burns," Hilibrand says. Never put these products over creams or patches (see below). And note that a hot-water bottle works as well.
Creams and Patches
Rub-on creams that contain capsaicin (found in chili peppers) or methyl salicylate (oil of wintergreen) create a feeling of heat. Those with menthol cause a cooling sensation. Lidocaine-based products have a numbing effect.
Cost: An over-the-counter patch that contains menthol, like the Absorbine Jr. Pain Relief Back Patch, costs about $4. A product with 4 percent lidocaine, like the Lidocare Pain Relief Patch Back/Shoulder, is about $19.
What experts say: There's little research on OTC patches and creams, but prescription-strength versions of lidocaine and capsaicin products can help, research suggests.
CR's take: OTC lidocaine products are your best bet because they're closest to the prescription versions, our experts say.
Short Term Only
Back Braces and Wraps
These wrap around your torso and try to duplicate the support you get from back and abdominal muscles.
Cost: A basic neoprene lumbar support belt can cost about $12, though some, such as the Bauerfeind Brace, can cost as much as $175.
What experts say: Some research shows that back supports can improve function for people with pain that has lasted one to three months. But over time they might weaken your stomach and back muscles, undermining your recovery.
CR's take: Use only for a few hours at a time, for a few days, soon after back pain starts. "They're fine for a short period of time—for example, someone getting around a back strain who has to stand up to give a presentation," Hilibrand says.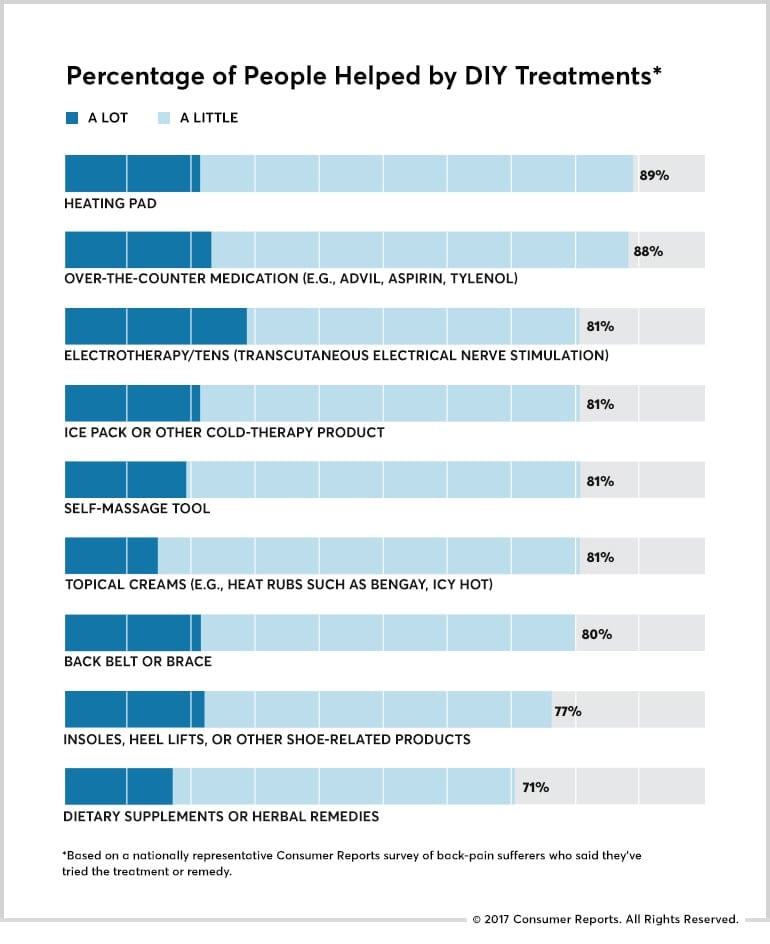 Mostly Skippable
At-Home TENS Units
You can buy small battery-operated transcutaneous electrical nerve stimulation devices, which emit gentle electrical pulses, that are similar to the devices used by some physical therapists and chiropractors.
Cost: The Aleve Direct Therapy TENS device costs about $50; the Quell wearable pain-relief device retails for $250.
What experts say: A small company-funded study of the Quell device published in the Journal of Pain Research found that 80 percent of users with chronic pain reported improved symptoms. But a review in the Journal of Pain Management concluded that there wasn't much evidence that even the more powerful devices used by healthcare professionals help much for back pain.
CR's take: The OTC devices "may not provide enough electrical stimulation to really do anything," says Kush Goyal, M.D., a back-pain specialist at the Cleveland Clinic.
Insoles
These foot supports are meant to correct imbalances that can cause you to stand in ways that worsen back pain.
Cost: A simple OTC product such as Dr. Scholl's Back Pain Relief Orthotics is about $14; the Protalus Model S retails for $80.
What experts say: The evidence is inconsistent about whether even prescription orthotics designed for your anatomy help much.
CR's take: They could help if your pain stems from a clear knee or foot problem, but don't expect too much.
Editor's Note: This article also appeared in the June 2017 issue of Consumer Reports magazine.
This article and related materials are made possible by a grant from the state Attorney General Consumer and Prescriber Education Grant Program, which is funded by the multistate settlement of consumer-fraud claims regarding the marketing of the prescription drug Neurontin (gabapentin).