When you shop through retailer links on our site, we may earn affiliate commissions. 100% of the fees we collect are used to support our nonprofit mission.
Learn more.
Among large, ultra-luxury sedans, the BMW 7 Series has always played second fiddle to the Mercedes-Benz S-Class. In sales figures, prestige, and ride comfort, the Mercedes is king. BMW has tried to change that with the all-new 7 Series.
Fully redesigned for 2016, the new BMW 7 Series gets a lighter-weight chassis that makes extensive use of carbon fiber, in an effort to make the car both more agile and improve fuel efficiency. The cabin is loaded with high-tech wizardry, the highlight of which is gesture control. This allows you to adjust audio volume or answer your phone with a mere sweep of your hand. On top of that, the BMW can steer itself down the highway, but you need to keep your hands on the wheel.
Starting at $81,300, the 740i is the least expensive version, powered by a 320-hp, 3.0-liter turbocharged six-cylinder. But most customers, according to BMW, opt for the $94,400 750i, which has a 445-hp, 4.4-liter turbocharged V8. Adding all-wheel drive costs $3,000.
We recently bought an all-wheel-drive 750i, which with typical options rang in at $110,645. For that kind of price you expect the world, and even before we've finished testing it, we can say the new BMW 750i impresses on several levels.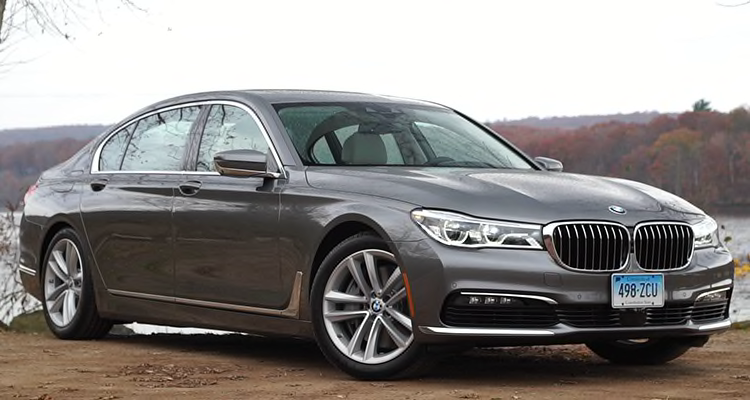 Driving Impressions
It's quite striking how the 750i gathers speed in such a decisive, yet effortless way. Even with the weight of the all-wheel-drive system, this limo catapults itself to triple-digit speeds without breaking a sweat. That sensation is certainly helped by the super smooth eight-speed automatic transmission, which imperceptibly executes each shift.
Combine that graceful performance with the supremely steady ride—courtesy of the standard air suspension—and the absence of virtually any wind noise, and you can see how the new BMW 7 Series can easily become a board room on wheels. Even at Autobahn speeds or over undulating pavement, the big 750i keeps its composure and comforts its occupants with a planted and pliant feel. All isn't perfect, however. We think the Mercedes-Benz S-Class still has the ultimate edge in terms of low-speed ride comfort.
In the past, a 7 Series was the choice for those who wanted a limo that could carve corners and act as a sports sedan. Evidently, a message got back to the engineers in Munich that these cars are driven by chauffeurs. In fact, the last-generation version was rather clumsy. From behind the wheel of our 750i, it's clear that, while more athletic, talented, and capable on the road and track, the BMW hasn't gone all the way back to its sports sedan roots. For that, you'd have to turn to the Porsche Panamera or a Maserati Quattroporte.
Traditionally, when dealing with cars in this elite stratosphere, fuel economy isn't a primary concern for buyers. Still, the 21 mpg overall that we've so far observed is quite commendable.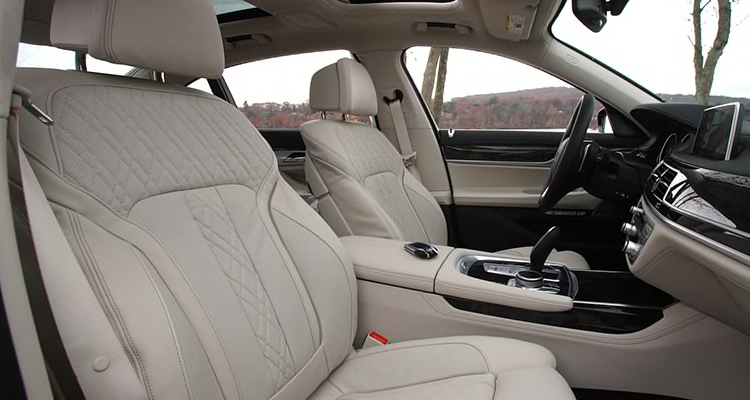 Inside the Cabin
The luxurious interior provides a fabulous driving position with tons of adjustments and supremely comfortable seats. The sumptuous rear seat makes you feel at least like a president, if not a king, and even offers a massage feature and the ability to electrically control the sun shades. Climate control, audio choices, and more are controlled through an Android tablet that's nestled in the elaborate armrest. Interior quality is simply superb, with diamond-shaped seat patterns, attractive stitching details, genuine wood and leather, and touches of aluminum all fitting together in harmony. The result is a modern ambience without looking glitzy.
As in other BMWs, the iDrive control system interfaces with a central screen for monitoring audio, phone, navigation, and trip info. In the 750i, categories are laid out clearly and the screen responds to touches, gestures, and inputs from a central control knob. Gesture control allows you to adjust volume with a rotation of a finger or accept and reject phone calls with a swipe motion. The heads up display is one of the best we've experienced, automatically displaying the action you're involved with, be it scrolling through phone contacts or audio choices. Working in conjunction with steering wheel controls, this minimizes the time your hands are off the wheel and eyes are off the road time. It even displays navigation instructions.
Other cool features include large patterned puddle lights, which illuminate a path when you approach or depart the car at night. As in the previous generation, door checks are continuous; the opened door stays where you want it to, even when parked on a slope. And, as has become the norm in this class, the doors have a soft-close feature, pulling themselves shut after a gentle close.
The oversized key fob resembles a 2003-vintage flip phone; it displays various information functions, such as fuel range, and lets you precondition the car for temperature before setting off.
As expected, the new 7 Series creeps into some autonomous driving capability with active cruise, lane correction and the ability to self brake. The active cruise adjusts for varying speeds and the car can follow another car ahead and steer itself. But after fifteen seconds it will command you to put your hands back on the wheel. We particularly like the lane-departure warning, which vibrates the steering wheel when the car crosses a lane marking. The rear camera includes a bird's-eye view, which helps you safely dock this flagship. Still, this is a feature that has been available on the $17,000 Nissan Versa Note.
CR's Take
With high-tech galore, exquisite attention to detail that caters to your every need, a cabin that's beyond impeccable, a serene ride, and a tomb-like silence, the BMW 750i has been delivering a first class travel experience. Whether or not that's what's going to challenge the Mercedes-Benz S-Class' hegemony remains to be seen.