When Buying Car Insurance, Bigger Isn't Better
The biggest advertisers rank middling or lower in CR's latest car insurance ratings, and USAA is tops on all counts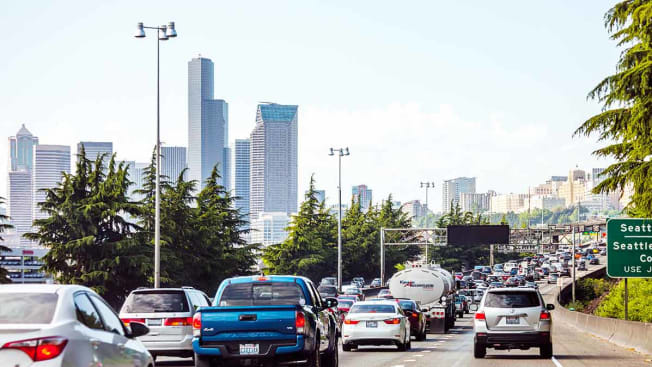 Big car insurers like Geico, Progressive, and Allstate may be more recognizable, but it's the lesser-known insurers that earn higher satisfaction scores in CR's latest member survey about car insurance.
In fact, of the four insurers at the top of Consumer Reports' car insurance ratings, not one is among the top spenders on auto-insurance advertising. What's more, 15 other insurance companies rate higher than many of the big players.
USAA, NJM (New Jersey Manufacturers), Amica, and PEMCO cap CR's ratings of 53 car insurance companies. All four car insurers earned very high overall satisfaction scores by surveyed Consumer Reports members.
San Antonio-based USAA, however, was the only insurer with superlative scores across all ratings categories. Those categories include price paid for premiums; claims settlements; non-claims customer service; thoroughness of policy reviews with customers; and proactive attempts by the insurer to provide help and advice to customers.
3 of the 4 Top Brands Limit Eligibility
USAA was alone in earning a superior mark for premiums paid, and for help and advice, according to responses by Consumer Reports members to our 2018 Fall Survey. In that survey, 90,352 CR members provided us with 107,572 reports on their experiences with car insurance companies. (CR members' experiences are not necessarily representative of the U.S. population.)

Very Good Alternatives Are Available
For consumers who can't get coverage with the fabulous four, our ratings highlight lots of worthwhile alternatives—and none are the big names you might think of. Fifteen companies earned overall scores placing them in our light-green ratings tier, indicating favorable satisfaction from customers.
The cum laude list includes large carrier Cincinnati Insurance Company, which sells auto coverage in 41 states and D.C.; regional insurers such as Erie and West Bend; insurers that limit eligibility, such as members-only Auto Club Insurance Company of Florida (covering AAA members in Florida), and California Casualty (covering educators, nursing professionals and first responders, among others); and Wawanesa, which only takes applicants with near-spotless driving records.

Major Advertisers Rated Middling or Lower
State Farm, the largest car insurer in the U.S., sits among 32 insurers rated so-so (yellow). In fact, the top five insurance advertisers—Geico, Progressive, Liberty Mutual, State Farm, and Allstate, in order of ad spending—all were given this passable overall grade by our members.
Nationwide Insurance, another major auto insurer, joins Esurance at the bottom of the ratings, with a less-than-stellar overall score that puts them in our orange ratings tier.
"We use a number of resources to gain feedback from our members and agents and use that information on our continuing journey to improve," Nationwide said in a statement. "We are there for our members when they need us most—and we strive to provide the best service possible."
"We know there are still areas we can improve and we consider all feedback valuable," said a statement from Esurance, which noted that the company was seeing higher customer satisfaction scores. "Our number one priority is to be there for our customers and help them make the best decisions so they are properly protected," the statement read. "We will continue to listen to our customers and identify areas to improve so we can deliver a surprisingly painless customer experience."
Nationwide, Allstate, and Liberty Mutual all earned the lowest grade available, a red chevron, for price paid for premiums.
Allstate responded: "When it comes to insurance, one size doesn't fit all. That's why broader industry reports aren't always a good way to gauge the best coverage and value for one person's very specific needs. At Allstate, we get to know our customers and work closely with them to pair quality, personalized coverage with great savings. It's important for customers to talk with an Allstate agent and find the best policy that works uniquely for them."
Liberty Mutual declined to comment.

Price a Big Factor in Satisfaction, Switches
Price and the claims settlement experience were the best predictors of members' overall satisfaction with their insurers, our survey found. And when consumers switched carriers, price was the biggest motivator.
Among the 22 percent of CR survey respondents who moved to a new car insurer in the past five years, 62 percent said that one of the reasons they did so was because they got a better rate from their new carrier. Forty percent said they switched, at least in part, because their prior insurer raised premiums (the CR survey allowed respondents to list multiple reasons).
With Liberty Mutual, price-related defections were even more frequent than the norm. Fully half of CR members who abandoned Liberty Mutual in the past five years said they did so after the insurer raised premiums. On the flip side, about three-fourths of consumers who signed on with Ameriprise or Esurance said they moved because those carriers offered better rates.
Progressive's Flo, the Geico Gecko, the Limu Emu, the Farmers Insurance Hall of Claims, and other advertising gimmicks had little impact on why members switched. Only 5 percent of members cited advertising in their bid to move.

Missed Opportunities to Save Money
Though the majority of people who moved to a new carrier said they got better rates, our survey found that few of these people bothered to shop around. Just 18 percent of members who switched insurers in the past five years said they regularly shop around to get the best deal. In fact, 40 percent of all surveyed members have been with their current company for 25 years or more, and 86 percent of them say they're highly satisfied with their current insurer.
But shopping regularly—as often as once a year—can save you money. To save money on coverage, CR recommends:
• Set the deductible right. A higher deductible reduces your premium because you pay more out of pocket if you have a claim. If you have a good driving record and haven't had an at-fault accident in years—or ever—opting for a higher deductible on collision might be a good bet. Just make sure you can afford to pay it if your luck runs out.
• Bundle your car and homeowners coverages. Insuring your home and car with the same company can save you on one or both coverages, says the Insurance Information Institute, an industry organization.
• Make sure you get available discounts. Ask about breaks, including those for safety- and security-related features built into your car, good student drivers (typically, a B average or better at school), low daily mileage, and completion of a safe-driver training. All can reduce your premium.
• Maintain a good credit score. Many car insurers use credit-based insurance scores to help set your car insurance premiums. All states except California, Hawaii, and Massachusetts allow this practice. In general, lower scores produce higher premiums, though the impact varies from insurer to insurer. (Several states, including California, Georgia, Hawaii, Massachusetts, Oregon, and Utah, either prohibit or restrict the use of credit-based insurance scores.)