When you shop through retailer links on our site, we may earn affiliate commissions. 100% of the fees we collect are used to support our nonprofit mission.
Learn more.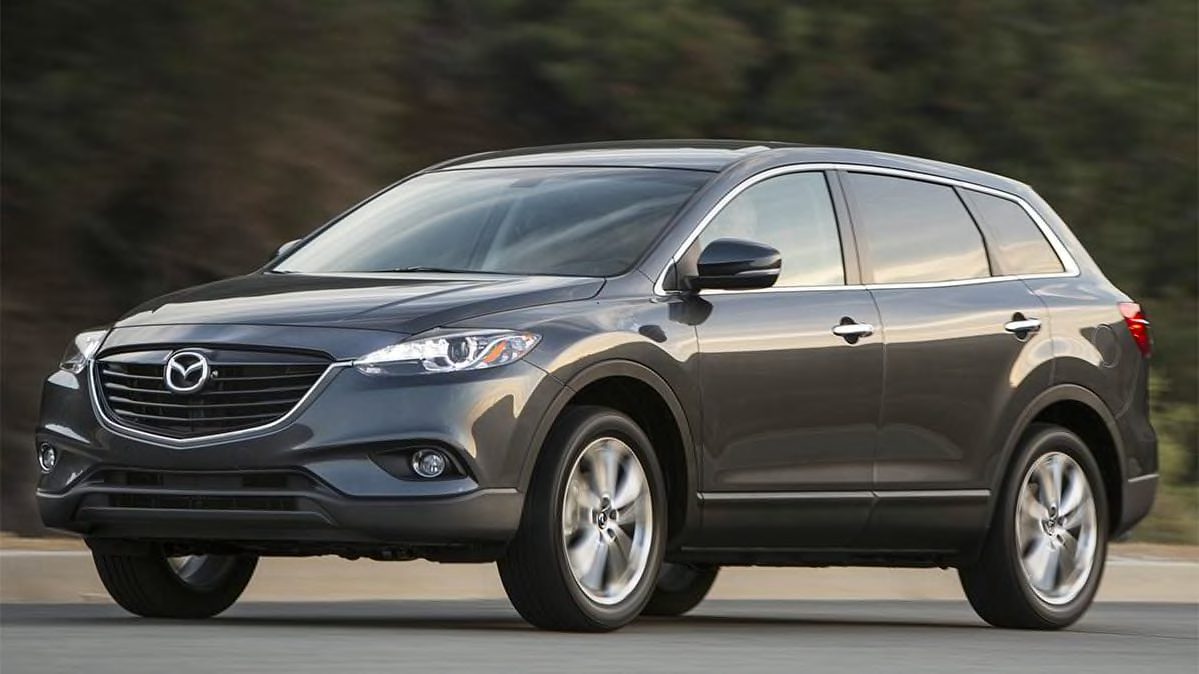 Mazda is expanding its Takata airbag recall to include certain 2010 to 2012 CX-7 and 2010 to 2015 CX-9 SUVs, and 2010 to 2013 Mazda6 sedans. If the front-passenger airbag were to deploy, sharp metal fragments could strike the driver or front passenger, risking injury and death.
These Takata airbag problems are not new. In all, Takata recalls cover 50 million airbag inflators in 37 million cars, SUVs, and pickup trucks from 19 manufacturers, according to the National Highway Traffic Safety Administration (NHTSA). This latest announcement from Mazda recalling 155,436 vehicles is part of NHTSA's effort to space out the replacement of Takata airbag inflators in different regions of the country, based on the risk to drivers and passengers.
The problem stems from ammonium nitrate used to inflate the airbag during a crash. The ammonium nitrate can become unstable over time, leading to inflators that explode with an unexpectedly violent force.
Mazda says it will contact owners affected by the recall in mid-November and advise them to bring their vehicle to a local dealership for inspection and possible airbag replacement.
This recall applies to specific model year vehicles manufactured at certain assembly locations. Because of the dangers posed by these airbags, and potential for confusion, we recommend any owner within the model range enter their vehicle identification number (VIN) into the recall tool at NHTSA.gov. The VIN is located at the base of the windshield on the driver's side. Owners may also follow up with a local Mazda dealership.
At least 15 drivers and passengers in the U.S. have died, and more than 250 people have been injured because of these devices, NHTSA says.
Stay informed about recalls that might affect your vehicle using our Car Recall Tracker. Create a free account now to become a CR member.
The Details
Vehicles recalled: 155,436 models, including:
Certain 2014 to 2015 Mazda CX-9 SUVs sold, or ever registered, in the states of Alabama, California, Florida, Georgia, Hawaii, Louisiana, Mississippi, South Carolina, Texas, Puerto Rico, American Samoa, Guam, the Northern Mariana Islands (Saipan), and the U.S. Virgin Islands.
Certain 2011 to 2013 Mazda6 sedans, 2011 to 2012 CX-7 SUVs, and 2011 to 2015 CX-9s sold, or ever registered, in the states of Arizona, Arkansas, Delaware, Illinois, Indiana, Kansas, Kentucky, Maryland, Missouri, Nebraska, Nevada, New Jersey, New Mexico, North Carolina, Ohio, Oklahoma, Pennsylvania, Tennessee, Virginia, West Virginia, and the District of Columbia.
Certain 2010 to 2013 Mazda6, 2010 to 2012 CX-7, and 2010 to 2015 CX-9 vehicles ever registered in the states of Alaska, Colorado, Connecticut, Idaho, Iowa, Maine, Massachusetts, Michigan, Minnesota, Montana, New Hampshire, New York, North Dakota, Oregon, Rhode Island, South Dakota, Utah, Vermont, Washington, Wisconsin, and Wyoming.
The problem: Front-passenger airbags may explode, sending sharp metal fragments toward car occupants when deployed.
The fix: Dealerships will inspect the airbags and replace, if necessary, at no charge.
How to contact the manufacturer: Owners may contact Mazda customer service at 800-222-5500.
NHTSA campaign number: 18V717000. Mazda's number for this recall is 1317F.
Check to see whether your vehicle has an open recall: NHTSA's website will tell you whether your vehicle has any open recalls that need to be addressed.
If you plug your car's 17-digit vehicle identification number (VIN) into NHTSA's website and this recall doesn't appear, it means your vehicle doesn't currently have any open recalls. Because automakers issue recalls often, and for many older vehicles, we recommend checking back regularly to see whether your vehicle has had a recall issued.