2021 Nissan Rogue Recalled for Child Safety Seat-Related Problem
Improperly welded wires may prevent child seats from being securely anchored Nissan North America is recalling 47,098 Nissan Rogue SUVs from the 2021 model year to address a problem with the rear seats. Specifically, the rear seats were not properly manufactured by Nissan's supplier. These seats are unique to the Nissan Rogue, and the issue does not affect any other Nissan or Infiniti vehicle.
According to Nissan, on some Rogues the upper tether wires in the rear seats may not have been properly welded to the seatback frame. These wires are part of the LATCH system for securing child safety seats. The wires may have moved out of position during the welding process, which could lead them being insufficiently welded to the seatback. This could result in the wires not meeting the strength requirements for child restraint systems as outlined in FMVSS (Federal Motor Vehicle Safety Standards) No. 225.
The supplier notified Nissan of the problem in April 2021, and during an audit Nissan found three left-side seats and one right-side seat with insufficient welds. The supplier also discovered that the clamps on the seatback were loose, which allowed the seat frame to move, causing the wires to be out of position during the welding process.
Nissan noted that it is not aware of any incidents related to the problem.
The automaker will notify consumers when they can bring their Rogues in for inspection. The dealer will inspect the seat and, if a nonconforming weld is found, will replace the affected seatback. This applies to Rogues with cloth and leather seats.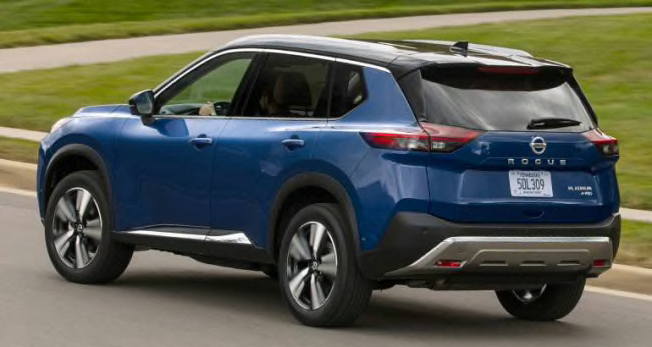 Vehicles recalled: Approximately 47,098 Nissan Rogue SUVs from the 2021 model year.
The problem: An improperly welded wire on the rear seatback, part of the LATCH system, may prevent a child safety seat from being securely anchored.
The fix: Nissan dealers will visually inspect the back of the seat frames for all three rear seating positions. If they discover a nonconforming weld they will replace the affected rear seatback(s), all at no charge to the owner.
How to contact the manufacturer: Nissan will notify owners by mail starting July 30, 2021. Owners may contact Nissan customer service at 800-867-7669. Nissan's number for this recall is PC812.
NHTSA campaign number: 21V474.
Check to see whether your vehicle has an open recall: The National Highway Traffic Safety Administration's website will tell you whether your vehicle has any open recalls that need to be addressed.
If you plug your car's 17-digit vehicle identification number (VIN) into NHTSA's website and a recall doesn't appear, your vehicle doesn't currently have any open recalls. Because automakers issue recalls often, and for many older vehicles, we recommend checking back regularly to see whether your vehicle has had a recall issued.
Stay informed about recalls that might affect your vehicle by using our Car Recall Tracker. Create a free account now to become a CR member.