Survey data that Consumer Reports has collected this year on more than half a million vehicles once again reveals that there can be significant differences between the most and least reliable new cars, SUVs, and trucks.
To help steer you away from potential problems, we present the least reliable new cars in 10 popular categories. We provide a quick description of the model and highlight the predicted reliability score (on our 100-point scale) and key trouble spots.
There are cases where a car may perform well in our road tests but owners report a high number of reliability concerns, leading to scores as low as 12.
Consumer Reports studies 17 trouble areas to rate a model's reliability, from nuisances such as squeaky brakes and broken interior trim to major problems such as transmission repairs or trouble with four-wheel-drive systems.
We weight the severity of each type of problem to calculate a predicted reliability score for each new vehicle, as shown here for the 2019 model year. That score is then combined with data collected from our track testing, as well as our owner-satisfaction survey results and safety data, to calculate a vehicle's Overall Score.
Also, be sure to see CR's list of the 10 most reliable cars. And check the predicted reliability rating for any model and category in the dynamic charts for new car ratings A-Z.
See our complete guide to car reliability and our reliability FAQ for more information on how CR surveys and analyzes reliability data.
Compact SUV: Jeep Compass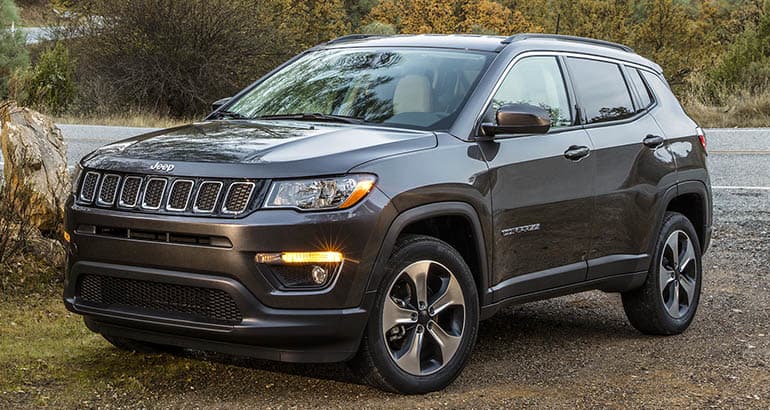 Predicted reliability score: 19
Trouble spots: In-car electronics, suspension, climate system
The Compass, which slots above the Renegade and below the Cherokee, is not competitive with its peers, such as the Honda CR-V and Mazda CX-5. Its power comes from a 180-hp, 2.4-liter four-cylinder, an engine we found to be unrefined and sluggish. Most versions have the nine-speed automatic transmission, which is neither smooth nor responsive. The ride is rather stiff and jittery. Its handling isn't agile, although the Jeep remains stable and predictable when driven hard into turns. The rear seat is too low and flat.
On the plus side, the optional 8.4-inch Uconnect infotainment system is excellent. Available safety features include forward-collision warning (FCW), lane-departure warning, and blind-spot warning. The Trailhawk is designed to look more off-road-ready, but the Compass is not intended for such demanding conditions. Overall, aside from the allure of the Jeep brand, the Compass trails the competition in several important metrics.
Price range: $20,995 - $29,095
See the complete Jeep Compass road test.
Midsized SUV: Chevrolet Traverse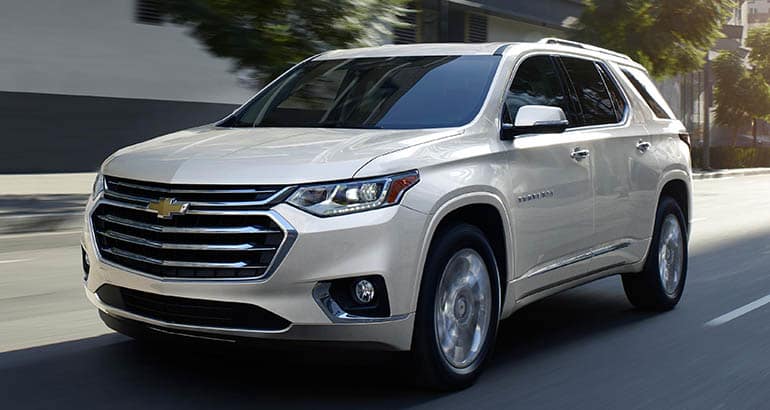 Predicted reliability score: 14
Trouble spots: Transmission (minor), in-car electronics
The Traverse has a quiet interior, a very comfortable ride, and responsive handling, making it a viable alternative to full-sized SUVs such as the Suburban. It's also a competent challenger to established three-row SUVs. The 3.6-liter V6 engine supplies ample power and quick acceleration, and gets 20 mpg overall.
Front and second-row captain's seats are comfortable, and the third row is roomy. The driver's seat has only two-way adjustable lumbar support, and the sunshade is manual—an oddity at this price. An eight-passenger configuration is available. We like the intuitive infotainment system. The manual sunroof shades are out of place in the $50,000 Premier trim. There is an available system that monitors teen drivers, and a rear-seat reminder designed to prevent a small child from being left unattended in the Traverse. Only the top trims have FCW and automatic emergency braking (AEB).
Price range: $29,930 – $52,600
See the complete Chevrolet Traverse road test.
Luxury Compact SUV: Jaguar F-Pace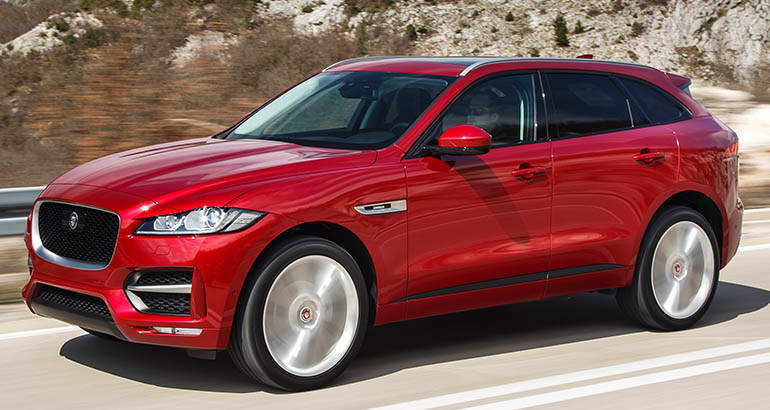 Predicted reliability score: 20
Trouble spots: In-car electronics, body integrity, power equipment, engine cooling
Jaguar's compact SUV shares its rear-wheel-drive platform with the XE and XF. The F-Pace is quick thanks to its 340-hp, supercharged 3.0-liter V6 engine, but the omnipresent engine drone quickly becomes tiring. A smooth eight-speed automatic transmission and all-wheel drive are standard.
The taut and nimble F-Pace is one of the best-handling SUVs, contributing to the lively driving experience. However, the ride is stiff and choppy. The seats are comfortable, but the interior quality doesn't match that of some competitors. The infotainment system is behind the times, using a slow and fussy touch screen. The A/C system isn't always up to the task. A number of safety features, including lane-keeping assist and AEB, are standard for 2019.
Price range: $42,065 - $63,200
See the complete Jaguar F-Pace road test.
Luxury Midsized SUV: Tesla Model X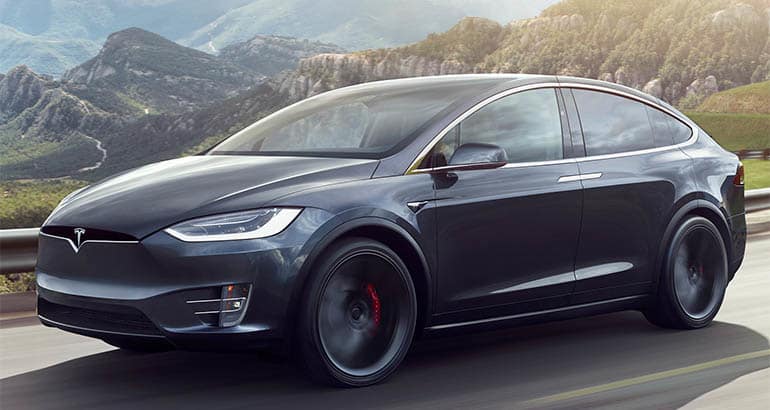 Predicted reliability score: 13
Trouble spots: Noises and leaks, body hardware, in-car electronics
The electric Model X is more showy than it is practical. It features rear doors that open up and out of the way, giving easy access to the second-row seats. But these massive doors take their time to open and close. The huge windshield extends up and over the front-seat occupants, making the cabin feel airy and futuristic.
Buyers can opt for a five-, six-, or seven-passenger seating configuration, but unlike in every other SUV, the second row doesn't fold if you have the two captain's chairs, which compromises utility. Getting into the third-row is complicated by having to motor the middle seats forward, but the resulting entry path is decent. Like the Model S, the Model X is very quick and handles well. But ride comfort and noise isolation aren't as good in the X as in the S. The 90-kWh version we tested had a realistic 230-mile range.
Price range: $79,500 - $140,000
See the complete Tesla Model X road test.
Hybrids/EVs: Honda Clarity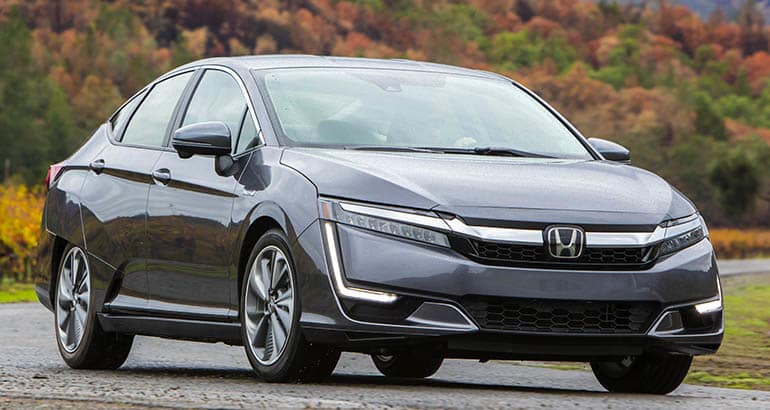 Predicted reliability score: 14
Trouble spots: Body hardware, climate system, fuel/emission system
The Clarity comes in three versions: an electric, a plug-in hybrid, and one powered by hydrogen. The plug-in hybrid is the most practical version for everyday use and has a 48-mile all-electric range before the gas engine kicks in. It takes 2.5 hours to recharge with a 240-volt charger, and 12 hours on 120 volts. The car works well in electric-only mode, but in hybrid mode, the engine makes a loud ruckus.
The ride is comfortable, but its handling is awkward because the body leans in corners and steering response is sluggish. The cabin is roomy but the front seats are uncomfortable because of their short bottom cushion and lack of lower back support. FCW and AEB are standard, but there is no true blind-spot detection system that covers both sides. The Clarity also uses Honda's unintuitive push-button gear selector. The electric version has a short EPA-rated range of 89 miles.
Price range: $33,400 - $58,490
See the complete Honda Clarity road test.
Midsized Cars: Chevrolet Malibu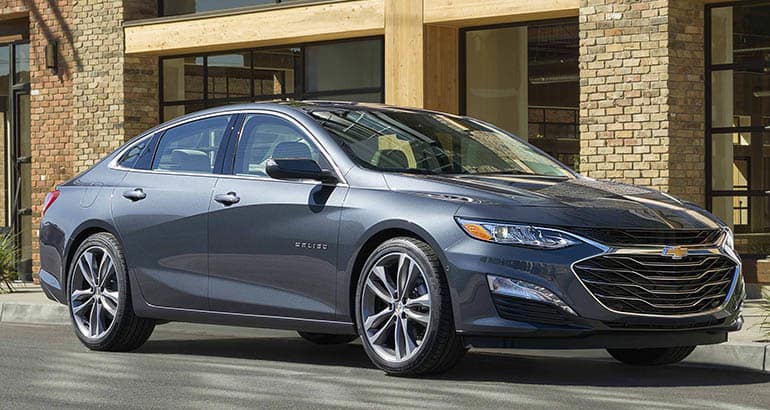 Predicted reliability score: 27
Trouble spots: Power equipment, body integrity, drive system
Chevrolet's Malibu is competitive among midsized sedans, with a quiet cabin and easy-to-use controls. In tests, we found the sedan to be quiet, with a comfortable ride and responsive handling.
Two four-cylinder turbo engines are offered. For 2019, there's a 1.5-liter with a continuously variable transmission (CVT), which allows for an almost infinite set of gear ratios as opposed to a defined set typically found in an automatic transmission. When we tested the 1.5-liter turbo with a six-speed automatic transmission, we achieved 29 mpg. The second more powerful and refined 2.0-liter turbo is backed by a nine-speed automatic. A hybrid, utilizing some of the Chevrolet Volt's technology, is also available. It got an impressive 41 mpg overall in our tests.
Up front is a roomy, comfortable cockpit and an updated version of Chevrolet's MyLink infotainment system. But the cloth seats are a bit short on support. The roomy rear seat lets long-legged passengers stretch out.
Price range: $21,680 – $31,020
See the complete Chevrolet Malibu road test.
Large Cars: Kia Cadenza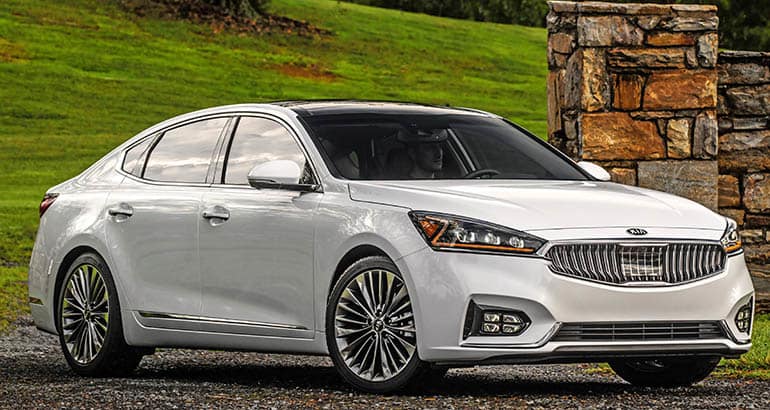 Predicted reliability score: 16
Trouble spots: Climate system, fuel system, engine cooling
The Cadenza is a competent large sedan that flies under the radar. It is considerably bigger than its sibling, the Kia Optima, and is competitive with the Chevrolet Impala and Toyota Avalon. The car is roomy and quiet, with easy-to-use controls. The ride is pleasant enough, though not particularly plush. Its handling is secure when the car is pushed to its limits, but the Cadenza is better suited to long-distance cruising.
The 290-hp, 3.3-liter V6 engine is slick and powerful, and the eight-speed automatic transmission shifts smoothly. This combination returned 24 mpg overall in our tests. Higher-end Limited versions include additional soft surfaces and more luxurious leather seats. AEB and lane-departure warning are available, but only in upper trim versions that cross the $40,000 mark.
Price range: $32,290 - $44,690
See the complete Kia Cadenza road test.
Luxury Compact: Cadillac ATS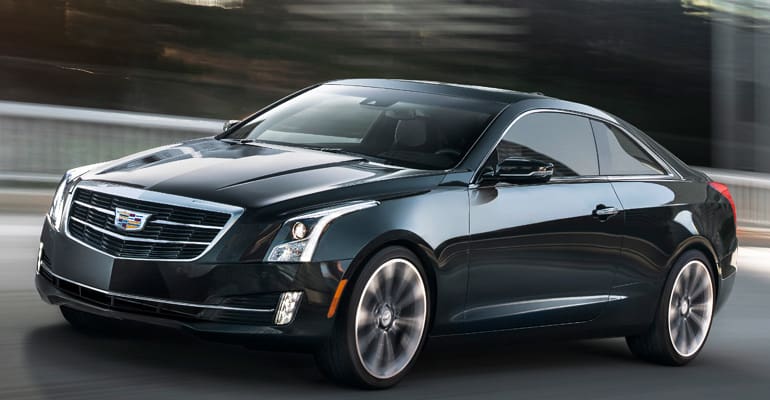 Predicted reliability score: 13
Trouble spots: In-car electronics, climate system, drive system
The ATS sedan was discontinued for 2019, but the coupe version soldiers on. Nimble, capable handling and sharp steering make the ATS a treat to drive. The 2.0-liter turbocharged four-cylinder engine is quick, but it doesn't feel all that powerful. It got just 23 mpg overall when we tested it with the old six-speed automatic transmission, which has been supplanted by a better eight-speed unit. A smooth, refined 3.6-liter V6 is also available.
The ride is taut and braking is excellent. However, the Cue infotainment system, with its flush buttons, is very convoluted and frustrating to use. The interior is well-finished but very snug, particularly in the back. The high-performance ATS-V gets a 464-hp, twin-turbo V6 engine.

Not tested (coupe).

See the Cadillac ATS model page.
Luxury Midsized: Volvo S90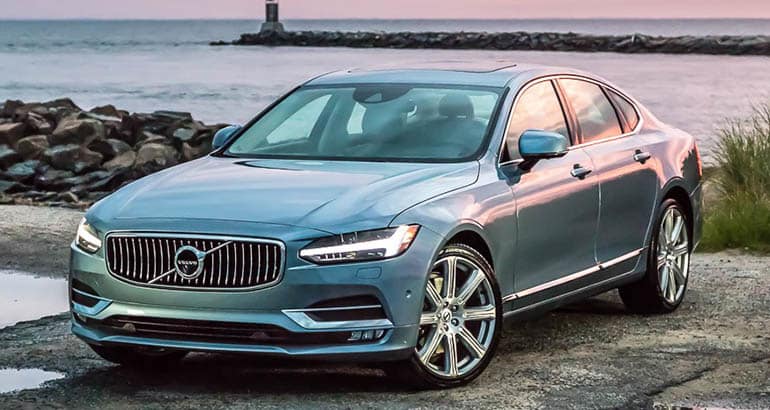 Predicted reliability score: 12
Trouble spots: Body integrity, in-car electronics, engine (major), engine (minor), suspension
Though plush and ornate, the S90 falls short of the refinement expected of a midsized luxury sedan because of its stiff ride and rough-sounding engine. Only four-cylinder engines are available. The 316-hp supercharged and turbocharged T6 version pulls strongly, but acceleration falls below class expectations. We measured a respectable 23 mpg overall in our tests. The base T5 version uses a 250-hp turbocharged four-cylinder. All-wheel drive is available only on the T6 for now.
Its handling is sound but ordinary. The roomy cabin is gorgeous, with supportive seats, but the iPad-like touch screen proves frustrating to use. Automatic emergency braking, including pedestrian and large-animal detection, is standard, as is Drive Assist, which gives the car limited self-steering capability. The V90 is the wagon version.
Price range: $46,950 - $56,250
See the complete Volvo S90 road test.
Full-Sized Light-Duty Pickup: Nissan Titan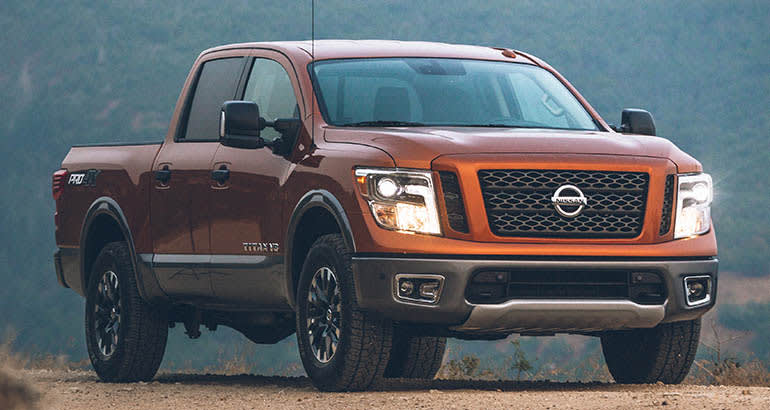 Predicted reliability score: 28
Trouble spots: Engine (minor), body integrity, transmission (minor)
The light-duty Titan is more pleasant to drive than the Titan XD (Extra Duty), which has a clumsy ride and handling that's similar to a heavy-duty pickup. The regular Titan comes with a smooth and punchy gas 5.6-liter V8 engine that is mated to a slick and responsive seven-speed automatic transmission, while the XD also offers a V8 Cummins diesel version.
The ride is more tolerable than the XD's, and handling is less clumsy. The roomy cabin has a variety of handy storage places, and the rear tailgate is damped, which is a nice touch. Connectivity features are expanded for 2019, with two USB ports and Android Auto or Apple CarPlay support.
Visibility is not as good as what you'd find with leading full-sized pickup trucks. A suite of safety and driver-assistance features is offered, including blind-spot warning and moving-object detection. When properly equipped, the Titan can tow over 9,000 pounds. The XD can tow 12,000 pounds, and its payload capacity is 2,000 pounds. It also has a built-in goose-neck trailer hitch.
Price range: $30,030 – $56,300
See the complete Nissan Titan road test.
Consumer Reports is an independent, non-profit organization dedicated to helping consumers. We make it easy to buy the right product from a variety of retailers. Clicking a retailer link will take you to that retailer's website to shop. When you shop through retailer links on our site, we may earn an affiliate commission – 100% of the fees we collect are used to support our mission.
Learn more.
Our service is unbiased: retailers can't influence placement. All prices are subject to change.