When you shop through retailer links on our site, we may earn affiliate commissions. 100% of the fees we collect are used to support our nonprofit mission.
Learn more.
Be on the lookout for deer while commuting or cruising to enjoy autumn's colors. Insurance claims for collisions with animals rise significantly in the fall when deer are mating, with the highest frequency in November.
The State Farm insurance company projects that there will be 1.33 million large-animal strikes in the coming year. It also estimates that the chance of a vehicle hitting bigger animals like a deer, elk, moose, or caribou is now 1 in 162 compared with 1 in 167 last year.
"Fall brings the dangerous combination of the deer being more active when we're driving more in the dark due to the shorter daylight hours," says Jen Stockburger, director of operations at Consumer Reports' Auto Test Center. "Stay attentive and make use of your high beams whenever you can to see farther ahead."
These collisions can be fatal to the animals, but the most recent data from the Insurance Institute for Highway Safety show that 189 people were killed in crashes involving animals in 2016.
"The best defense is common sense," says Russ Rader, an IIHS spokesman. "Slow down in areas where deer are prevalent. If you see one deer cross the road ahead, others are likely to follow."
He notes that most human deaths in these crashes happen when a vehicle runs off the road or a motorcyclist falls off the bike after a collision. "Most of the human deaths would be prevented if every driver buckled up and every motorcyclist wore a helmet," Rader says.
How to Avoid Hitting a Deer
Slow down. Watch for deer especially around dawn and between the hours of 6 p.m. and 9 p.m., when they're most active.
Be aware. Look out for deer-crossing signs and wooded areas where animals are likely to travel. If you travel the same route to and from work every day, you may find deer consistently grazing in the same fields. Make a mental note of when and where you regularly see the animals.
Be alert. If you see an animal on the side of the road, slow down. At night when traffic permits, put on your high beams for improved visibility.
Brake, don't swerve. Swerving to avoid an animal can put you at risk for hitting another vehicle or losing control of your car. It can also confuse the animal as to which way to go. Instead, just slow down as quickly and safely as you can. Your odds for surviving an accident are better when hitting an animal than hitting another car.
Assume they have friends. The "where there's one, there's usually more" often holds true. Deer travel in groups, so if you see one run across the road, expect others to follow.
Don't rely on deer whistles. These are aftermarket devices that some drivers put on their front bumpers to scare off animals. But animal behavior remains unpredictable, even if you use one of these.
Buckle up. A seat belt is your best defense for minimizing your risk in a crash. An Insurance Institute for Highway Safety study found that 60 percent of the people killed in animal-vehicle collisions weren't wearing their seat belts.
If you hit an animal, move your car safely off the road and call the police or animal control. Don't attempt to touch an injured animal. Photograph the scene, then call your insurance company when you get home. Damage from animal collisions is usually covered by auto insurance policies.
State Farm's annual deer claim study reveals a rather consistent roster of the 10 states with the most collisions, although North Dakota fell off the list this year and has been replaced by Mississippi.
The map below shows the state by state likelihood of an impact. Drivers have the greatest risk in West Virginia, where the chance of an accident is 1 in 46, according to the insurer.
At the other end of the spectrum, Hawaii drivers have just a 1 in 6,379 chance of striking a large animal.
Top States for Deer Collisions*
West Virginia
Montana
Pennsylvania
Wisconsin
Iowa
South Dakota
Minnesota
Michigan
Wyoming
Mississippi
*According to State Farm.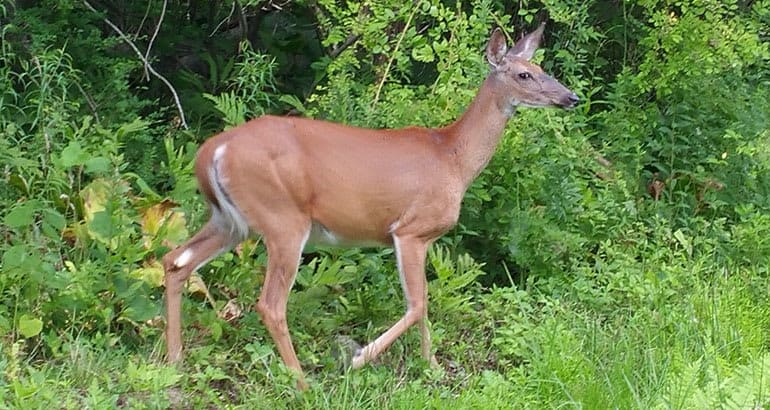 Headlight Testing
Properly functioning headlights are a vital part of car safety. On the "Consumer 101" TV show, Consumer Reports' expert Jen Stockberger explains how CR puts them to the test.