When you shop through retailer links on our site, we may earn affiliate commissions. 100% of the fees we collect are used to support our nonprofit mission.
Learn more.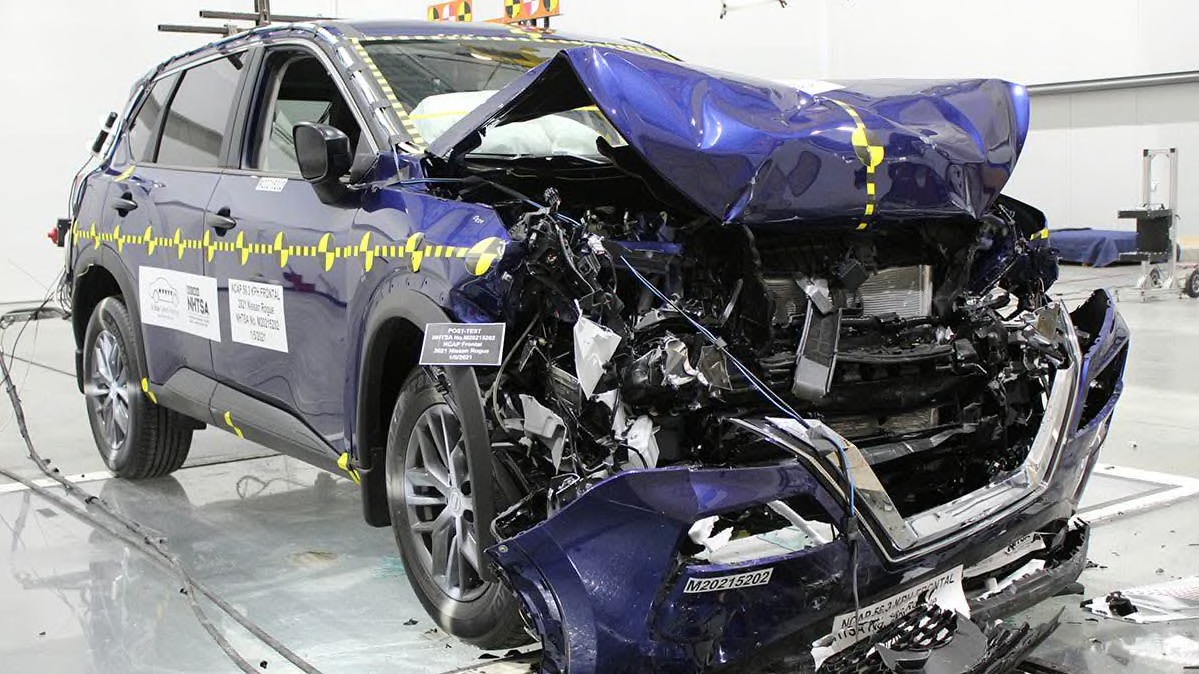 The new 2021 Nissan Rogue SUV has earned low scores in an important crash test. Although Nissan says that it has fixed the problem and that the Rogue performed well in subsequent independently evaluated crash tests, the early subpar result is an example of why car buyers should wait before buying a totally new or redesigned model. It also highlights the importance of crash test programs in the first place.
In crash testing conducted by the National Highway Traffic Safety Administration (NHTSA), the 2021 Rogue earned just two stars out of five for front passenger crash protection, and three stars out of five for front crash protection overall. These results stand out because nearly all vehicles tested in recent years have earned at least four out of five stars in these categories.
These disappointing results only apply to 2021 Rogue SUVs assembled at Nissan's Kyushu, Japan, factory before Jan. 28, 2021. After that date, the automaker updated the Rogue's front passenger restraint system, Nissan spokesperson Dan Passe told CR. All Rogues—regardless of their build date—assembled at Nissan's Smyrna, Tenn, plant also received the newer safety setup.
Nissan says that owners of early Kyushu-built Rogues will be able to get their vehicles updated soon. "To ensure customer confidence and satisfaction, Nissan will soon launch a service campaign to update 2021 Rogue vehicles produced in Kyushu prior to January 28, 2021," the statement reads. "Owners will receive a notification as to when to bring their vehicle in for updates."
"Our reliability surveys show those early models tend to have more problems, whether mechanical or electrical, and sometimes even safety issues," says Jake Fisher, senior director of CR's auto test program. The need to update a vehicle's design because of a disappointing crash test score isn't unique to any one automaker. In recent years, Ford, Hyundai, Fiat, Toyota, and Volkswagen have all made updates to vehicles outside of major redesigns to improve their scores.

You can find out if the Rogue you own or plan to buy is one of the low-rated models by looking at the label affixed to the driver-side center pillar, visible when the door is open. It will show the build date and the vehicle identification number. If the VIN begins with J, it was built in Kyushu. If it was built in Tennessee, it will start with a 5.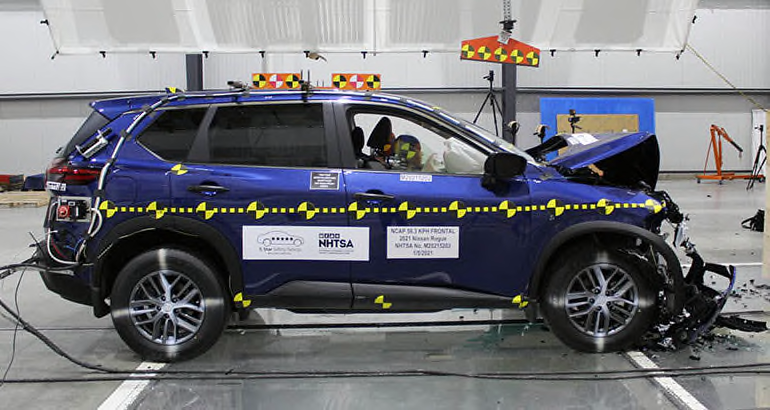 NHTSA's star ratings are a consumer information program that highlights each vehicle's crashworthiness in tests that go above and beyond minimum standards that all vehicles must meet for sale. Despite their low scores in this one crash test, these early build Rogues meet the minimum federal safety standards, and when combined with their performance in all of the crash tests, NHTSA awards the Rogue four stars overall. This means it's unlikely that they will be subject to a recall related to the two-star test result unless it turns out the vehicles have a safety defect. Still, Passe says that the automaker will update those earlier vehicles, and that NHTSA plans to test a newer Rogue soon. New crash test results are expected in May.
"Nissan should determine how to update the earlier vehicles and publicly announce that they'll modify people's SUVs at no cost to the owner," says William Wallace, manager of safety policy at CR. "A two- or three-star safety rating is simply unacceptable in 2021."
By contrast, the Insurance Institute for Highway Safety (IIHS), which is funded by the insurance industry, just awarded the new Rogue its Top Safety Pick Plus designation. It's a ranking that's issued only to vehicles that get top scores for crashworthiness, front crash prevention, and headlight performance. IIHS' tests involved Rogues made in Japan and in the U.S.
According to Joe Young, director of media relations for IIHS, it's not surprising that IIHS and NHTSA came to different conclusions. "Because IIHS's three frontal tests and NHTSA's frontal test focus on different aspects of crashworthiness, it's not uncommon for a vehicle to perform well in one test and less well in another," he says.
Young says the two sets of tests are designed to complement each other. NHTSA's New Car Assessment Program (NCAP) tests focus more on injury prevention and the effectiveness of restraints such as seat belts and airbags, while the IIHS tests prioritize the vehicle's structural integrity and occupant protection. The two tests occur at different speeds and use different barriers and dummies.
The Rogue's two different scores are a real-world example of why Consumer Reports uses NHTSA and IIHS crash tests to help determine our Overall Score.
Editor's Note: This article was updated March 3, 2021, with information from Nissan about an upcoming service campaign