Tesla Model 3 Loses CR Top Pick Status and IIHS Safety Award After Dropping Features
Automatic emergency braking is no longer functional after Tesla drops radar for a camera-based system, a federal agency says Some Tesla vehicles are losing critical performance designations from testing organizations including Consumer Reports and the Insurance Institute for Highway Safety (IIHS) because the government's top vehicle safety rating agency says the vehicles may lack some key advanced safety features, including forward collision warning (FCW) and automatic emergency braking (AEB).
The missing safety features are the result of the automaker's decision to no longer equip Model 3 sedans and Model Y SUVs with radar sensors, instead relying on a camera-based system called Tesla Vision. In a blog post, Tesla says that Tesla Vision-equipped cars will use a camera and machine learning software called a neural network to perform functions once reliant on radar. However, these vehicles "may be delivered with some features temporarily limited or inactive" for a "short period" of time as the automaker introduces the new technology, according to the post. AEB and FCW are currently standard on almost three-quarters of 2021 passenger vehicles, including many entry-level models.
NHTSA's Ratings for the 2021 Tesla Model 3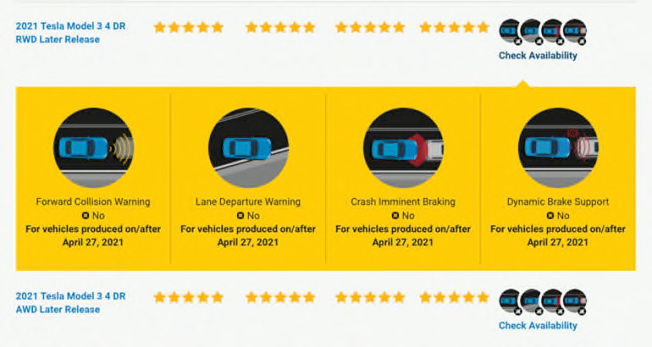 To be considered for a CR Top Pick, a vehicle must be recommended and have standard FCW and AEB with pedestrian detection. Without standard AEB and FCW, the Model 3's Overall Score also drops from 78 to 75 and the Tesla Model Y—which was not a recommended vehicle—drops from 50 to 47. Even with the drop in Overall Score, the Model 3 is still recommended.
"With over-the-air updates, Tesla can add and remove features on their vehicles over time," Fisher says. "We update our scores when key features are added or removed."
The IIHS is currently updating its website to reflect the change, says Joe Young, a spokesperson for the nonprofit safety agency funded by auto insurers. The ratings page for the Model 3 will indicate that vehicles built before April 27, 2021, still receive the Top Safety Pick+ designation, and that vehicles without radar may regain the award if the safety features return. "We do have plans to test the updated system, however, so it's possible that disclaimer could be removed if it performs well," says Young.
Bryan Reimer, a research scientist at MIT and founder of the Advanced Vehicle Technology Consortium who studies Tesla and vehicle automation, says that it's concerning that Tesla replaced a proven safety system with an unproven one.
"Will the system fueled by vision data alone have an equal or better performance than what has been produced with a radar?" he asks. "If performance is not greater in the new system, we are taking a step backwards in efficacy and consumer transparency, negatively impacting safety," he says.
On the automaker's blog, Tesla says that Model S and Model X vehicles are not affected by the production change, and that owners who have a Model 3 or Model Y on order will be notified if their vehicle will not have radar installed.
The automaker also says that vehicles equipped with Tesla Vision will limit Autosteer to a maximum speed of 75 mph and a longer minimum following distance, and that Smart Summon and Emergency Lane Departure Avoidance, a lane keeping assistance feature, may be disabled at delivery. Tesla says it will start restoring these features "in the weeks ahead" through over-the-air software updates.