When you shop through retailer links on our site, we may earn affiliate commissions. 100% of the fees we collect are used to support our nonprofit mission.
Learn more.
Whether you're looking for a new car seat for baby (or toddler), or you're expecting and need a seat for that soon-to-arrive little one, the goal is always to find a good balance of safety and price.
Consumer Reports child seat ratings rank overall performance. This score is based on simulated crash tests, ease-of-use, and how securely the seat can be installed. Though pricier seats often come with additional features that can help with installation, a high price doesn't always equate to better performance.
The seats below are picks from each child seat category that have been designated as
in our ratings. That means they offer the best balance of performance and price.
Whether shopping for Mother's Day, Father's Day, or baby shower, consider these seats as gifts that offer safety and value.
Visit our car seat buying guide for advice and ratings.

Infant Seat: Chicco Keyfit, $180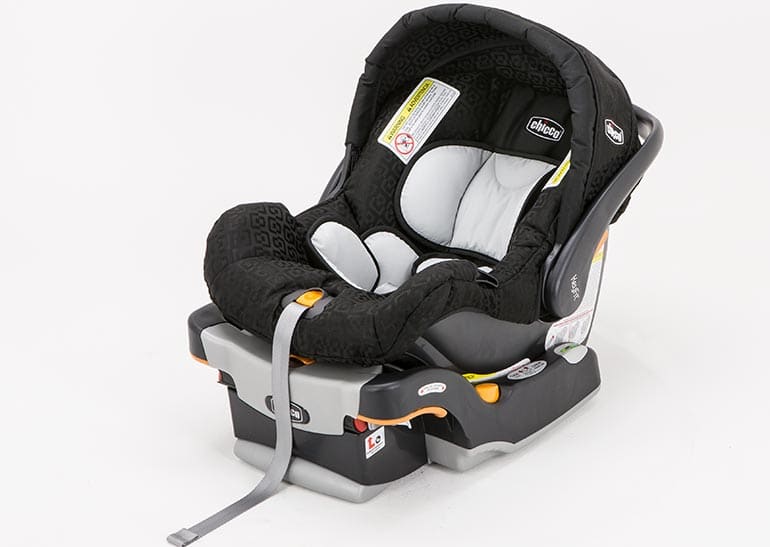 Our top-rated rear-facing-only infant seat, the Chicco Keyfit excels at balancing crash protection, ease-of-use, and vehicle fit. Additionally, the Keyfit scores a Best (our highest rating) in our challenging crash tests, and its carrier easily locks into the base.
See our complete Chicco Keyfit ratings.
Infant Seat: Safety 1st onBoard 35, $110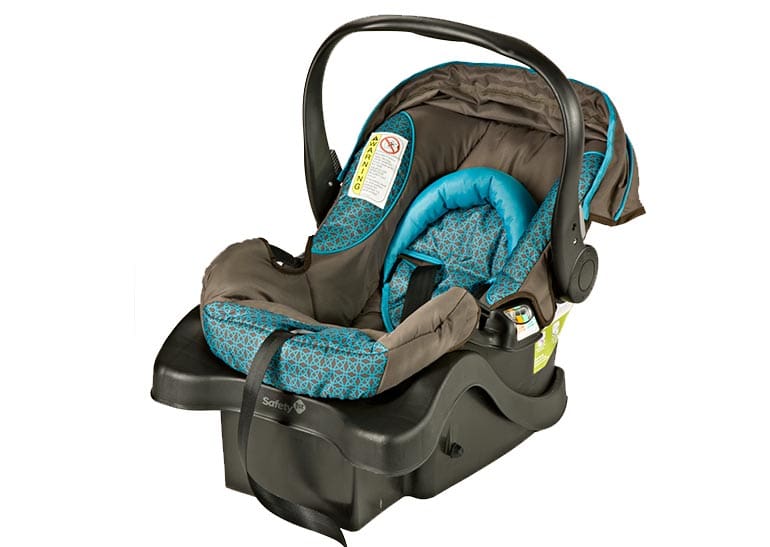 A value at $110, the Safety 1st onBoard 35 is a balanced performer. Similar in name to the onBoard 35 Air, this seat has a different base and lacks the side-impact technology of the Air version.
See our complete Safety 1st onBoard 35 ratings.

Convertible Seat: Evenflo SureRide, $100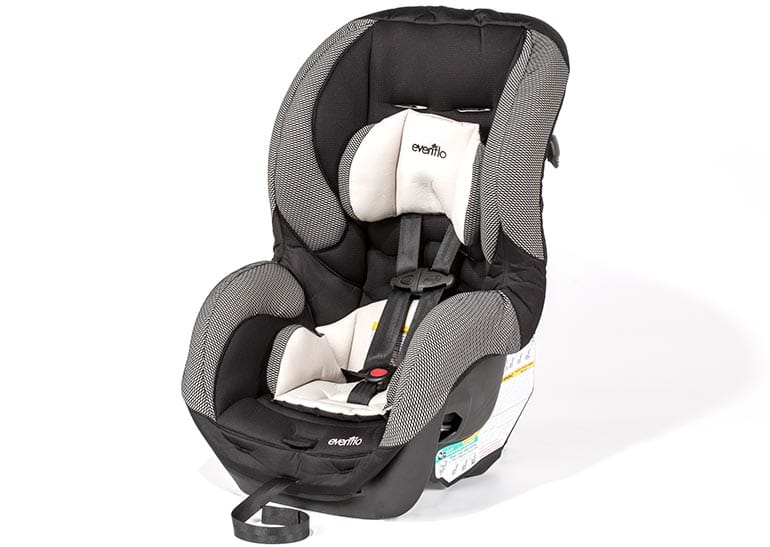 The Evenflo SureRide is a reasonably priced seat that performs well. It's lightweight and fairly straightforward to use. Its narrow shape also makes it a good candidate if you need to fit three child seats across a rear seat.
See our complete Evenflo SureRide ratings.

Convertible Seat: Cosco Scenera NEXT, $45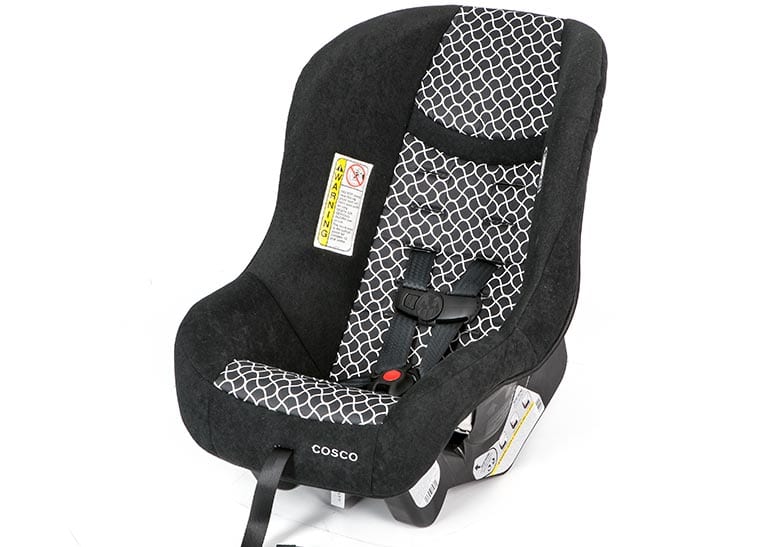 With the Cosco Scenera NEXT's 40 lb. weight limit, you may be replacing it sooner rather than later. But considering its low price, this seat may be an excellent value. It's not loaded with the latest-and-greatest features, but it's straightforward to use.
See our complete Cosco Scenera NEXT ratings.

All-in-One Seat: Graco Milestone, $230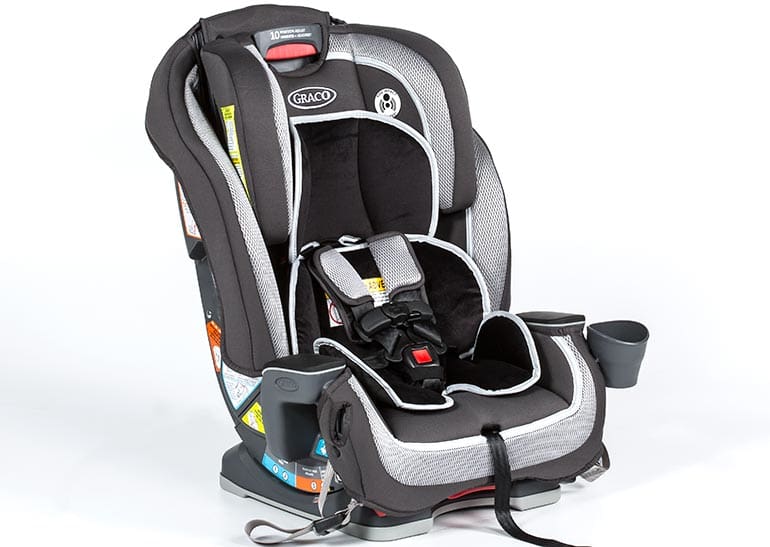 The top all-in-one performer, the Graco Milestone performs very well in almost all of its intended uses. When switching to booster use, the harness and components are stored neatly in a compartment on the seat, eliminating the need to disassemble.
See our complete Graco Milestone ratings.

All-in-One Seat: Evenflo Symphony, $200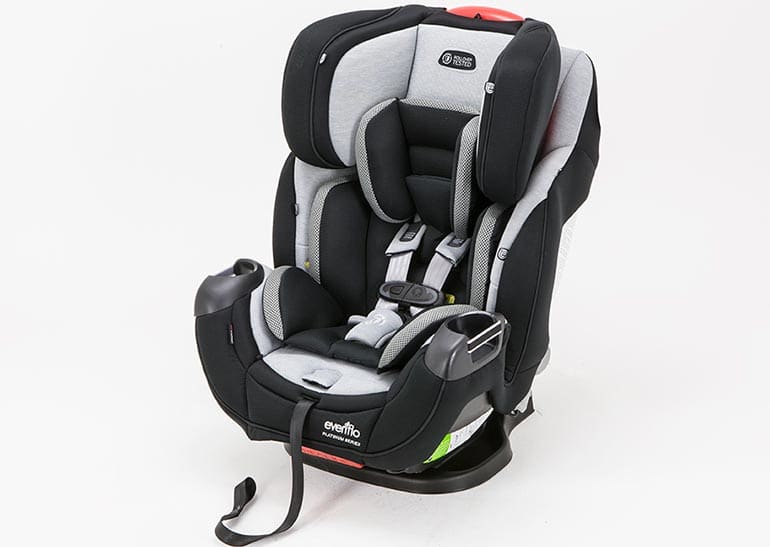 The Evenflo Symphony is a very good overall performer among all-in-one seats. Some versions feature Evenflo's SureLATCH connectors, which can help create a secure installation.

Booster Seats: Evenflo Big Kid Sport & Amp Highback, $30/$40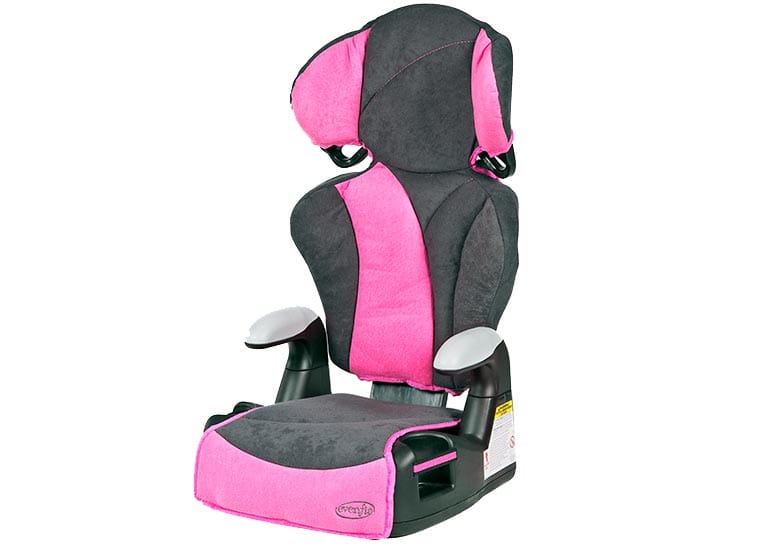 The Evenflo Big Kid Sport & Amp Highback boosters have the best balance of crash protection, vehicle belt fit, and ease-of-use among boosters that can be used either in highback or in backless modes, and it's available at a reasonable price.
See our complete Evenflo Big Kid Sport and Big Kid Amp Highback ratings.

Booster Seat: Harmony Youth Booster Seat, $13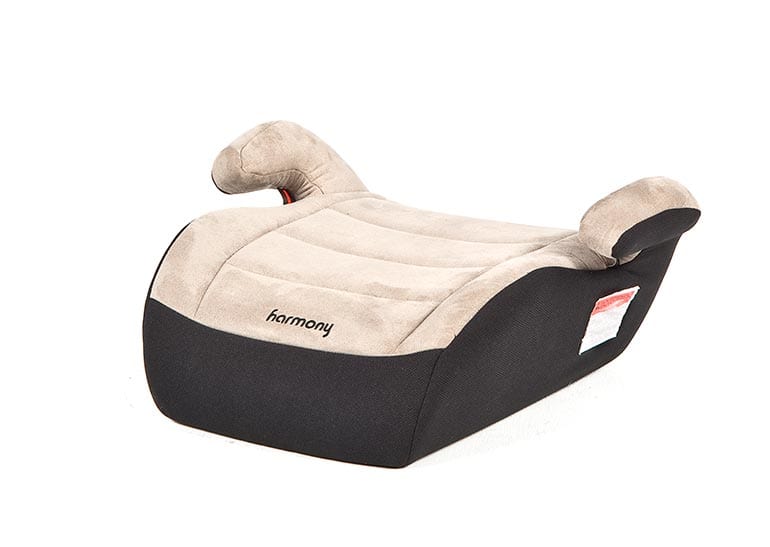 A lightweight and easy-to-use seat, the Harmony Youth Booster Seat has the most potential among backless booster models to fit a variety of vehicles and children.
See our complete Harmony Youth Booster Seat ratings.

Toddler Booster: Graco Nautilus 3-in-1, $140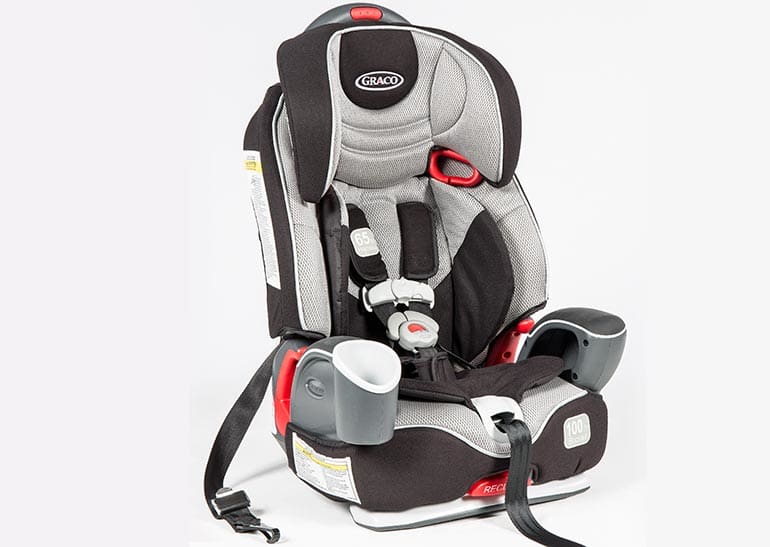 Topping the toddler-booster ratings, the Graco Nautilus 3-in-1 is a seat that performs well when used with its harness or as a booster, with a price well below many of its lower-rated counterparts. We found it easy to secure in most vehicles.
See our complete Graco Nautilus ratings.

Toddler Booster: Evenflo SecureKid DLX, $100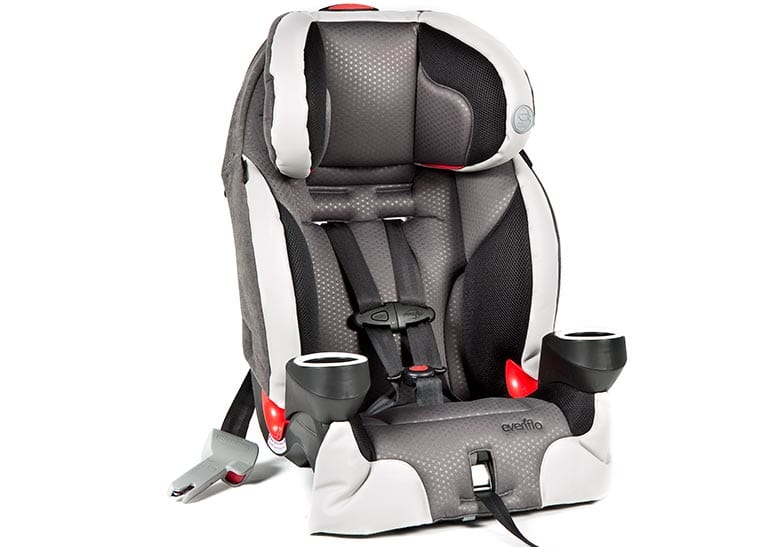 The SecureKid DLX is a reasonably priced straightforward seat that works well in its harnessed mode. This model of SecureKid offers premium SureLatch connectors that can help make installation easier. It has an adjustable headrest with a built-in shoulder guide, which we found does a good job in positioning the shoulder belt.
See our complete Evenflo SecureKid DLX ratings.