Best Child Car Seats for Extended LATCH Use
Plus, how to know when to safely switch to seat-belt installation
Many parents are familiar with the LATCH (Lower Anchors and Tethers for Children) system, a convenient way to secure child car seats.
But some might not know there's a weight limit for these anchors, and it includes both the weight of the seat and the child.
It's important for parents to be aware of the limitations and to figure out the right time to move from using a lower LATCH anchor to installing their child seat using a seat belt.
Harness Weight Limits vs. Lower Anchor Usage Limit
Car-seat labels and instructions outline each seat's height and weight limits. If the seat can be used more than one way (forward- and backward-facing), the limits can be different for each. That's because the way a car seat is secured to the vehicle and distributes crash energy differs when it's rear- or forward-facing.
Best Car Seats for Extended LATCH Use
Experts at the Consumer Reports Auto Test Center have identified the car seats that performed well in our ratings and allow for lower-anchor installation for a longer period of time.
When shopping for one of these seats, keep in mind these three things:
• The overall weight of the seat
• The height and weight limits listed on the seat itself (rear- and front-facing have different limits)
• The child's height and weight
Parents will need to keep a close eye on their child's height and weight as he or she grows. Some children may grow too tall for their seat before they grow too heavy for it.

Convertible and All-in-One Seats to Consider
All of these seats can be used in rear- and forward-facing configurations. Consumer Reports and the American Academy of Pediatrics recommend keeping a child rear-facing until he or she is at least 2 years old or meets the height or weight limit of their car seat. Children should be kept in their forward-facing harness until they reach the height or limit of the seat to maximize their protection, and the top tether should be attached for all forward-facing installations.
Once the child reaches the weights listed below, parents will need to switch to using a seat belt to secure the seat if the child hasn't exceeded the seat's forward-facing height or weight limit. All of the seats we have included allow for LATCH installation as long as the child remains below the seat's rear-facing weight limit of 40 pounds. (The exception is the Graco Extend2Fit convertible, which has a 45-pound limit when using LATCH.) We have grouped the seats by their forward-facing weight limit for LATCH use.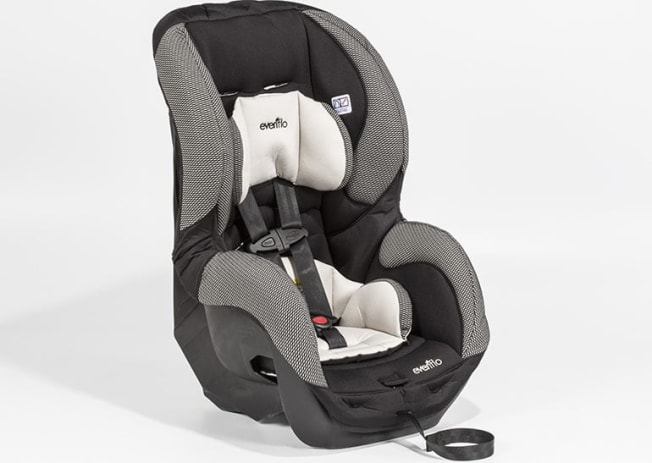 All infant seats that CR rates can be used with the lower LATCH anchors for as long as the child fits within the seat's height or weight limits. Children will usually outgrow their infant car seat by height before they reach the weight limit. Check out our infant seat ratings to see CR's recommended models.
As always, parents should be sure to follow the car-seat instructions and their vehicle's owner's manual when installing a car seat. Go to the car-seat resource center on our car-seat buying guide for more safety tips.