When you shop through retailer links on our site, we may earn affiliate commissions. 100% of the fees we collect are used to support our nonprofit mission.
Learn more.
"Driving Matters" is the tagline and hashtag Mazda uses to promote its new CX-9 three-row family mover.
That's a departure for the mid-sized SUV market, where "Cupholders Matter" or "Third-Row-Seat Space Matters" are more common rallying cries. Instead, the 2016 Mazda CX-9 calls out to those whose family responsibilities have outgrown their Miata, yet who still seek fun over function.
Long, sleek, and rakish, the CX-9 cuts a different profile. It's a stark contrast to typical midsized SUVs, which struggle to disguise minivan proportions with a "rugged" off-roader costume.
All-new from the ground up, the 2016 Mazda CX-9 drops 250 pounds and offers only a turbocharged four-cylinder engine. Doing more with less is the Mazda way, one forced by its modest corporate resources, as well as its corporate Zen-like philosophy. Lacking the deep pockets that come from big sales numbers or synergy across brands, Mazda makes do with what it has.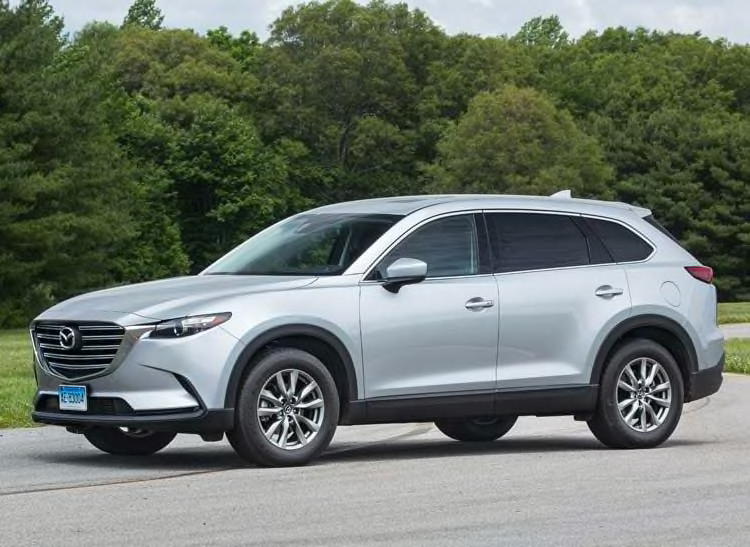 Lacking a current homegrown V6, Mazda turbocharged one of its familiar 2.5-liter four-cylinders. Going by the numbers, it looks like Mazda brought a paring knife to a sword fight. Making just 227 horsepower on regular fuel, the 2016 Mazda CX-9 is eclipsed by V6-powered rivals like the 280-hp Honda Pilot, 270-hp Toyota Highlander, and the 290-hp Kia Sorento.
But the Mazda actually hides a scythe in its backpack in the form of a whopping 310 lb-ft of torque, about 50 lb-ft more than its nemeses. That torque is readily available at low engine speeds, providing welcome grunt. Indeed, the CX-9 never struggles for power, feeling fleet and responsive.
Feeding the CX-9 premium fuel bumps the horsepower rating up to 250, but that extra power is made at high engine rpm where few people actually drive. Most will fuel up with regular, save money at the pump, and never notice a difference.
The CX-9's easy-going manner is aided by the six-speed automatic transmission, which also looks outnumbered next to the 2017 Highlander's eight-speed automatic and the Pilot's available nine-speed gearbox. Again, having all of that torque means the engine doesn't need to downshift as much—meaning it also doesn't suffer the cost and complexity of the additional gears.
We've seen that many small-displacement turbocharged engines, particularly Ford's EcoBoost powertrains, often struggle to provide competitive fuel economy, both in real-life and in Consumer Reports' tests. Mazda is aware of this dichotomy and claims the CX-9 escapes that curse.
In mixed driving, we observed 23 mpg on the trip computer so far; expect our official precision-measured overall fuel economy number to be one to two mpg less. We have no doubt that it will better the previous CX-9's thirsty 16 mpg overall.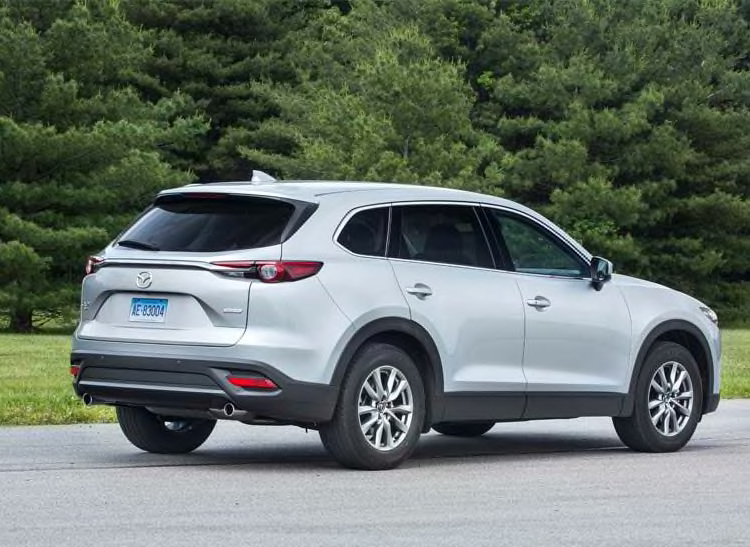 Most mid-sized three-row SUVs feel rather mundane to drive, inspiring neither wrath nor passion. Compared to them, the 2016 Mazda CX-9 is an inspired revelation, feeling alert and hunkered-down through the corners. Not many SUVs drive like this, and most of those that do wear sporty German luxury badges. Indeed, over the last few years, we've seen readers cross-shopping Mazda with used models from Audi and BMW. It would be no surprise that the CX-9 wins over some buyers who yearn for a BMW X5 or Audi Q7 but don't have $65,000 to spend.
Of course, it takes more than good steering to compete with luxury SUVs; buyers across all segments desire a quiet cabin and composed ride. Over the years, our complaints about road noise in Mazdas almost equaled the actual racket inside the cars. But Mazda has discovered the joys of noise insulation, adding over 50 pounds of it in the floor as well as dual-paned windshield and front side window glass. The result is the first Mazda in recent memory that can be called "quiet." It also rides well, adroitly smoothing out road bumps even with the 20-inch tires on top trim versions.
Inside, the CX-9 looks more plush than the rival Pilot or Highlander. Swanky top-trim Signature models have rich brown leather and chunks of real wood, but even the mid-trim Touring looks plenty rich. Well-contoured front seats have supportive cushions, but the seat adjustments leave a lot to be desired. You can't adjust the bottom cushion angle without changing the height, low-back support only adjusts for pressure (not height), and power adjustments are limited for the passenger seat—even on the most expensive Signature trim.
Our complaints about sitting up front don't stop there. The cockpit comes in slim-fit cut, with room behind the steering wheel being on the straight and narrow. By comparison, most competitors come in relaxed fit.
Beyond that, the second seat has good space for adults, with a high bottom cushion that supplies plenty of thigh support. Unlike most rivals, there is no option for second row bucket seats, so all CX-9s seat seven. Those last two people better be kids, because the third row seat is unfriendly for grown-ups. While cabin space is certainly sufficient for most families, it lacks the wide-open feeling of the Pilot.
The same goes for visibility. Windows are decent-sized, but they taper down toward the rear. That rakish sloping roof line contributes to a sleek design but ultimately limits cargo volume, for the few times that you actually bring a great big box home from the big box store. A rear camera is standard, and blind spot monitoring is included on all but the base Sport trim, a very welcome feature. No surround-view camera system is available, a surprising omission for a brand-new design.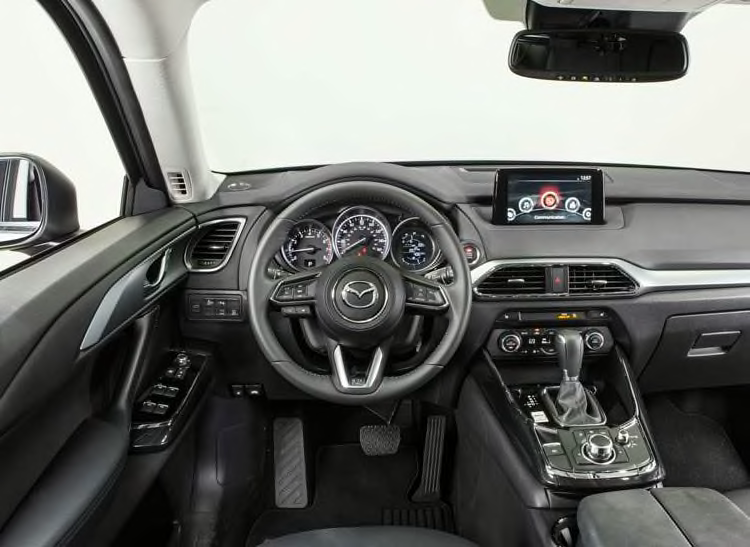 We also find the Mazda Connect infotainment system lacking. Just as Mazda tries to be a budget BMW in driving dynamics, their infotainment system feels like a ripoff of the Bavarian brand's iDrive system, all the way down to the console-mounted controller knob. But the Mazda system requires too many steps for simple functions and can be infuriatingly slow to load. It also lacks Apple CarPlay and Android Auto compatibility, a feature that would provide a welcome workaround.
Advanced safety equipment starts showing up on the mid-level Touring trim, which has optional Smart City low-speed automatic emergency braking. Top-level Grand Touring and Signature trim lines come with standard forward-collision warning with full-speed automatic braking, a move we applaud. However, Mazda could better serve buyers by making this feature available on lower trim lines, either as an optional, or even better, standard feature.
Like every manufacturer nowadays, Mazda is aiming for top marks in the Insurance Institute for Highway Safety small overlap crash test; the previous CX-9 performed poorly there.
All 2016 Mazda CX-9s come well-equipped, including a rear camera and LED headlights in even the base Sport trim. Midgrade Touring trim adds the aforementioned blind-spot monitoring, leather, and a power liftgate. Our test car added the $1,745 Touring Premium package, which includes navigation, moonroof, Bose audio, and the Smart City Brake Support system, bringing the total to $40,470. The top-trim Signature comes only with all-wheel-drive and tops out just over $46,000.
All in all, the CX-9 provides a welcome alternative from the herd of similar mid-sized SUVs. Its upscale feel and enjoyable driving manners will be irresistible to parents who remember when driving was fun. But given Mazda's limited resources, and the somewhat depressing fact that most drivers care more about the A-to-B grind than a grin when piloting a curvy road, we wonder if some of Mazda's limited resources focused on sporty handling should have been allocated to working out the infotainment system or eking out more passenger room.