When you shop through retailer links on our site, we may earn affiliate commissions. 100% of the fees we collect are used to support our nonprofit mission.
Learn more.
The upcoming 2016 Toyota Prius is arguably the most radical redesign of this ubiquitous hybrid car since the second-generation model made its debut in 2004. While we had a preview last month, Toyota has recently shared more details about the upcoming 2016 Prius.
Bumper-to-Bumper Redesign
Automakers are just as footloose with the word "new" as are software companies, but the 2016 Prius really has received a wheels-up redesign. Key to the new is an all-new platform with a promised sportier feel. Toyota also lowered the front seating position by 2.3 inches, redesigned the seats, and repositioned the controls to make the Prius feel more like a conventional car.
Improved Engine, More Power
The 1.8-liter gasoline engine has been redesigned for greater efficiency; in fact, Toyota claims its 40 percent maximum thermal efficiency is the highest level in a mass-produced gasoline engine. Specs have not been formally announced for U.S. versions of the 2016 Prius, but a power increase over the outgoing model is expected.
Improved Fuel Economy
Toyota has promised a 10 percent increase in the Prius' fuel economy. Reductions in both the weight and complexity of the hybrid powertrain are largely responsible for the increases. Innovations with the heating system also contribute, with active shutters opening and closing the grille as necessary in response to outside temperatures. You can choose between a nickel-metal hydride and a lithium-ion battery pack, with each touting increased energy density with the redesign. For the ultimate in fuel efficiency, Toyota will offer an Eco model certain to appeal to dedicated hypermilers.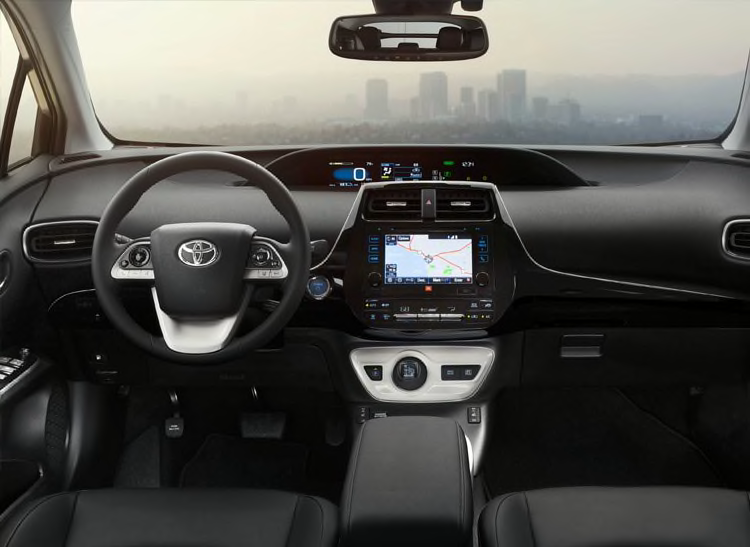 A Sportier Drive
Toyota is determined to put the Prius' reputation as an appliance-like snoozer to rest. The 2016 Prius will be fitted with a fully independent rear suspension to improve handling response and ride comfort. Toyota has increased the use of high-strength steel in the Prius' bodywork, boosting torsional rigidity, which in turn also bolsters crash protection.
Smart Power Mode
As with the current Prius, the new car will have a few driving modes, including a Power mode. In a new twist, this model will use acceleration and lateral G-force sensors to detect when it is being driven enthusiastically, and it will sharpen both throttle and braking response.
More Trunk Space
By improving the energy density of the hybrid battery, Toyota has been able to reduce its size and place it under the rear seat, freeing up additional cargo space. Toyota claims a 2-cubic-foot increase for Japanese-market models; official EPA cargo volume for the U.S.-market Prius has not been announced.
Occupant-Sensing Climate Control
The new Prius' air conditioning system uses the seats' occupant sensors to determine if the front and rear passenger seats are occupied, and it directs airflow accordingly.
Good-Bye LED, Hello LCD
The center information display—which on the current Prius bears a troubling resemblance to a 1980s-era Speak & Spell—has been replaced by a full-color LCD screen. The 2016 Prius will also offer a color head-up display, which projects information like speed and next-turn directions into the windshield.
A Full Safety Suite
Using both a camera and radar, the 2016 Prius will offer a long list of active safety features, including collision avoidance and mitigation with pedestrian detection, adaptive cruise control, and a parking assistance system.
The new 2016 Prius will arrive at dealerships early next year.