When you shop through retailer links on our site, we may earn affiliate commissions. 100% of the fees we collect are used to support our nonprofit mission.
Learn more.
The Volkswagen diesel emissions scandal has been grabbing headlines for weeks, and the company is still in full-on crisis management mode. VW's 2016 TDI-powered models are not certified for sale, and the company has yet to come up with the specifics about how to bring the 482,000 affected cars currently in U.S. owners' driveways into compliance. Interestingly, the most recent VW to enter our test fleet might provide an alternative to diesel power for the fuel-conscious buyer.
Since its 2011 redesign, the Jetta sedan has offered more engines than Spinal Tap had drummers—seven different engines at last count, including two different diesels and a hybrid. A new 1.4-liter, 150-hp turbocharged four-cylinder base engine brings that number to eight.
We've driven other cars with turbocharged 1.4-liter four-cylinder gasoline engines before, notably the Chevrolet Cruze and Sonic, Fiat 500, and Jeep Renegade. But the Jetta might have the most satisfying small-displacement turbocharged engine we've seen. It feels like driving a Jetta with VW's 1.8-liter turbo four-cylinder, delivering healthy mid-range torque so you don't need to rev the engine much.
While the 1.8-liter benefits from another 20 horsepower, the difference behind the wheel is subtle in regular driving. Occasionally the 1.4T can be caught off-boost, and the transmission held in too high of gear, but this is rare.
But how does the new 1.4-liter turbo engine compare with the performance of the TDI? Let's start with fuel economy. We realize that some people buy diesels for long commutes because of their excellent highway mileage. No argument there. But the new 1.4T boasts some pretty impressive fuel efficiency numbers, as well.
We haven't completed our own fuel-economy testing on the 1.4T engine yet, but EPA combined estimates put the Jetta 1.4T's at 32 mpg overall with the six-speed automatic. Compare that to an EPA-rated 36 overall mpg for the 2015 TDI with its DSG dual-clutch automatic. Based on Consumer Reports' testing, the TDI's numbers could drop after the corrections are in place to make the car emissions compliant, diminishing the diesel's advantage over this new, small-displacement alternative. So far, we have observed 34 mpg in mixed driving with our 1.4T SE, based on the trip computer mileage over the first few hundred miles.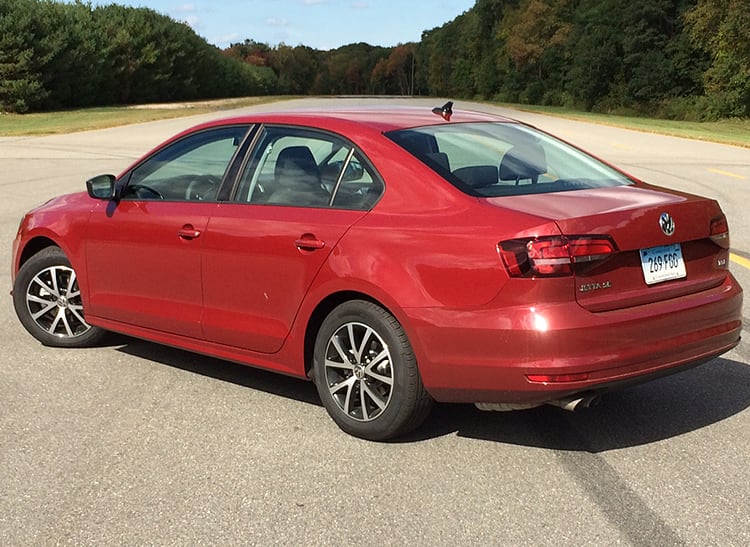 The 1.4T eliminates the diesel's hesitation off the line and clatter that makes it feel noisy at low speeds.

Volkswagen limits the 1.4T to relatively basic trim levels, evidenced by our SE lacking some common niceties. For instance, there's no lumbar adjustment for the heated front seats; the seats are basic cloth rather than VW's typical leatherette; and dashboard plastics are all hard. (The 1.4T SE w/Connectivity trim fixes the first two shortcomings.) On the plus side, our car benefits from VW's new infotainment system, which is includes Apple CarPlay and Android Auto. Thus far, we can say CarPlay generally works well, providing Siri voice-controlled navigation and text message read-back and response capabilities.
Going with the 1.4T over the TDI saves considerable money. There is a $2,850 difference between the 2016 1.4T and the 2015 TDI, both equipped in SE w/Connectivity trim. Our 1.4T SE, which lacks a comparable TDI model, costs even less, stickering at $21,235. Thanks to motivated dealers and available owner loyalty rebates, we paid considerably less.
We're curious to see how our instrumented fuel-economy measurements for this 1.4T compare to our 2015 Jetta TDI test car, especially after anticipated updates to make the diesel emissions-compliant.
At first glance, this small gasoline engine considerably weakens the case for the diesel and on more than one level: Purchase price, diesel fuel cost, and emissions.

Visit our guide to the Volkswagen emissions recall.