When you shop through retailer links on our site, we may earn affiliate commissions. 100% of the fees we collect are used to support our nonprofit mission.
Learn more.
Often relegated to "first new car" status in many buyer's minds, the current crop of new compact sedans strives to be more mature and grown-up. The redesigned Hyundai Elantra joins a graduating class of newly designed competitors, including the Chevrolet Cruze and Honda Civic, that aim to feel more substantial and upscale—regardless of their size.
At first glance, it's easy to confuse the 2017 Hyundai Elantra for Hyundai's midsized Sonata sedan. While the Elantra retains a class-standard 106-inch wheelbase, somehow Hyundai eked out two more inches of rear-seat leg room. Cabin space feels much like a midsized sedan from a decade ago, rather than a cramped compact car. The open and airy feeling inside is helped by windows that seem slightly larger than the previous Elantra, as well as a dashboard design that avoids the enveloping, cockpit-like feeling found in many rivals.
One of our complaints about the outgoing Elantra (2011-2016) is that its fuel economy of 29 mpg overall had fallen behind competitors, especially the super-efficient Mazda3 and Toyota Corolla. New engines aim to regain that lost ground.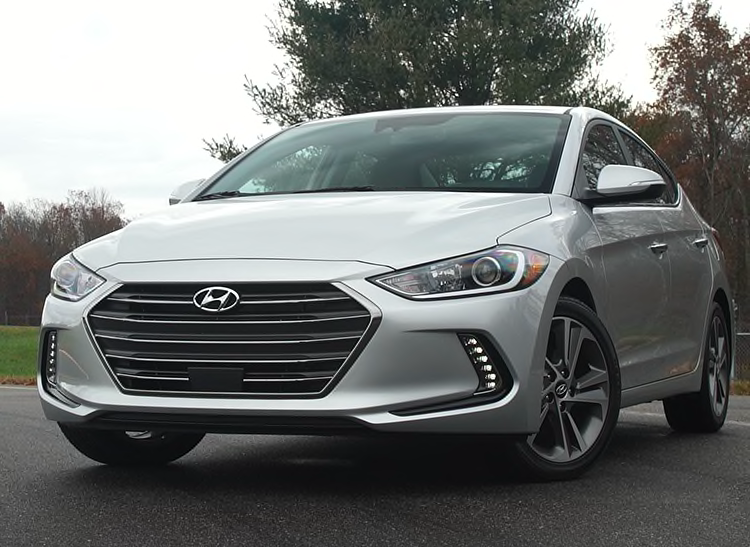 Most Elantras will have a new 2.0-liter, 147-hp (estimated) four-cylinder. Hyundai eschews using a continuously variable transmission (CVT); increasingly popular among Japanese competitors such as the class's heavyweights Civic and Corolla, among others. Instead, Hyundai prefers to stick with a six-speed automatic as the Elantra's core transmission. While conventional automatics typically feel more natural when accelerating than CVTs, we'll see if this choice forces a trade-off with fuel economy. Efficiency-minded buyers can opt for the Eco model, which comes with a small-displacement 1.4-liter, 128-hp (estimated) turbocharged four-cylinder with a seven-speed, dual-clutch automated manual transmission, but that version will account for a small percentage of sales.
Previous Elantras were fairly noisy inside, and their generally compliant ride wasn't the best in class. Thicker window glass, added firewall sealing, and extra foam insulation aim to quell the racket and it mostly succeeds. Engine buzz, however, is still present. While the rear suspension remains a torsion beam design, as opposed to a more expensive (and typically better performing) independent set-up, changes in geometry aim to improve the ride and we noticed an incremental improvement there too. Handling is sound and responsive but it won't challenge the sportiest of the bunch such as the Ford Focus, Mazda3 or Volkswagen Jetta.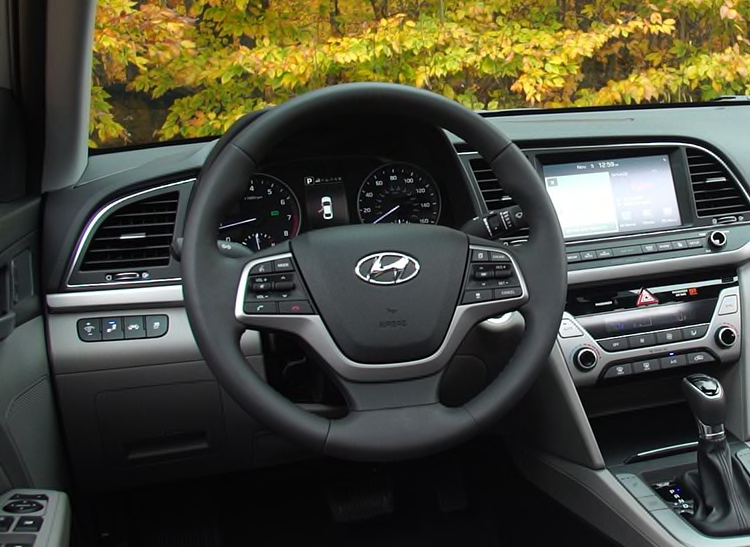 As expected from a newly introduced car, advanced safety equipment is added to the options list. Blind-spot detection will be available on the mainstream SE version, while the top-trim Limited will offer forward-collision warning with automatic braking and pedestrian detection, lane-departure warning with lane assist, and adaptive cruise control. The car is compatible with Apple CarPlay and Android Auto right out of the box.
Overall, the 2017 Hyundai Elantra appears to be a solid step ahead for the automaker's compact sedan. Hyundai has built much of its reputation on providing value and the SE starts at $18,150. Even with the Popular Equipment package that brings desirable features such as a rear-view camera and 16-inch alloys, it comes in at a competitive $19,785. As soon as we buy our own Elantra, we'll let it prove its mettle and see how it will rank against the competition.