Mazda has redesigned its three-row SUV, moving the CX-9 to the company's latest vehicle architecture. Among the notable changes, the all-new flagship vehicle brings a turbocharged 2.5-liter four-cylinder engine and significant weight reduction. Although it is not on sale until next summer, we had a chance to drive on right after its world debut at the 2015 Los Angeles auto show.
In the process of moving the CX-9 to Mazda's current engineering philosophy called Skyactive (as demonstrated with the compact 3, midsized 6, and CX-5 small SUV), the CX-9 has shed some 250 pounds, partly due to jettisoning the heavy-and-thirsty 3.7-liter V6. The diet allowed adding some sound insulation to achieve a quiet cabin—a trait typically not associated with Mazda. With a slightly shorter overall length than the outgoing CX-9, the latest iteration gains a couple of inches in the wheelbase. While it has a more dynamic stance, the third-row seat appears to be less roomy than before.
Acknowledging the notion that small-displacement turbocharged engines don't deliver the real-world fuel economy expected of them, Mazda Vehicle Development Engineer Dave Coleman explains that the development team focused on drivability and fuel economy rather than trying to hit a specific number in terms of horsepower. And, in an unusually candid way, Mazda specifies two horsepower ratings: 227 hp for regular fuel and 250 hp for premium. Peak torque of 310 lb.-ft. is available from 2000 rpm, intended to provide a smooth and effortless power delivery: more on that later.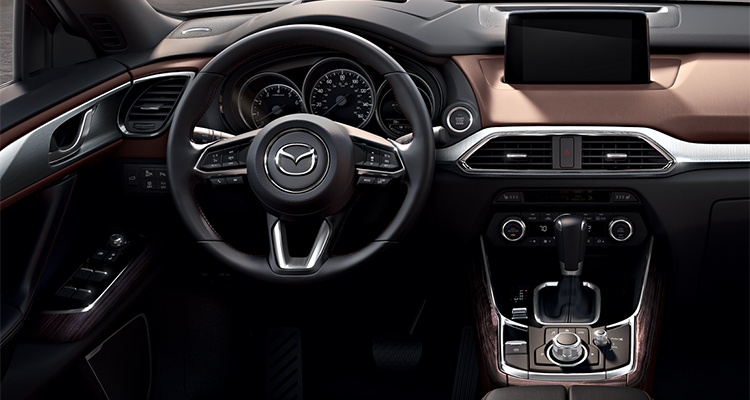 Mazda is not new to turbocharging, but in the process of expanding this technology beyond sports cars, it had to learn some lessons the hard way. Several previous attempts at turbocharging were less than stellar. The 2006 CX-7, for instance, suffered from so much turbo lag that it could leave you in an awkward situation, such as in the middle of an intersection, craving more acceleration.
On our roughly 20-mile semi-suburban drive route, the CX-9 delivered smooth propulsion with readily available power. The six-speed automatic provided smooth, timely shifts and prompt downshifts for passing and climbing hills. The only situation where the car felt momentarily unresponsive was when coming to almost a full stop with the intention of resuming progress immediately. This hesitancy tends to plague several models with small displacement turbo engines. The ultimate, oft-elusive, goal for the small turbos is fuel economy. This an area that the CX-9 needs to make significant gains, as the last model returned just 16 mpg.
That this rather sizable three-row SUV drives like a much smaller vehicle is commendable. The body remains even keel during cornering, and the car seems unfazed even when rushing it on curvy, hilly terrain. The steering is linear, nicely weighted, and not overly responsive lendning the SUV an athletic, confidence-inspiring demeanor.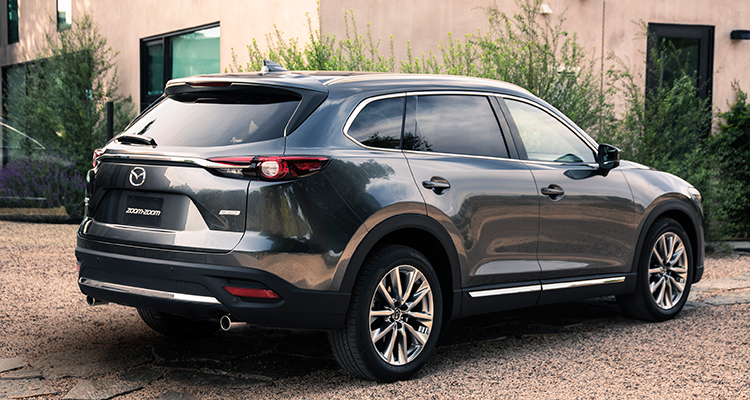 There's an underlying firmness to the ride that makes the the 2016 Mazda CX-9 feel crisp and alert. And yet, the suspension effectively manages to absorb and filter out bumps and ruts—an impressive feat given that our car was rolling on wide 20-inch tires with a rather short sidewall. Regardless of the surface, the ride remained steady and settled during our drive.
Noise levels were kept at bay even though one is aware of the road texture with a low level hiss. While no one will perceive the engine to be a smooth, lush V6, the turbo four sounded relatively polished and inoffensive.
With the 2016 Mazda CX-9, Mazda will offer a more upscale trimline above the Grand Touring, called Signature. As such, the interior looks warm and inviting. Matte wood trim inlays have curvatures that Mazda says were fabricated by Japanese artisans who specialize in making guitars. The leather seats are well-shaped, attractive looking, and supportive. Too bad the passenger side doesn't get a lumbar adjustment.
The rear seat is roomy with generous leg room and supports good posture. One can also slide it fore and aft. Access to the third-row seat is facilitated by pulling a lever, which helps slide the rear seat section and is mirrored on the other side. Mazda says production cars will have a mechanism that allows sliding a rear seat section while a child seat is attached.
The control layout consists of what has become a Mazda standard—a central controller that interfaces with a screen and lets you manage audio, phone and navigation functions. The system has a learning curve to master, but it ultimately proves logical.
Apparently Mazda engineers prevailed over the marketing guys in choosing not to offer an extra-large sunroof. Although customers love this feature, it adds weight and compromises body rigidity, so there's only a regular-aperture sunroof for the CX-9.
The 2016 Mazda CX-9 will compete directly against three-row SUVs such as Honda Pilot, Hyundai Santa Fe, Kia Sorento, and Toyota Highlander. Prices are expected to be in line with the current model which range from the mid $30,000s to the low $40,000s. So far, the new CX-9 seems to successfully blend style, driving enjoyment, and family friendly utility.
The new Mazda CX-9 goes on sale in early summer 2016. We'll buy one for a full road test as soon as we can.
2017 Mazda CX-9 Preview from the Detroit Auto Show
Consumer Reports is an independent, non-profit organization dedicated to helping consumers. We make it easy to buy the right product from a variety of retailers. Clicking a retailer link will take you to that retailer's website to shop. When you shop through retailer links on our site, we may earn an affiliate commission – 100% of the fees we collect are used to support our mission.
Learn more.
Our service is unbiased: retailers can't influence placement. All prices are subject to change.