When you shop through retailer links on our site, we may earn affiliate commissions. 100% of the fees we collect are used to support our nonprofit mission.
Learn more.
Until recently, it's been easy to completely forget about Volvo. Prestige buyers have defected upward to fancier luxury brands, while practical buyers have embraced Subaru and Acura.
For years, most of Volvo's sparse showroom traffic headed toward the XC60 compact SUV. Introduced for the 2010 model year, the Volvo XC60 faces stiff competition against fresher rivals, some of which are now in their second or third generation.
Volvo's predicament can be summed up as such: Starved for development resources for years, Volvo's new Chinese owner Geely has finally given the Swedish brand an age-appropriate allowance.
Understandably, Volvo started resurrecting its lineup by replacing their 12-year-old mid-sized three-row Volvo XC90. Recast as a Scandinavian Range Rover, it proved that Volvo still showed signs of life, quickly kicking the XC60 out of its top-selling place within the brand.
Volvo also recently showed concept versions of its new 40 series small car and SUV, suggesting that the middle-child XC60 is being ignored. But that doesn't mean it's been completely forgotten.
In order to buy some time before its own extreme makeover, the 2017 Volvo XC60 has some updates. Most changes are under the hood. This is a familiar tune; over the years, a wide cast of different engines have graced the XC60's engine bay. There was a smooth but milquetoast in-line 3.2-liter six-cylinder, a thirsty 3.0-liter turbocharged six, and a somewhat gruff 2.5-liter turbo five-cylinder.
They're all gone for 2017, replaced by a pair of four-cylinders that Volvo calls Drive-E. (Unlike Wall-E, neither is robotic nor uses electricity.) Both channel their power through eight-speed automatics. The base T5 comes with a 2.0-liter, 240-hp turbocharged four-cylinder, specs shared with almost every other compact luxury SUV. After a one-model-year delay, during which the 2.0-liter was only available with front-wheel drive, optional all-wheel drive is finally available with this modern mainstream engine. Although now rectified, this delay further highlights Volvo's limited resources.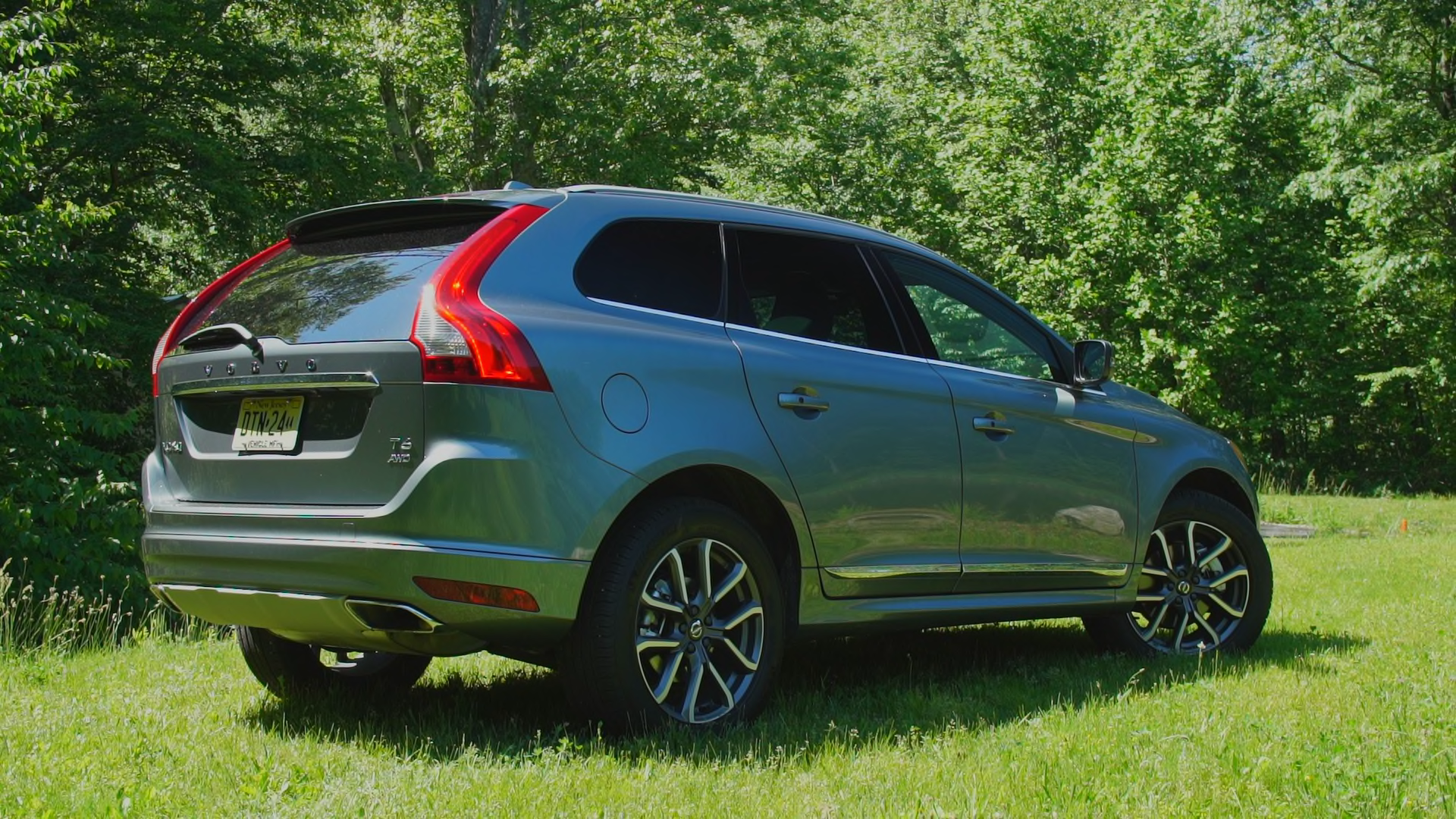 Moving up the ladder, the 2017 Volvo XC60 T6—again, a four-cylinder, not a six-cylinder, despite the nomenclature—adds a supercharger to the turbocharger, bumping horsepower up to 300. Acceleration feels effortless, making merging easy. That's no surprise, given that this engine works well in the larger XC90 T6.
But all isn't rosy with this engine. It often sounds uncultured, detracting from the luxury ambiance, a complaint shared with the XC90. The start-stop system can also be slow to restart after letting your foot off of the brake at an intersection, creating a nervous moment or two.
Despite the surplus of go-power, the XC60 T6 isn't fun to drive. While other compact European luxury SUVs, like the Audi Q5, BMW X3, and Mercedes-Benz GLC, are all a hoot to hustle through corners, the Volvo is more reluctant. The steering actually communicates with the driver, telling what the front wheels are doing, but it's slow to listen to the driver's side of the conversation. Responses are measured, rather than quick-witted.
At least that exchange is civilized, unlike the XC60's ride. Clearly, Volvo struggles with understanding that, unlike Sweden, American roads have bumps. And most Volvo models telegraph every single jostle and ruffle to the car's passengers. Again, this trait is shared (to a lesser extent) with the XC90, showing that while some things change, some things stay the same.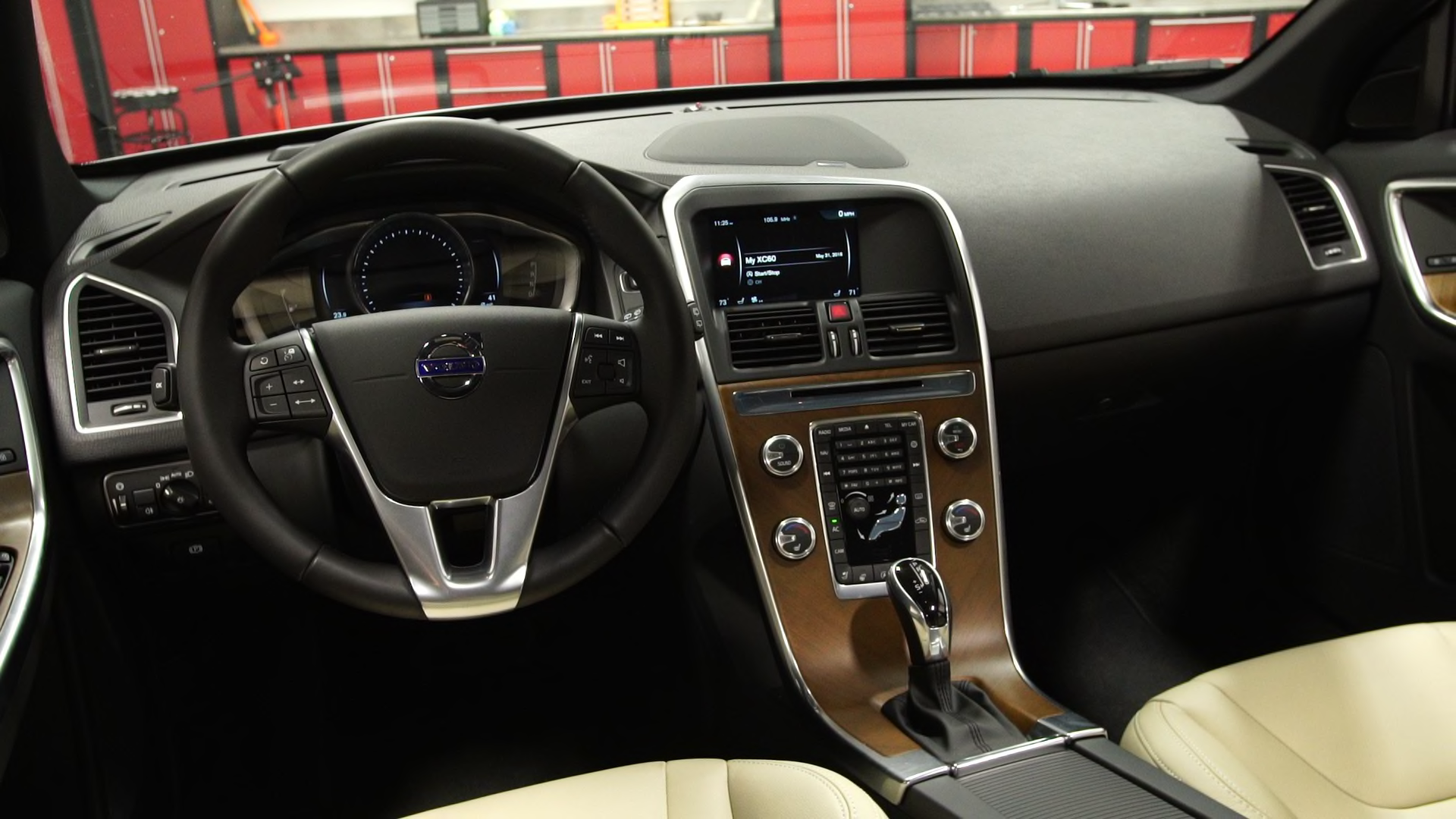 Things get better inside. There's a certain flair to the cabin, a subdued Scandinavian luxury that is the opposite of IKEA's day-glow blue and yellow showrooms. Thick leather, dense carpet, and low-key slabs of walnut highlight the interior. Soft-touch dashboard materials have an odd rhinoceros-like texture, which at least provides a break from the more-typical faux bovine skin.
Sitting up front provides a panoramic view, with a wide cabin and a big wrap-around windshield. Front roof pillars are impressively narrow for this day and age—also impressive because the 2017 Volvo XC60 does great in roof crush testing. (More on safety later.) While many compact luxury SUVs have a squinty view out of a tiny rear window, the Volvo's back glass is tall. Thick-ish rear roof pillars still create blind spots to the corners, but that's par for the course.
Unlike the XC90's iPad-like giant touch screen infotainment system, the XC60 uses Volvo's older system. It takes a lot of twirling of a selector knob to move through on-screen menus, and not everything is intuitive. But oddly enough, this old-tech system is utilitarian and easier to navigate when driving than the fancy new system, which is inscrutable and relies on too much screen swiping to do what you want.
Thickly padded but with no flabbiness, the front seats are long-haul-trip supportive. However, at this price, the lumbar adjustment should change for height as well as pressure. (Maybe we shouldn't complain; after all, Volvo just recently figured out how to make this adjustment powered.) Wider drivers might also find the optional Contour seats to be too aggressively bolstered.
Rear-seat room is relatively tight, but cargo area is spacious. Built-in rear seat booster cushions remain a Volvo exclusive, allowing parents with appropriately aged children to skip a booster seat.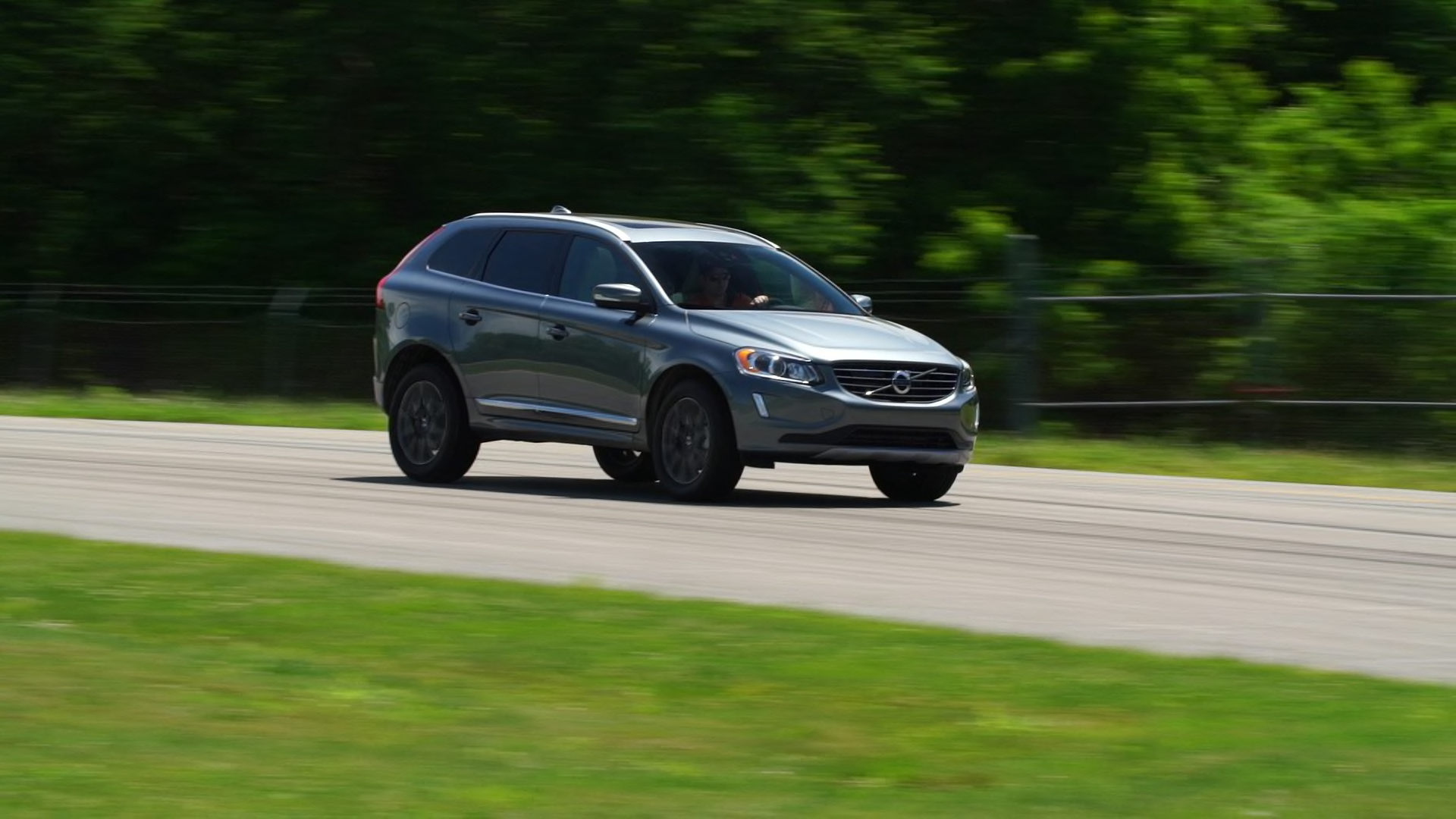 You can't discuss Volvo without mentioning safety, a hallmark of the brand. The XC60 aces crash tests, including the difficult Insurance Institute for Highway Safety small offset test. Than again, many rivals can make that same claim.
But unlike most of its competitors, the 2017 Volvo XC60 comes standard with City Safety, an automatic emergency braking system that can help prevent low-speed crashes, including ones with pedestrians. Full-speed automatic braking and forward-collision warning remain options, packaged in the Technology package; if Volvo wants to regain its safety cred, making this standard would be one way to start. (Mercedes does on its GLC.)
It's not like the XC60 hurts for standard equipment. Changes for 2017 streamlined the model lineup and made some popular options standard. While leather is optional in a BMW X3 or Mercedes GLC, it's standard in the XC60. Same goes for a panoramic sunroof, navigation, blind spot monitoring, and a backup camera. Add in the optional climate package to get heated seats, and the XC60 T5 Inscription AWD stickers for around $45,000. That's thousands less than the competition.
But the lower price makes sense. When it comes to luxury car status, Volvo isn't yet on par with the other European marques. That doesn't exactly make the 2017 Volvo XC60 a bargain either, because of its stiff ride, behind-the-times infotainment system and so-so refinement. Beyond its crash-test results and attractive pricing, the XC60 doesn't really shine, especially among a surplus of newer choices.