When you shop through retailer links on our site, we may earn affiliate commissions. 100% of the fees we collect are used to support our nonprofit mission.
Learn more.
There isn't a more sensible car than the Toyota Prius.
With the interior room of a midsized car, the footprint of a compact, phenomenal fuel economy, bulletproof reliability, and hatchback versatility, it's a genius transportation solution. For that reason, the Prius is among Consumer Reports' subscribers' most popular cars. It just works brilliantly as a headache-free transportation solution.
For 2016, Toyota rolls out the fourth generation—promising to retain the sensibility but add ingredients the Prius never had, namely styling and a fun-to-drive quotient.
The 2016 Toyota Prius hybrid goes on sale in January with pricing starting at $24,200 for the base Prius 2 trimline and reaching $30,000 for the Prius 4 Touring. Only the base Prius retains a nickel-metal battery; all other versions get a more compact and advanced lithium-ion battery.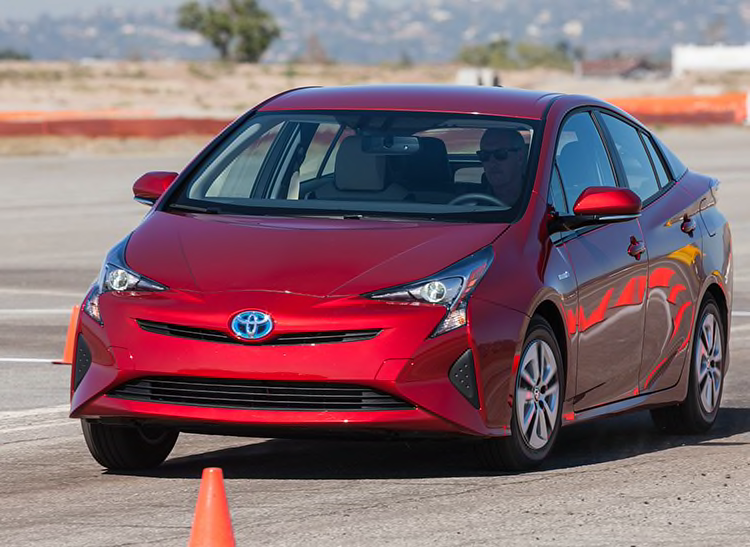 Photo: Dewhurst Photography
Based on a new platform to be shared with the next Camry, the 2016 Toyota Prius hybrid includes a more sophisticated independent rear suspension in order to optimize ride and handling. The car is a bit longer, lower, and slightly wider. It retains its hatchback configuration, although that may not be obvious from the outside, due to the loss of the third side window in favor a blacked-out rear roof pillar. The styling bears a family resemblance to Toyota's fuel-cell car, the Mirai, granting it a high-tech look that might resonate with some buyers.
The powertrain is largely a carryover, relying on a 1.8-liter gas engine that's augmented by an electric drive that Toyota claims is now lighter and more compact. The continuously variable transmission, or CVT, is also improved. Based on an initial drive, the car is quicker to react in passing situations.
The EPA estimate for combined fuel economy is 52 mpg. An Eco trimline, which will account for about 10 percent of sales, is rated at 56 mpg due to limited options, higher tire pressure, and weight-saving tweaks such as eliminating a spare tire. The outgoing Prius got 44 mpg overall in Consumer Reports' test cycle.
In a peculiar quirk, the Prius' total system horsepower is 121, which might seem underpowered compared to the outgoing car's 134. But Toyota says that's due to a different Japanese calculation method that takes into account the gas engine's 95 hp and the electric motor's 71 horses. Toyota declined to give an apples-to-apples horsepower comparison.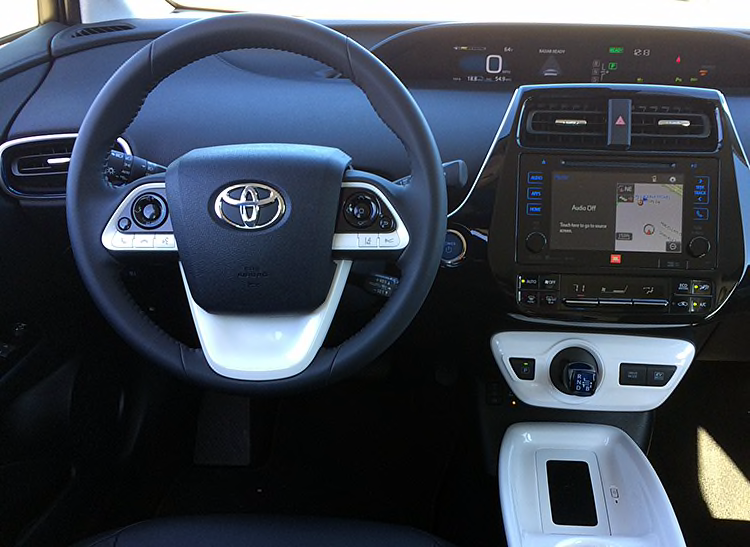 Our first drive of the 2016 Toyota Prius hybrid revealed that the engine now roars less when you floor the gas pedal, and the CVT is more palatable without overly amplifying engine noise. As before, the Prius can propel itself solely on electric power, typically up to about 20 mph, which is handy and gratifying in stop-and-go traffic or just when loafing around on Main Street.
Our drive included a mix of suburban driving and some freeway cruising and yielded an average of 50 mpg—according to the onboard computer in uninstrumented conditions. And a 27-mile coastal loop in the Prius 2 Eco returned 66 mpg, according to the onboard computer.
Evidently, Toyota worked on making the brake pedal response feel smoother, more progressive, and less grabby than that of a typical hybrid.
The Prius' ride comfort is improved, both in terms of bump absorption and in keeping the body steady and more settled. Road noise isolation is improved as well over the outgoing Prius, but not by a huge margin. Rough pavement still comes through with a noticeable rumble.
Handling is more responsive with prompt turn-in, sharper cornering, and less tendency for hippo-like body roll—all of which make the car more enjoyable to drive. That said, it's still doesn't possess the agility of a Ford Fusion Hybrid.
The powertrain and handling improvements might be more evolutionary than revolutionary, but the interior shows a major upgrade. Gone is the hard and hollow plastic interior of the previous generation. Instead, the 2016 Toyota Prius hybrid brings some soft-touch surfaces, flashes of chrome, and a modern, high-tech look. It has dual 4.2-inch color-display touch screens that interface with audio, phone, navigation, and vehicle performance readouts.
Due to the car's lower stance and seating position, getting in and out of the 2016 Toyota Prius hybrid requires a bit more ducking, and more of a controlled fall than a proper sitting motion. Slamming the doors results in a rather tinny sound. The seats are fine for a short drive, but the lack of lumbar support adjustment in most versions becomes uncomfortable on a longer trip. Power lumbar adjustment comes with the power driver seat and faux-leather upholstery in the 4 Touring, which is a $30,000 car.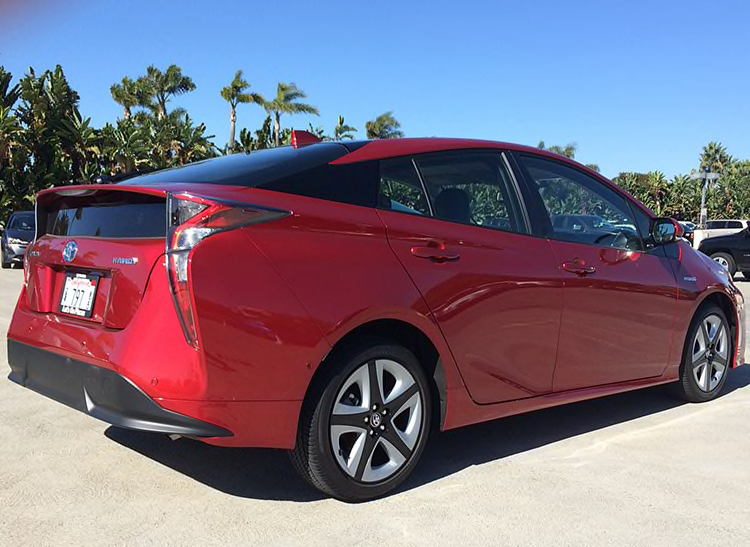 Toyota Safety Sense is an advanced suite of active safety features that comes in the $1,935 Advanced Technology package. It includes auto braking from 6 to 25 mph, lane-departure warning with a slight lane correction, and active cruise control. Fortunately, if you just want blind-spot monitoring, you can get that in the Prius 4, priced at $28,650.
An AWD version will be available in Japan, but it is still under consideration for the U.S. We think it would be a hit in the Snow Belt. A plug-in version is also coming down the road.
Toyota clearly managed to instill more able driving dynamics, created a vastly improved interior, and included all the latest connectivity and active safety features, while retaining much of the Prius's laudable practicality and fuel efficiency. But in a true conservative Toyota way, this redesign amounts to an incremental improvement rather than a metamorphosis. For a successful, genre-defining car, that may be a good thing.
We look forward to buying our own Prius soon and fully testing it.