How Consumer Reports Tests Cars
CR's car team drives nonstop and digs deep into data so that you can make a fully informed choice on your next auto purchase To really put an automobile through its paces, you have to cover a lot of ground. Good thing the Consumer Reports Auto Test Center sprawls across 327 acres in rural Connecticut, where we push the cars and trucks we test to their limits to get all the information and insights you need to make a smart auto purchase.
The cars team tests about 50 vehicles per year, driving them hundreds of thousands of miles. We also churn through reams of reliability and satisfaction survey data collected from our subscribers to supplement the analysis, evaluations, and ratings from the track. It takes a full-time staff of about 30, including engineers, editors, statisticians, technicians, photographers, videographers, and support staff, to keep the Auto Test Center running.
Most automotive publications evaluate cars and trucks lent to them by manufacturers. But we purchase every vehicle we test from a dealership, just like you do. (Last year we spent more than $2 million buying cars.) That way, we can maintain our independence and test cars with the trim and options people actually buy rather than the special versions that manufacturers want to showcase.
Acceleration tests are conducted on a smooth, flat pavement straightaway at the track. The test car is rigged with a precise GPS-based device that's hooked to a data-logging computer and a display that's mounted on the windshield. This equipment creates precise records of time, speed, and distance. We use it to measure sprints from 0 to 30 mph and 0 to 60 mph, and for quarter-mile runs. All times are measured from a standing start. Good acceleration is more than the fun factor. It's also vital for executing safe highway merges and can potentially play a role in some accident-avoidance situations.
Because ADAS features are increasingly common on most models, we test forward collision warning (FCW), automatic emergency braking (AEB), and pedestrian detection to see how well they work.
Lane markings: We've applied lane markings at our track to see how well some ADAS features react in real-world driving scenarios, such as when a car drifts out of its lane.
Foam-car test: We drive each vehicle at 20 mph toward a foam car to see how well FCW and AEB help avoid a collision.
Pedestrian safety: We do the same with a target dummy to evaluate how well pedestrian detection systems perform.

Good braking performance is a vital factor in a car's accident-avoiding capability. Our automotive engineers conduct a series of brake tests from 60 mph to a standstill on wet and dry pavement to measure stopping distances. The test car is rigged with a precision GPS-based device. We also judge brake-pedal modulation.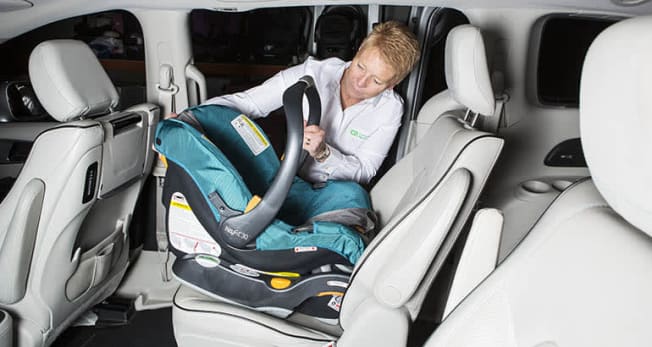 We rate each vehicle on how easily child seats can be properly installed.
Separately, we also test car seats, from front infant seats to boosters. We have ratings on about 150 car seat models.
Engineers trained in ergonomics/human factors evaluate a car's controls and displays, judging how easy it is to interact with the various vehicle functions such as audio, climate, phone, and all the switches and instruments. Every auto-test staff member logs comments drawn from months of living with the cars and driving them every day for commuting, trips, and errands. The more intuitive and user-friendly the controls are, the better.
Driving Position, Access, and Accommodations
Staff members of different sizes, ages, and genders judge how easy it is to get comfortably situated behind the steering wheel, gauging whether they can see out well and reach all controls and pedals without straining or developing premature fatigue. They also get into and out of every seat, and note the ease of entry and exit. Seat comfort is judged on comfort, support, and room.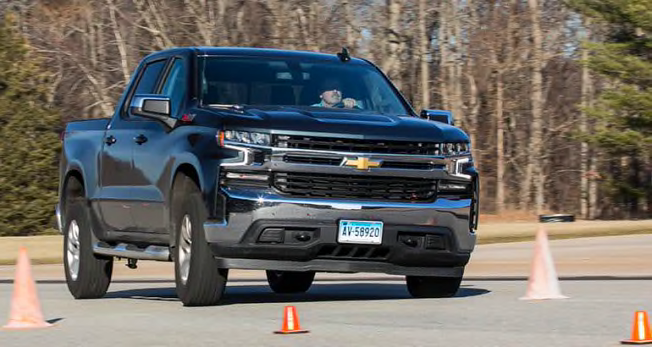 Crucial emergency-driving tests include an avoidance maneuver and a series of at-the-limit cornering assessments around a handling course—a snaking track loop. The avoidance maneuver is a "path-following test" in which the driver pilots the car down a lane marked off by traffic cones with a quick left-right-left sequence. That simulates swerving to avoid an obstacle in the road, then returning to the original lane to avoid oncoming traffic. The car threads through the course, without throttle or brakes, at ever-higher speeds until it can't get through without hitting any cones. We use a laser-beam-based device to record and monitor entry speed. When testing on-limit handling, drivers push the car to and beyond its limits of cornering capabilities to simulate entering a corner too quickly. Test engineers evaluate how controllable, secure, and forgiving the car is through the maneuver.
Our 3,500-foot curvy road course helps us assess how well each vehicle negotiates corners.
Experienced engineers evaluate every test vehicle's interior qualities. They want to see that the trim pieces have minimal gaps and properly align with one another and that the texture of adjacent panels matches. The testers also judge the tactile quality of the plastics, leather, fabrics, and switchgear—the parts that owners interact with on a daily basis. They look for quality in sewn seams and for ill-trimmed plastic mold flash, rough edges, and hard, hollow plastic surfaces. They also pay attention to the way nooks and cubbies are finished inside and out; whether cup holders are sturdy, flimsy, or ill-placed; and whether compartment doors open and shut smoothly.
We perform our own fuel-economy tests, independent of the government's often quoted EPA figures and the manufacturers' claims. Using a precise fuel-flow measuring device spliced into the fuel line, we run two separate circuits. One is on a public highway at a steady 65 mph. That course is run in both directions to counteract any terrain and wind effects. A second is a simulated urban/suburban-driving test done at our track. It consists of predetermined acceleration and deceleration rates, as well as idle time. Consumer Reports' overall fuel-economy numbers are derived from those fuel-consumption tests.
Have you ever wondered whether your car's headlights are as good as they should be? To answer that question, Consumer Reports evaluates headlight performance on new cars in our test program. After aligning the headlamps in an indoor lab, we test them outdoors at our track on dark, clear, moonless nights. Our headlight specialists set up a series of black targets at prescribed intervals along almost a thousand feet of level roadway. They then look for low-beam and high-beam performance, evaluating reach, intensity, width, and the evenness of the light pattern. They note glare effects—where stray light can bounce back from mist, rain, or fog. And they determine whether the transition or cutoff of light is so sharp that it reduces the headlight's range as it moves over undulations and uneven roads.
Some semi-autonomous safety and convenience systems, such as lane-departure warning and lane-keeping assist, use onboard cameras that "see" the road. For these systems to work effectively, they need to assess a complex variety of lines on the road. We have added meandering lane markings along the main straightaway of our track to evaluate how different systems interpret a common roadway situation in a safe, controlled environment.
We evaluate noise, as well as measure it, while the car is driven over various pavements, including specially built concrete slabs at our track. Complementing those findings is noise evaluation conducted by our test engineers on local public roads. They make note of engine, road, and wind noise, and judge the level and quality of the noises, be they raucous or pleasant, annoying or exhilarating.
We check off-road capabilities for vehicles made for or advertised for off-road use. SUVs or pickups with a traditional four-wheel-drive system that includes low-range gearing or some equivalent are put to the test on varying terrain. We evaluate the vehicle's 4WD system and the driver's ability to modulate the throttle—something vital for climbing over tricky obstacles. We also judge ground clearance, axle articulation, and, of course, traction.
An overly stiff or uncontrolled ride can really detract from the driving experience. Our engineers judge ride comfort on a 30-mile loop at predetermined speeds on a course that includes a variety of roads containing bumps, ruts, undulations, and a typical highway section. They note whether the suspension absorbs and isolates appropriately. They determine whether the ride is stiff, choppy, tender, or floaty, and how well the car copes with pavement flaws. The engineers are attuned to adverse ride motions such as side-to-side rocking and fore-and-aft pitching. Comfort is the name of the game, as is the ability to provide a steady cruise regardless of the terrain. Cumulative experience from commuting in the cars is also factored in.
Our testers judge routine handling primarily during a test we call "one-day trip," which consists of a 30-mile loop of local roads ranging from a smooth highway to secondary two-laners, and rural twists and turns. A team of trained engineers assesses how well the car deals with curvy roads. That directly translates into the car's agility and fun-to-drive qualities. The engineers note body control such as body lean and how steady the car remains over bumpy corners. They evaluate steering response to driver input and how well the car communicates feedback, mainly through the steering. The car's turning circle is measured by technicians because this quality translates directly into ease of parking and maneuverability in tight spaces.
We don't perform crash tests. We quote the government and Insurance Institute for Highway Safety crash-test results. Other aspects require a personal touch to evaluate. Our engineers asses safety belts, the most important safety device, in all seating positions, gauging how easy they are to reach and adjust, how they drape on different-sized occupants, and whether they incorporate features such as pretensioners that make them more effective. The engineers also check head restraints in all seats to ensure that they are tall enough and can be positioned properly to mitigate whiplash injuries. Another key check is to judge how conducive the vehicle is to the securing of child seats of various sizes.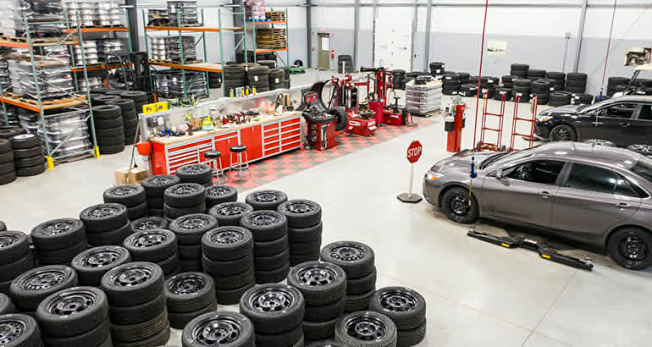 Consumer Reports tests about 50 tire models every year—for cars, SUVs, and trucks—putting them through their paces in up to 12 tests. Most tests are conducted by an expert team at our 327-acre Auto Test Center in Connecticut. We also do braking on ice at a local rink, and an outside lab assesses tire rolling resistance, which affects fuel economy.
Track testing tells us how well tires stop and handle on dry and wet pavement, how well they resist hydroplaning, and how comfortably they ride on purposely made bumpy roads at our facility.
We also evaluate tread life by driving thousands of miles on a road course in western Texas and use that information, along with the price we paid for the tire, to estimate the cost per 100 miles.
Transmissions play a central role in delivering engine power to the wheels, and the characteristics of the transmission can greatly affect the overall driving experience. When evaluating transmissions, our engineers look for responsiveness, how quickly and appropriately the transmission selects its gears, and how seamlessly it shifts and downshifts. They assess how in tune the transmission is with the throttle, grade, and driver's inputs. For manual transmissions, the testers evaluate the shift action (how easy it is to move the shift lever through the shifter gate). The appropriateness of gear ratios is taken into account as well. The engineers also note the clutch action, looking for appropriate effort, pedal travel, and the point where the clutch engages.
For cars with an enclosed trunk, we measure the trunk's usable volume with a set of typical-sized suitcases and duffel bags.
For SUVs, wagons, and minivans, we use an expandable rectangular pipe-frame "box." We stretch it to just fit through the rear opening, in a way that maximizes the box's volume with the rear seats folded and yet allows the rear gate to be closed. Cargo capacity is the volume enclosed by that box.
For pickup trucks, we measure the volume of the bed up to the top of the side rails.

CONTENT
Deputy Director, Content Development: Christopher Kirkpatrick
Managing Editor: Jeff S. Bartlett
Deputy Editor: Jonathan Linkov
Road Test & Reviews Manager: Mike Monticello
Multimedia Content Creators: Keith Barry, Benjamin Preston
Senior Manager, Auto Test Video: David Abrams
Producers, Auto Test Video: Andrew Balise, Anatoliy Shumiskiy
Photographer: John Powers
TESTING
Senior Director, Auto Testing: Jake Fisher
Director, Operations: Jennifer Stockburger
Associate Director, Auto Test Program: Gabriel Shenhar
Program Manager, Vehicle Technology: Kelly Funkhouser
Tire Program Manager: Ryan Pszczolkowski
Auto Engineer, Child Safety: Emily A. Thomas
Auto Engineer, Auto Safety: Shawn Sinclair
Auto Engineer: Alex Knizek, Gordon Gingras, Jenson Yuen
Auto Content Specialist: Mike Quincy
Chief Auto Services Manager: John Ibbotson
Senior Testing Technician: Joe Veselak
Project Leader, Child Seats: Michael Bloch

DATA ANALYSIS
Associate Director, Auto Data Integration: Anita Lam
Senior Auto Data Analyst: Steve Elek
FACILITIES
Facilities Manager: Erik Dill
Track Maintenance Specialist: Frank Chamberlain
Maintenance Specialist: Michael Jascot
Facilities Technician: Steve Kuczynski
Business Manager: Mary Reed
CR Car Testing: The One-Day Road Trip
A lot goes into testing a car—both on the track and in real-world situations. On the "Consumer 101" TV show, Consumer Reports' expert Mike Monticello reveals to host Jack Rico how CR puts a vehicle through its paces.