The Environmental Protection Agency's investigation into Volkswagen's use of a "defeat device" to pass emissions tests with its four-cylinder diesel engine has determined that VW used a similar strategy with certain Audi, Porsche, and Volkswagen sedans and SUVs.

The EPA found that several models using VW's 3.0-liter V6 diesel engine, totaling approximately 10,000 vehicles, have software (the defeat device) that causes the vehicles to perform differently during testing than in normal, real-world operation. This is in addition to the 2.0-liter four-cylinder engines in nearly 500,000 models in the U.S. that were declared as having cheated the emissions tests. (Read "Consumer Reports Tests VW Diesel Fuel Economy, Performance in 'Cheat' Mode.")

"VW has once again failed its obligation to comply with the law that protects clean air for all Americans," said Cynthia Giles, assistant administrator for the Office for EPA's Enforcement and Compliance Assurance.

According to the EPA, "These defeat devices bypass, defeat, or render inoperative elements of the vehicles' emission control system that exist to comply with the Clean Air Act emission standards."
Vehicles Involved With the 3.0-liter V6 Diesel Engine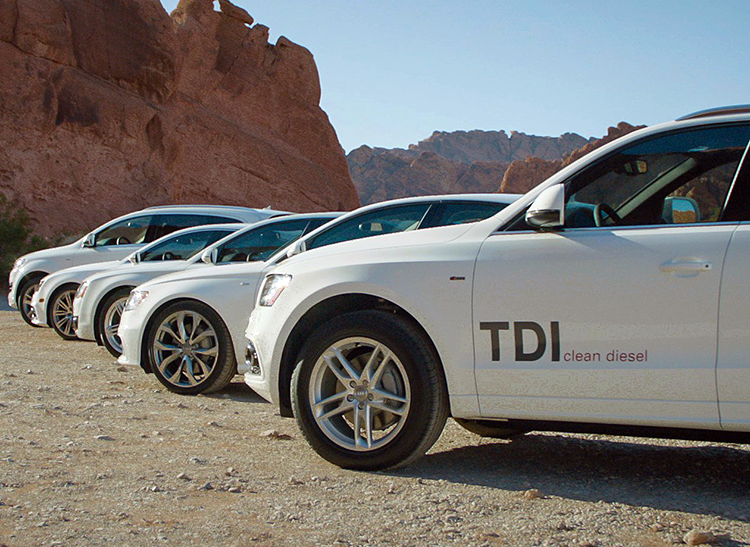 When the software detects that an emissions test is underway, the vehicle makes a number of adjustments to reduce NOx output, including fine-tuning injection timing, exhaust gas recirculate rate, and common rail fuel pressure.

The EPA explains, "In 'normal mode,' tailpipe emissions of NOx from these vehicles are up to 9 times the applicable NOx standard levels, depending on the model type and type of drive cycle (e.g., city, highway)."

The EPA has notified the automotive brands of the noncompliance, and it states that the investigation is ongoing. The guidance remains that these vehicles are safe and legal to drive.
In a statement, Volkswagen AG says it "wishes to emphasize that no software has been installed in the 3.0-liter V6 diesel power units to alter emissions characteristics in a forbidden manner."
"This is obviously a growing scandal which continues to demand forceful action by regulators," said Ellen Bloom, senior director of federal policy and the Washington, D.C., office for Consumers Union, the policy and advocacy arm of Consumer Reports. "Consumer confidence and public health are at stake."
Consumer Reports is an independent, non-profit organization dedicated to helping consumers. We make it easy to buy the right product from a variety of retailers. Clicking a retailer link will take you to that retailer's website to shop. When you shop through retailer links on our site, we may earn an affiliate commission – 100% of the fees we collect are used to support our mission.
Learn more.
Our service is unbiased: retailers can't influence placement. All prices are subject to change.