When you shop through retailer links on our site, we may earn affiliate commissions. 100% of the fees we collect are used to support our nonprofit mission.
Learn more.
A recent viral video purporting to show how Tesla's new Autopilot software helped a driver avoid an accident underscores that there is confusion about how advanced safety systems work and what they actually do.
In that dramatic video, a dash camera shows the Tesla Model S motoring alongside a lane of stopped traffic at night, when a car coming from the other direction turns into the path of the Tesla. In the YouTube title, the driver says Autopilot deserves credit for avoiding the accident, as the description explains that he didn't see the car coming nor have his foot on the brake. However, the reality is that forward-collision warning with automatic braking is the hero—a feature that many brands offer across the price spectrum.
Tesla's Autopilot suite performs an array of safety and convenience functions, pushing this electric car further toward automated driving. However, what saved the day (or night in this case) was the car's ability to sense the closing speed of another vehicle and take action to prevent a collision. This system is referenced in the auto industry as forward-collision warning with autobrake. It has been available on the Tesla for more than a year—well before the recent software updates that included Autopilot.
Consumer Reports strongly supports this type of automatic-braking technology, and we have openly advocated for this life-saving technology to become a standard feature across all price points, not just for well-heeled buyers' luxury cars.
The Insurance Institute for Highway Safety agrees, having factored forward-collision systems into its award protocol for its Top Safety Pick Plus designation, a new accolade that lauds cars that perform well in its crash tests and also have technology to help avoid such accidents.
Advanced safety features are propagating through the car market, with systems becoming standard or readily available on such affordable, mainstream models as the Fiat 500X ($20,000 base), Mazda3 ($17,845 base), Scion iA ($15,700 base), and Subaru Forester ($22,395 base).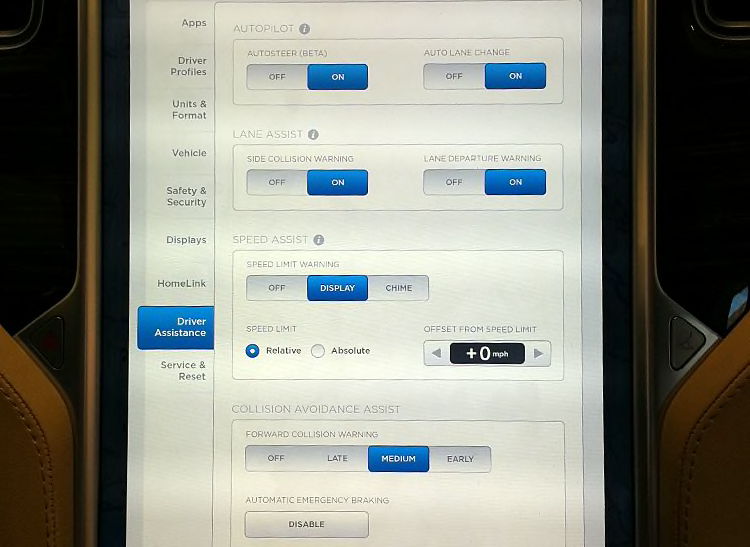 The Takeaway
Safety is a primary purchase consideration among car shoppers, according to a new nationwide survey conducted by Consumer Reports. Many in-market car buyers who consider safety as one of their top three concerns say that crash-test scores are of the utmost importance, followed by high-tech safety features.
When buying your next car, we recommend adding forward-collision warning with autobraking to your list of must-have safety gear. Simply put, whether shopping for a new car or used vehicle, buy as many safety features as you can afford.
See our full list of cars with available advanced safety features.