When you shop through retailer links on our site, we may earn affiliate commissions. 100% of the fees we collect are used to support our nonprofit mission.
Learn more.
A recently released study on rear-facing child car seats may inadvertently be sending the wrong message to parents. The study's results, while meaningful to improving the overall safety of car seats, look at just one small piece of the puzzle, possibly causing some parents to jump to conclusions.
Simply put: Rear-facing car seats are still the safest way for young kids to ride in a car.
The study, published in the journal Traffic Injury Prevention, was designed to compare the performance of the different child-seat installation methods—LATCH (Lower Anchors and Tether for Children) versus the vehicle seat belt – in simulated rear-end crashes. But some media coverage may have created doubt for parents concerned about which seating orientation is safest for their children.
For instance, the Washington Post's headline "Study of Rear-End Crashes Finds Head Injuries From Rear-Facing Child Seats" could suggest the study was a summary of real-world child injury data in rear crashes. It wasn't.

Like much of the child seat testing we do at Consumer Reports, the authors of the study conducted tests that simulate the forces and motion that a child seat and child may experience during a rear-impact crash. Injury values were measured with instrumented child-sized dummies, just as we do. The results indicated that measurements used to predict head injury were higher (worse) for rear-facing seats installed with LATCH than for those installed with a vehicle seat belt. The study also indicated that some of the head injury values for LATCH installed seats exceeded head injury limits that could produce more serious injury in a 6-month-old child.
Car Seat Safety Tip
Read the installation checklist in our Car Seat Buying Guide to ensure your child's car seat is installed properly.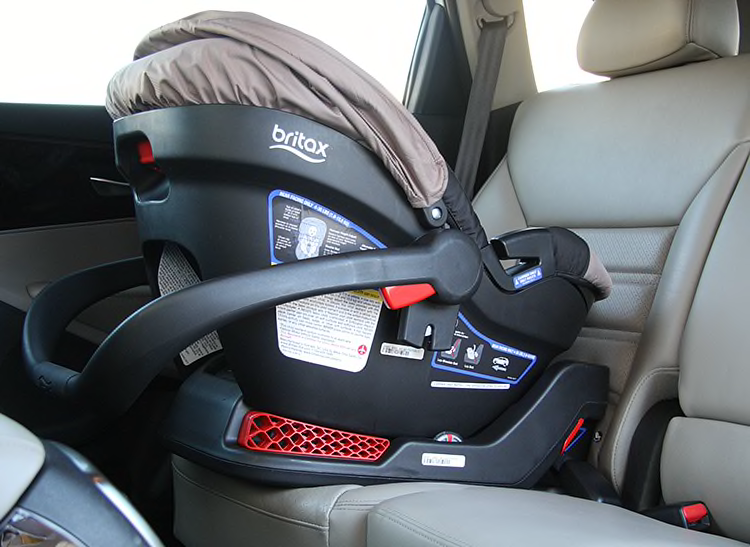 What This Means for Parents
Don't prematurely move to forward-facing seats. These results should not be taken as evidence that you should move your child to a forward-facing orientation. Much more data shows that children are safer riding rear-facing and that they should continue to ride rear-facing at least until the age of two—even longer if the seat limits will allow.
Rear-end crashes aren't as common. The results are important to consider when thinking of all of the crash scenarios that a child may experience in a car. But rear-end crashes are less frequent and typically cause fewer injuries to children than frontal crashes. Data cited in the article by the National Highway Traffic Safety Administration indicate that rear-end collisions account for just 9 percent of injuries to children in car seats. In comparison, front-end collisions account for about 43 percent and side-impact crashes account for about 33 percent.
Proper fit-to-vehicle is key. Though this study shows better results for seat belt installed seats over LATCH installed seats, our extensive frontal crash tests and fit-to-vehicle evaluations show just the opposite. Our fit-to-vehicle analysis typically shows that LATCH provides an easier-to-achieve and more secure installation than seat belt installations for most seats. A seat that is securely installed is critical to protecting your child in all types of crashes.
Front- and side-crashes result in greater head injuries. Though the injury values in this study may sound alarming, we can assure you that the head injury values we see from instrumented dummies in frontal and initial side-impact tests are much higher than those in this study. In our own simulated crash tests, we also compare child seat performance based on a number of injury metrics that includes the head injury measurements used in this study. Based on that data, the contact of the child seat and child into the seatback in a rear-end crash is something to look at, but the potential for reducing injury and fatalities for kids in vehicle crashes appears to still be greater in the more prominent frontal and side crash modes.
Key Takeaways
If your child is two years old or younger, keep them in a rear-facing child seat and make sure you have a secure installation using LATCH. If you aren't confident in the installation, have a certified Child Passenger Safety Technician double check your installation at a car seat check-up event near you.