When you shop through retailer links on our site, we may earn affiliate commissions. 100% of the fees we collect are used to support our nonprofit mission.
Learn more.
While automotive brands are tripping over themselves to enter the small premium crossover space, BMW is rolling out its second-generation X1. Carving a niche between a 3 Series wagon and the X3 SUV, the 2016 BMW X1 strives to be a versatile, transitional vehicle that addresses the desire for an elevated ride height, cargo flexibility, all-wheel drive, and upscale status.
The X1 pioneered this sub-genre in 2012, and it returns with a new platform and more high-tech features. While the original X1 was essentially made out of previous-generation 3 Series guts, the new 2016 BMW X1 shares its basic architecture with the Mini Cooper Clubman, a front-drive-based car. Deviating from the purity of rear-wheel drive is, to die-hard fans, like killing a sacred cow for BMW.
This X1 comes only as an all-wheel drive, with the sole engine offering being a new 228-horsepower, 2.0-liter turbocharged four-cylinder. Prices start at an inviting $34,800, but with several desirable options, the X1 quite easily breaks the $40,000 mark. The well-equipped X1 we bought came in at $44,745, placing it at the high end of the segment.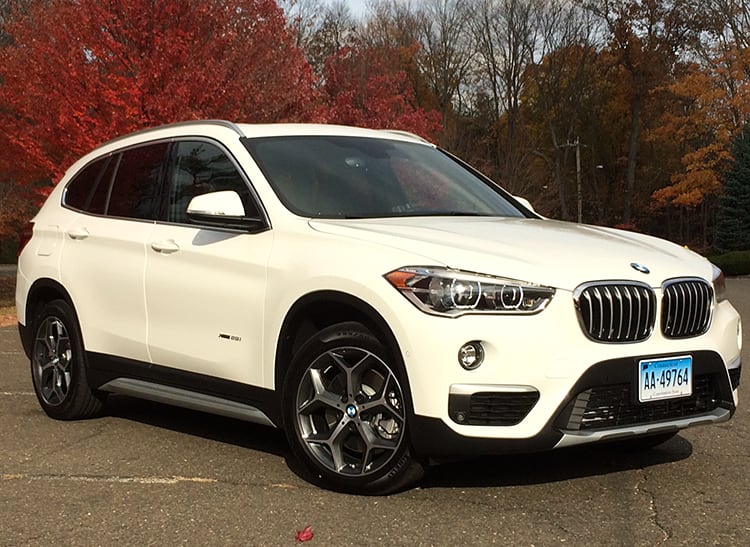 Outwardly, the X1 looks like a scaled down X3 or X5—testament to how effectively BMW carries its familial design language across models. Despite the look, those accustomed to BMWs will realize after a few miles that this isn't your typical BMW.
Most BMWs impress you right away with a sense of control and handling precision. The X1? Not so much. While the car is responsive and surefooted, steering response is not as resolute. In routine driving, this BMW does not possess any extra magic over several other models among more mundane small SUVs. In fact, the Ford Escape has more verve when it comes to carving corners, with a tied-down and athletic demeanor.
Neither is the ride as cosseting as you might expect from a premium car. The X1 tends to transmit the texture of the road a bit too faithfully as it encounters pavement corrugations and the standard 18-inch run-flat tires don't help with isolation. Road noise is too noticeable for a car at this price bracket.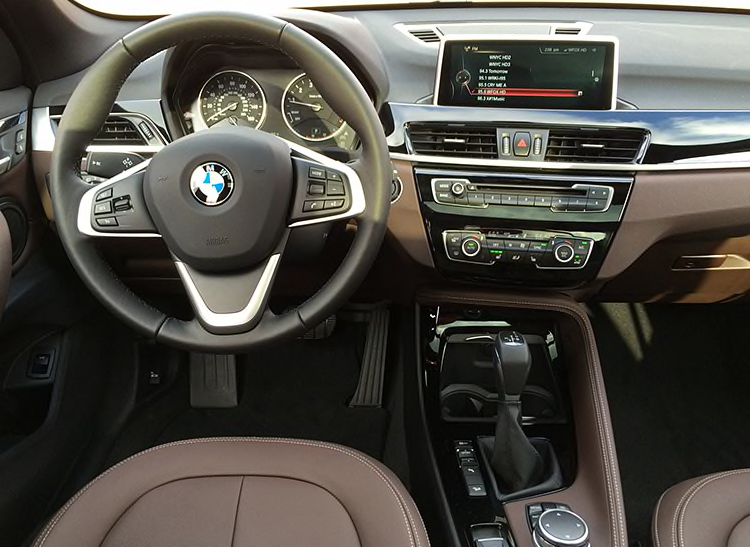 The turbocharged engine delivers ample pull with virtually no delays or hesitation and the eight-speed automatic shifts smoothly and smartly. But this engine doesn't have any personality or character, lacking the rich sound and feel that's normally associated with a BMW. On the plus side, fuel consumption appears to be frugal, as the trip computer has been registering 26 mpg overall so far.

To be fair, if this were another car that doesn't have the famed blue-and-white Roundel logo, the X1 would come across as competent and even commendable. But you expect more from a BMW. In fact, brand loyalists will notice the rather mundane ride and handling on a test drive; these aren't the things one can't tell from touring the showroom with a latte in hand.
Instead, potential buyers will spot the supportive seats, innately high-quality interior, high-tech infotainment system, and striking attention to detail. Heated seats and steering wheel are common options, as is a panoramic sunroof, which add to the upscale allure and makes the small-ish cabin feel airy. And the standard hands-free power liftgate puts on a show.
The low step-in height and relatively low (for an SUV) seating position strike a nice access balance. Driving the X1 feels closer to driving a sedan or a wagon in terms of seating height and visibility. The center console, which includes the iDrive control interface and shifter, is lower than expected and the shifter itself diverges from BMW's electronic wand with a more conventional one.
Rear seat room is generous for the class and benefits from the low floor. Another fringe benefit of the front-drive architecture is the added storage space under the arm rest. The rear seat can fold in three sections aiding versatility, and each outboard section can be folded by a flick of a lever from the nicely finished cargo area.
For its first impression, the 2016 BMW X1 provides a familiar BMW look and feel with good versatility in a compact, maneuverable size. It may be a bit short on the fun-to-drive quotient, but it's very likely that most potential customers care more about the brand cache and interior ambiance. As such, they will find the X1 to be very satisfying.
As soon as we accumulate enough break-in miles, we'll start putting the X1 through its paces. As instrumented tests begin, we'll see how the X1 competes with classmates such as the Audi Q3 and Mercedes-Benz GLA.