When you shop through retailer links on our site, we may earn affiliate commissions. 100% of the fees we collect are used to support our nonprofit mission.
Learn more.
With so much attention shifting to Tesla's future "affordable" Model 3, it's easy to forget that the company recently introduced its second mass-produced model, the Model X SUV. Consumer Reports has our own test car (anonymously) on order; until that one arrives, we got a chance to try out a Model X P90D that we rented from Tesla.
It's natural to compare and contrast the Model X with the Model S, especially given that both cars share the same basic platform and electric powertrain. Comparatively austere and purposeful in design, the Model S earned the highest road test score ever in Consumer Reports' testing. Below-average reliability lowers its Overall Score, however, and keeps it from being recommended.
To its credit, the Model X drives very similarly to the Model S, only with a higher seating position, making it one of the sportiest-driving SUVs available.
But the Model X is also one of the most gimmicky SUVs you can buy, with many features seemingly designed to maximize show-off-to-your-neighbors potential. Chief among them are the falcon-wing rear doors; while they provide an enormous opening, these complex portals require some patience and can cause plenty of frustration. Same goes for the front doors, which don't work like normal doors either.
Interior utility is limited by second-row seatbacks that don't fold, unlike basically every other SUV on the market. And an enormous windshield makes for a road-going observation deck, but can't provide much respite on a bright sunny day.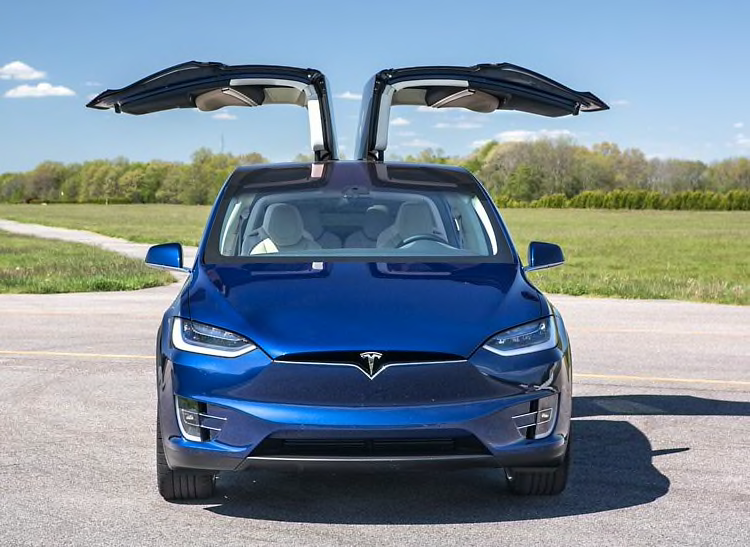 Bad News, Good News from GM
In another case of an automaker misstating fuel-economy figures, General Motors recalculated Environmental Protection Agency fuel economy estimates for its large crossover SUVs, the Buick Enclave, Chevrolet Traverse, and GMC Acadia. Owners will be compensated for the change, because they won't get the fuel economy they were promised on the window sticker.
But this move raises more questions than it answers: The adjustment and compensation is only for the 2016 model year, despite no major changes to these vehicles. Also, these models have a long-running history of underperforming when it comes to fuel economy.