When you shop through retailer links on our site, we may earn affiliate commissions. 100% of the fees we collect are used to support our nonprofit mission.
Learn more.
Tesla Motors' all-electric Model S sedan got high marks in Consumer Reports' 50-plus tests involving driving dynamics and livability, and it consumed energy at the electric equivalent of 84 miles per gallon (87 MPGe in the P85D trim). It's the best-performing car we've ever tested.
But its predicted reliability is another matter.
As part of our Annual Auto Reliability Survey, we received about 1,400 survey responses from Model S owners who chronicled an array of detailed and complicated maladies. From that data we forecast that owning that Tesla is likely to involve a worse-than-average overall problem rate. That's a step down from last year's "average" prediction for the Model S. It also means the Model S does not receive Consumer Reports' recommended designation. (To be recommended, a vehicle has to meet stringent testing, reliability, and safety standards, including having average or better predicted reliability.)
The main problem areas involved the drivetrain, power equipment, charging equipment, giant iPad-like center console, and body and sunroof squeaks, rattles, and leaks.
Specific areas that scored worse on the 2015 model, compared with the 2014 model in last year's survey, were the climate control, steering, and suspension systems. Complaints about the drive system have also increased as the cars have aged—specifically for the 2013 model, which was the car's first full model year. (See more details on the Tesla Model S model page.)

But those problems mostly still fall under Tesla's four-year/50,000-mile bumper-to-bumper warranty (and eight-year/unlimited mileage battery and drivetrain warranty), so they are generally being corrected at no cost to owners.
More Exclusive Car Reliability News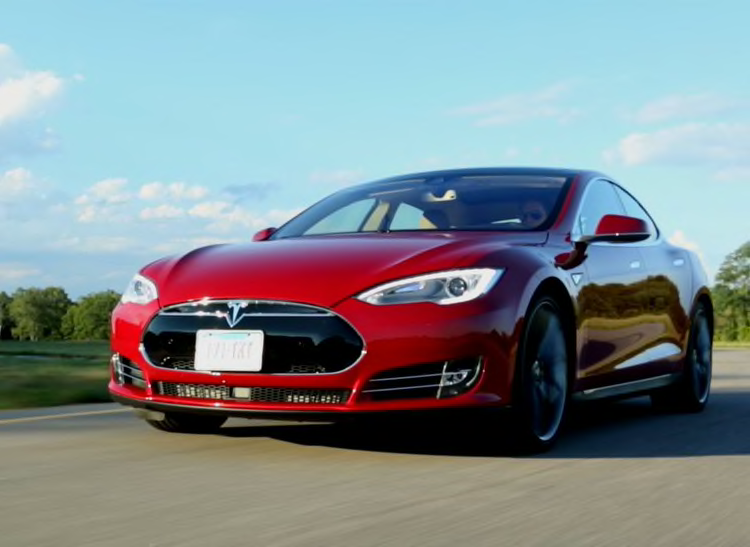 Overall, squeaks and rattles appear to be the most prevalent complaint. But as one respondent commented, "The car is so very silent when driving that minor squeaks and rattles that you wouldn't be able to hear in a gasoline engine car become very annoying."
The list of issues also includes more significant problems, which could be pricey to fix once out of warranty. Based on survey responses, Tesla has made a habit of replacing the car's electric motors. The brake rotors tend to warp. And the door handles often fail to "present" themselves as drivers approach their cars.
Those automatically retractable door handles are a signature element of Tesla vehicles, but when they don't work they effectively lock drivers out. (We had this problem with our Model S P85D.)
Other problem areas include:
Inoperable wipers
Leaking battery cooling pumps
Out-of-alignment trunk and hatchback latches

Persistent wheel-alignment issues
Is Tesla's newfangled electric-vehicle technology causing the reliability problems? The Nissan Leaf EV has been above average in reliability for several years; it's average this year. But the Tesla is a much higher-performance and higher-tech vehicle, with more than double the driving range of the Leaf.
The Tesla wasn't the only high-performance vehicle that fell below average in reliability. Others include the BMW X5 and 5 Series, and the Chevrolet Corvette.
When automakers roll out new technology, be it infotainment, transmissions, or engine variations, it often has a deleterious effect on vehicle reliability. Tesla is not only the poster child for a new type of high-performance, high-mileage EV, but it also has been adding complex new variations as assembly-line updates, such as all-wheel drive this year. So it's not surprising to see problems continue to crop up.
Despite the problems, our data show that Tesla owner satisfaction is still very high: Ninety-seven percent of owners said they would definitely buy their car again. It appears that Tesla has been responsive to replacing faulty motors, differentials, brakes, and infotainment systems, all with a minimum of fuss to owners.
And Tesla's attention to customer service has been effective. Almost every survey respondent made note of Tesla's rapid response and repair time, despite the lack of a traditional dealer service network. For its early adopters, Tesla has made a practice of overdelivering on service problems under the factory warranty, as noted by these owners:
"A minor amount of play developed in the differential gears. Tesla replaced the entire drive system. Remarkable service!"
And:
"Had a creaking ball joint in the driver[-side] front lower control arm. Tesla replaced it the following day after they were notified."
When asked for a comment, a Tesla spokesperson said in an email, "Close communication with our customers enables Tesla to receive input, proactively address issues, and quickly fix problems. Model S over-the-air software updates allow Tesla to diagnose and fix most bugs without the need to come in for service. In instances when hardware needs to be fixed, we keep the customer's convenience and satisfaction top of mind."
The real problem may be down the road, when Tesla migrates its technology from the $127,000 P85D down to the $35,000 Model 3, which it says will be launched in about two years. And there is also the concern about the cost to consumers once their Model S warranties expire.
It's one thing to have a quirky, problematic car that sells 20,000 units per year to wealthy people who probably own at least one backup vehicle. It's quite another when Tesla scales up to its 2020 projection of 200,000 U.S. Model 3 buyers, who may not have the luxury of being so forgiving.