When you shop through retailer links on our site, we may earn affiliate commissions. 100% of the fees we collect are used to support our nonprofit mission.
Learn more.
Accidents, traffic, road closures, and jerks who won't let you merge. These are all part of what you can encounter on your daily commute—sometimes within the first few miles. Add an unpleasant driving experience to that mix, and it's no wonder surveys show that people who commute regularly are pretty frustrated and tired. According to the 2013 American Community Survey, the average full-time worker in the U.S. has a 26-minute commute to work—almost five hours a week for a daily round-trip commute.
So while commuting is a chore, there are ways to make it more tolerable. Assuming you're set on driving for whatever reason (schedule, limited mass transit options, can't bike to work), choosing the right vehicle will go a long way to lowering commute-based stress levels.
In this year's Annual Auto Survey, we gathered owner satisfaction data on about 230,000 vehicles less than three years old. One of the things we asked our subscribers was how satisfying their vehicles were for commuting, and to give us specifics about why their vehicle was the ideal commuter car.
The list is presented in rank order, counting down from the most satisfying, the Tesla Model S.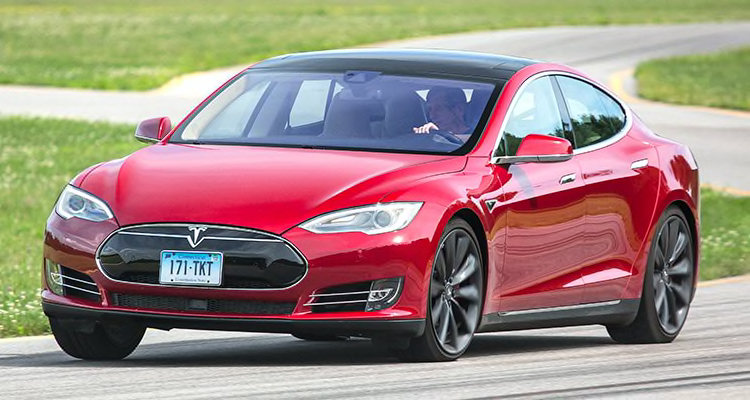 1) Tesla Model S
This sporty four-door luxury car seats five (or seven with the optional rear-facing jump seats) and just happens to be electric. With its optional 85-kWh battery—the largest available—it can travel between 180 and 225 miles per charge and can be fully charged in as little as five hours on a dedicated Tesla connector. Performance is exceptional, with thrilling acceleration, pinpoint handling, and a firm yet comfortable ride. A huge iPad-like center screen controls many functions. Drawbacks include tight access, restricted visibility, and range limitations, especially in cold weather. All-wheel drive, Autopilot active safety features, and the 691-hp P85D performance model are also available. Although tops for owner satisfaction, predicted reliability slid this year to be worse than average.

Subscribers said:
"It is a joy to drive: comfortable, agile, responsive, quiet, and 'green.'"
"Driver assist and cruise control with tracking are very convenient for routine rush hour stop and go traffic."
"Auto Pilot 1.0 keeps a safe distance between my car and others; Quiet; Comfortable; Navigation automatically adjusts to the fastest route (huge when the 405 is backed up)."
Read our complete Tesla Model S road test.
2) Chevrolet Volt
An electric car with a backup engine to extend its typical 35-mile electric range, the Volt is quick, quiet, and responsive, with a taut ride. Its four-seat capacity limits practicality, the rear seat is cramped, and visibility is poor. Once the lithium-ion battery is depleted, the 1.4-liter engine acts as a generator to extend the range by 315 miles. We averaged the equivalent of 99 mpg in electric mode and 32 mpg—on premium—when it switched over to gasoline. Recharging takes 4 hours using a 240-volt supply and 10 hours with 120 volts. For 2015, the battery storage capacity was increased from 16 to 17.1 kWh, probably leading to more EV-only miles. A redesigned 2016 Volt is now on sale, with a promised 53-mile electric-only range.
Subscribers said:
"Essentially I gave myself a raise. My electric bill increased about $100 overall. However my employer has free charging stations at work, so I no longer pay the cost of commuting home. The HOV sticker took me about 60 seconds to appreciate."
"Able to complete my daily commute using no gas on most days. The car is much more comfortable than I anticipated. Nice to see an American manufacturer stepping up to the plate with a great EV."
"My wife uses this car for her daily commute. She can do so easily on battery alone, even on the coldest days. We then recharge overnight in the garage at a fraction of the cost of a gasoline powered vehicle. The car is smooth, comfortable and quiet.
Read our complete Chevrolet Volt road test.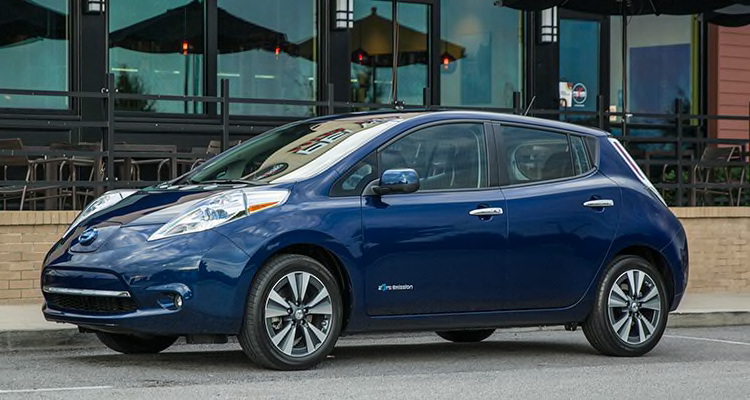 3) Nissan Leaf
The electric Leaf has a 75-mile typical range. A full charge took us six-hours using a 240-volt outlet, but charge times have been shortened since our tests. We measured the equivalent of 106 mpg, and running costs are 3.5-cents per mile at the national average of 11-cents per kWh. The ride is comfortable, but handling isn't particularly agile. The rear seat is roomy, but the cargo area is rather small. Standard features include a heated steering wheel and seats, and top models get electric heating that uses 30-percent less energy. Unfortunately, the Leaf scored a Poor in the IIHS small-overlap crash test. For 2016, SV and SL versions can be equipped with a 30 kWh battery with a claimed 107-mile range.
Subscribers said:
"This car is pretty much a perfect commuter car. Plenty of power, comfortable and super quiet. And of course it NEVER NEEDS GAS!!!"
"Perfect commuter car, can use HOV lane, CHEAP to operate, enough range for daily commute and more."
Read our complete Nissan Leaf road test.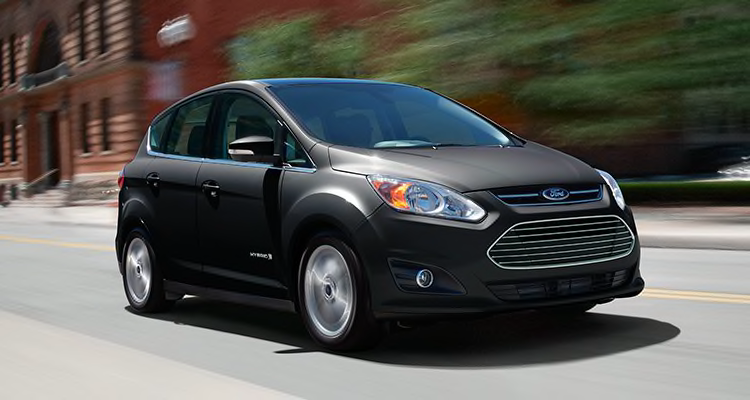 4) Ford C-Max
Based on the Focus compact car, the five-passenger C-Max hybrid is a clever, quiet, spacious, and practical hatchback. It rides well and handles with agility. Regenerative braking helps with fuel economy but makes the brake pedal feel touchy. The 2.0-liter four-cylinder and electric motor deliver adequate acceleration and seamless transitions between gas and electric power, and the C-Max can run in electric mode up to about 40 mph. We measured an excellent 37 mpg overall. The Energi plug-in can travel in electric-only mode for about 18 miles before reverting to hybrid operation. It takes six hours to charge on 120-volt and two hours on 240-volt. For the 2016 model year, Sync 3 replaces the much-maligned MyFord Touch infotainment system.
Subscribers said:
"Great car, great gas mileage. Plenty of room. This has become the most popular car in the house."
"98% of my commuting and local driving is within the approximate 25-mile range for this car to run 100% on a battery charge from when I was last at home. Thus, the vast majority of my use is electric with only a tiny bit of gasoline mileage."
Read our complete Ford C-Max road test.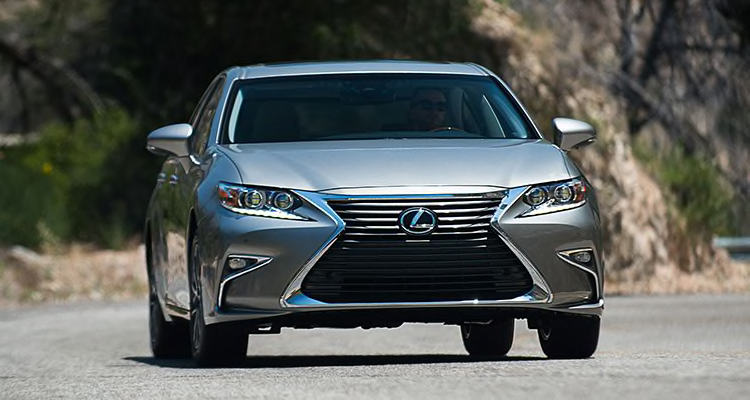 5) Lexus ES
Lexus ultimately hurt the ride comfort and made the controls overly complex with the current ES. In our tests, the powerful 3.5-liter V6 and six-speed automatic got a good 25 mpg overall. The ride is on the stiff side and is made worse with the optional 18-inch wheels. Handling is sound but unexceptional. Inside, the quiet cabin looks good at first, but some cheap touches are apparent. The control interface is distracting and convoluted. For those who don't care about the best driving dynamics, the ES is a simpler, roomier alternative to similarly-priced sports sedans. The hybrid is more appealing, in our opinion, thanks to its combination of size and luxury, and class-leading 36 mpg overall and 44 on the highway in our tests. But after all, a Toyota Camry provides much of the same for less money.
Subscribers said:
"Good pickup, blind-spot monitoring, smooth ride, quiet."
"Amazingly quiet and gets excellent gas mileage for the size car."
Read our complete Lexus ES road test.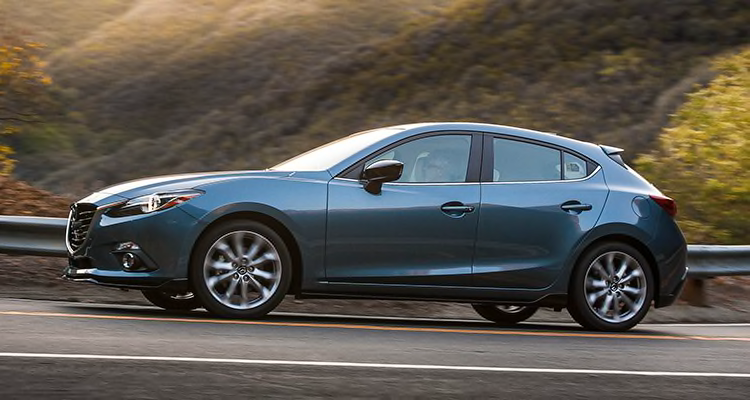 6) Mazda3
Whether as a sedan or hatchback, the Mazda3 is fun to drive, thanks to its great handling. At 33 mpg, the Mazda3 is the most fuel-efficient compact that isn't a hybrid or a diesel. It also offers a host of luxury features rarely matched by any other small car, including a multimedia system with a large center screen and active safety features like a blind-spot monitoring system. Despite the owner takes below, our testers found that the Mazda3 tends to be loud on the highway, and ride comfort isn't stellar. The multimedia controls can be daunting at first and take a while to master, and other compact sedans have roomier rear seats.
Subscribers said:
"Excellent acceleration; easy to change speeds in slow traffic; good gas mileage."
"Gets great gas mileage, love the car, it's quiet and very comfortable."
Read our complete Mazda3 road test.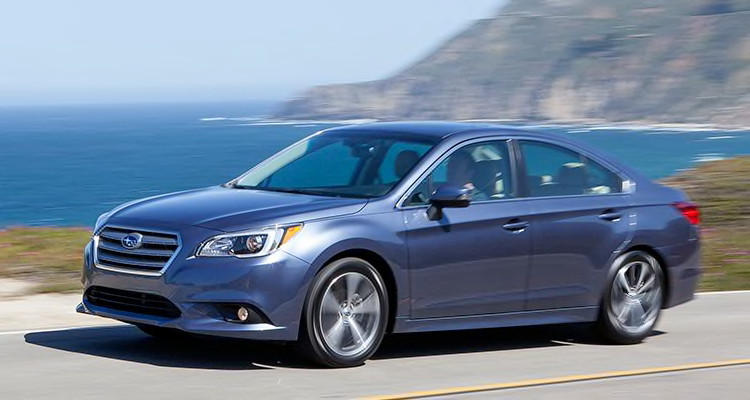 7) Subaru Legacy
The Legacy is one of the roomier, quieter, and more refined midsized sedans, helping it become our top-scoring car in the class. Its ride is better than some luxury cars, and handling is sound and secure. The 2.5-liter four-cylinder is no rocket, but it gets the job done and returns 26 mpg overall. A stronger, quieter 3.6-liter six-cylinder is also available. The unobtrusive continuously variable transmission behaves much like a conventional automatic. The infotainment improvements include a 6.2-inch touch screen and multifunction display with Internet radio and Bluetooth. New safety features include a standard rear-view camera and an available rear radar system with blind-spot, cross-traffic, and lane-change warnings.
Subscribers said:
"Excellent visibility, top of the line vehicle with all of the latest safety features, excellent engine and CVT transmission. All wheel drive—expect it will provide excellent traction during upcoming winter."
"I love the safety features of the vehicle. They have prevented problems in high-density traffic."
Read our complete Subaru Legacy road test.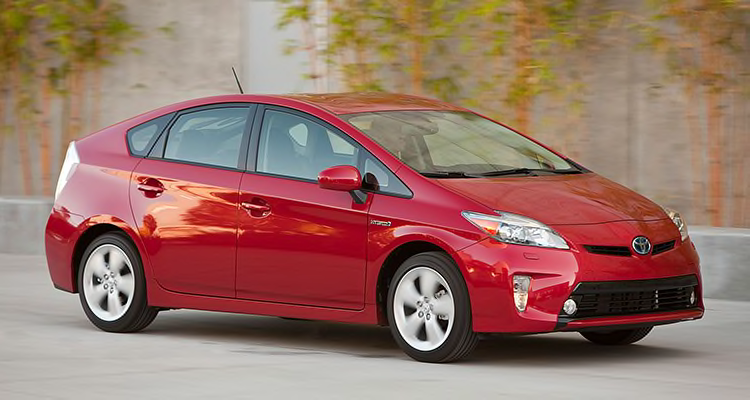 8) Toyota Prius
The Prius is extremely economical, averaging 44 mpg overall and 55 mpg on the highway in our tests. With light throttle input, it can quietly drive on electric power up to 25 mph. The ride is firm yet steady, and handling is sound and secure though not particularly agile. Road noise is pronounced. The interior is roomy, but fit and finish is just so-so and some controls take time to master. The plug-in version typically delivers around 12 miles on electricity, boosting mileage to the equivalent of 67 mpg. When the electric range is depleted, the car reverts to regular Prius performance, averaging 43 mpg overall. A redesigned Prius, with an EPA-estimated 52 mpg combined, goes on sale in early 2016.
Subscribers said:
"I can get on the HOV lane when driving alone, which saves me a great deal of time on a very long commute. I save a great deal of money on gas and feel very good about helping the planet."
"The Prius is excellent on gas mileage because of it's electric/gas hybrid system. I can now drive to work using gasoline to propel my car, half of the time, saving big on gas costs, as well as helping the environment."
Read our complete Toyota Prius road test.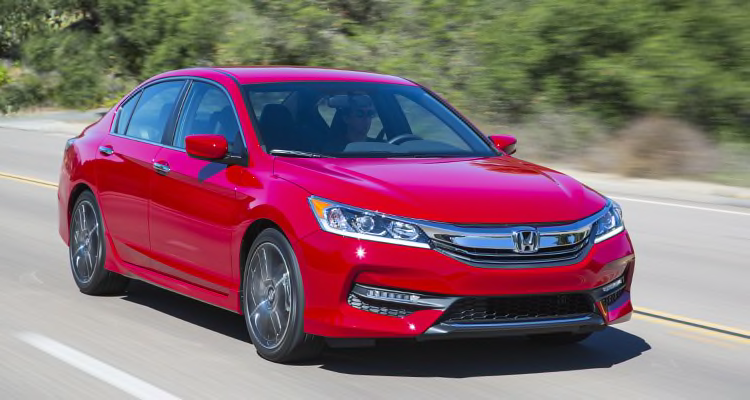 9) Honda Accord
The four-cylinder Accord is well-equipped, competitively priced, and performs well, making it one of our top-rated family sedans. It handles responsively, though the ride can be choppy. It has a roomy and well-finished interior, and gets 30 mpg overall with its unobtrusive CVT. The 3.5-liter V6 is lively and refined, and gets a very good 26 mpg overall. But the infotainment system on high-end versions is unintuitive. The Hybrid model returned 40 mpg overall but is on a hiatus for 2016; Honda has promised to bring it back with an updated powertrain in 2017.
Subscribers said:
"Excellent handling-sport model. Great gas mileage. Roomy, comfortable, great view on all sides while driving, easy to drive. Feels like quality. Reliability history solid."
"Its excellent fuel economy, good handling, comfortable seats, and smooth transmission make it an economical and enjoyable vehicle in which to commute."
Read our complete Honda Accord road test.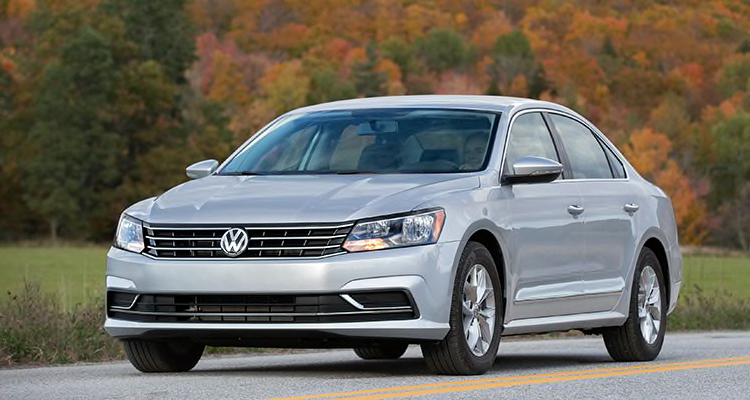 10) Volkswagen Passat
The midsized Passat sedan has a lot going for it, including generous interior space, responsive handling, and a comfortable, quiet ride. The primary powertrain is an energetic 1.8-liter turbo four-cylinder and a six-speed automatic. High-end versions use a powerful 3.6-liter V6. The 1.8-liter turbo averaged a very good 28 mpg overall and 39 on the highway. Front seats are accommodating but very firm. Extra-spacious rear seats are a big plus, and the trunk is huge, but fit and finish is more mundane than spectacular. We tested the Passat diesel, but the evaluation took place prior to the EPA notification of emissions violations. We will retest the Passat once a recall repair is completed.
Subscribers said:
"Comfortable, quiet ride with great sound system to listen to back and forth to work. Great gas mileage!"
"Comfortable ride. Great fuel mileage. Rear leg room and spacious trunk."
Read our complete Volkswagen Passat road test.