5 of the Least Reliable Cars From Consumer Reports' Annual Auto Survey
Car owners voice their frustrations of what disappointed them
The Consumer Reports 2015 Annual Auto Survey allowed car owners to tell us, in their own (often angry) words, about service problems they had experienced in the past year. With more than 740,000 vehicles included in the survey, owners had a lot to say.

The following comments are a verbatim sampling of what disappointed owners regarding five of the most trouble-prone cars in our survey. Some vehicles may show a high incidence of one problem, but in other cases each flaw has a low incidence but there were many faults scattered across the whole population.
Behind the vehicle images, shot in Consumer Reports' photo studio, is a word cloud that depicts the terms owners used in describing problems, with the size indicating the frequency the words were used.

Our survey is a measure of how reliable a new car you buy today is likely to be, based on the past three model years of problem areas reported by consumers. Note that new-car predicted-reliability scores are separate from our road-test scores, which are based on the performance, comfort, and road manners of the cars we buy.
These vehicles are presented with the worst, the Fiat 500L, to the "least worst" . . . although this isn't a consecutive ranking. (See the problems owners experienced with the 20 least reliable cars.)
Click through the links below to see the complete road test and reliability data.
More Exclusive Car Reliability News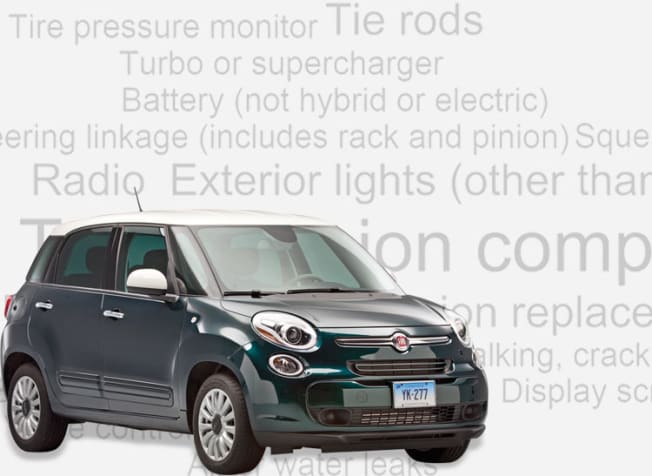 • "Transmission will not shift gears."
• "(Transmission) would not go into gear; stopped on busy road."
• "Car towed five times due to dead battery."
• "Car stopped running . . . engineers told (dealer) to replace the engine."
• "Tie rod broke."
• "Transmission rebuilt twice already."
• "Rough chattering shifts."
• "Fuel pump (failure) happened twice now; melted the first time."
• "Driver's side seat belt no longer retracts properly."
• "Low-beam light replaced."
• "Car seemed to overheat for no reason and was jerky and spastic."
• "The trunk has a water leak. It's always full of water."
• "Side mirror pops off with very slight pressure."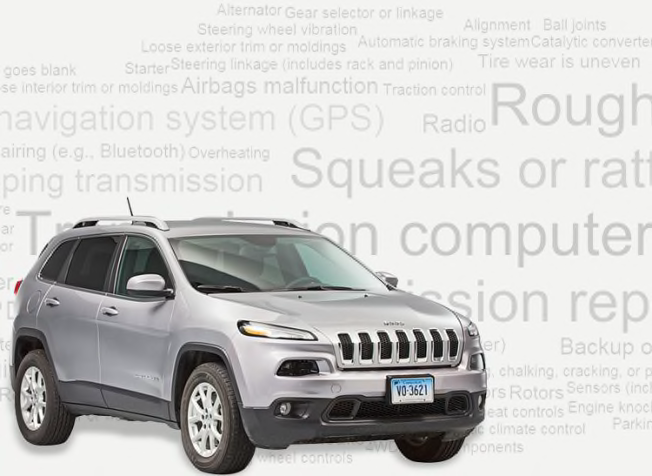 "Transmission needed numerous software patches."

"Vehicle constantly searching for the correct gear."

"Transmission failed twice . . . needed to be replaced."

"Key could not be removed from ignition."

"Squeaking sound . . . dealer cannot find the cause."

"(Tire pressure) warning light constantly on and off."

"Push-button start would not work."

"The whole Uconnect (infotainment system) just died."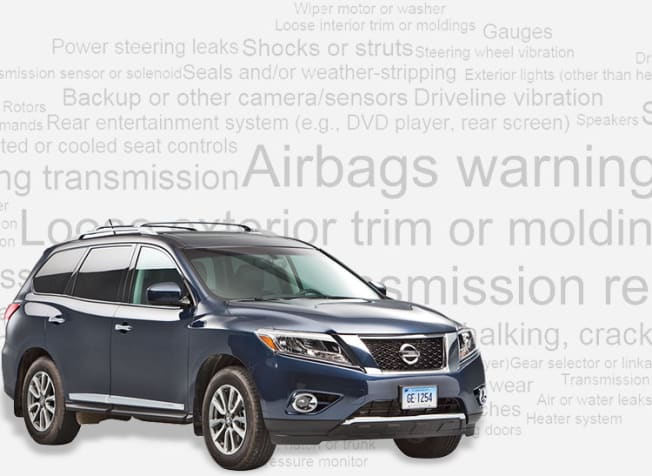 • "Airbag-off warning light illuminates frequently when passenger seat is occupied."
• "Weatherstripping seal on the roof became dislodged."
• "Transmission would hesitate or jerk."
• "CVT would violently shake the entire car."
• "'Judder' as if tranny is falling out."
Chevrolet Suburban/GMC Yukon XL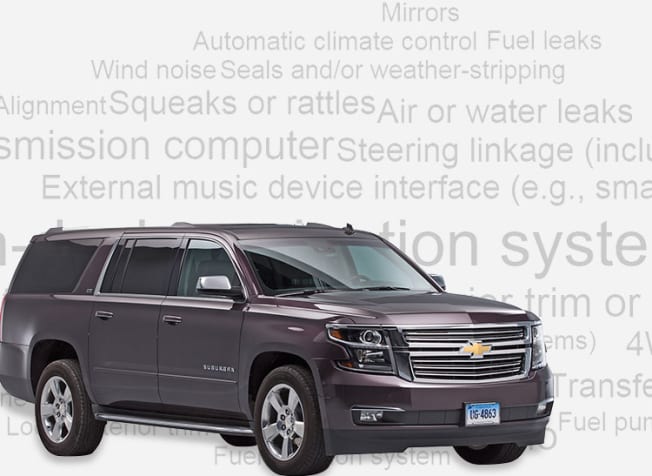 Suburban/Yukon XL Feedback
• "Would not transfer out of two-wheel drive."
• "Safety-alert driver's seat does not vibrate . . . dealer serviced 4 times, still not working."
• "Nav and telephone does not work."
• "Needed new GPS antenna."
• "Power folding mirrors are scratching the paint."
• "Plastic panels on doors come loose."
• "In the shop several times due to front wheel shimmy."
See our complete Chevrolet Suburban/GMC Yukon XL road tests and ratings.