When you shop through retailer links on our site, we may earn affiliate commissions. 100% of the fees we collect are used to support our nonprofit mission.
Learn more.
It's a given that smaller, lesser-known smartphone makers have to try harder to distinguish themselves in a market dominated by multbillion-dollar conglomerates. These models from a Kickstarter company called Nextbit and a newly formed, U.S.-focused Japanese company called Freetel definitely caught our eye with their refreshingly rebel-like approach to phone design and service. These Android smartphones may not be for everyone, but then again, that's not their objective. In any case, they sure are interesting.

Back to the Retro-Future
Freetel's Musashi is a new take on an old form factor: the flip phone. But the Musashi is not your grandfather's Startac. It's a genuine Android smartphone with two 4-inch touch screens.
The outer display, which has a resolution of 800 x 480, allows you to access all most functions. Flipping the phone open reveals the other display, which the Freetel spokesperson said has a much sharper, qHD resolution.
But more interesting is what's below it: A retro-cool, alpha-numeric keyboard (more convenient that a touch screen for dialing new numbers) with call and end-call/power buttons. Above the keyboard is a flip-phone-style joystick for selecting apps and scrolling within web pages and documents. The joystick is flanked by hard buttons for launching email, camera, Web browser, and contacts apps.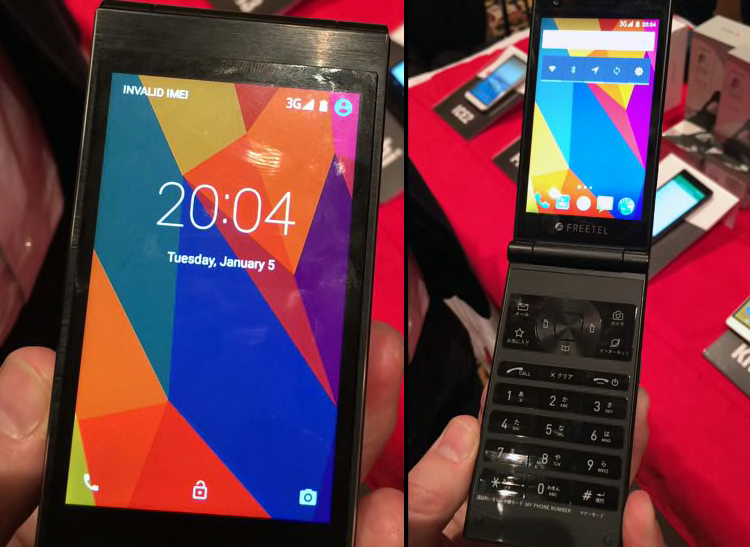 Freetel hasn't revealed Musashi's actual dimensions and other specs yet, but when folded closed, it seemed to be about a the size of the latest iPod Touch (about 5 inches by 2.3 inches), but a lot thicker, say about a ½-inch thick. Flipped open, it seemed a tad unwieldy, almost as long as a ruler. No word yet on when it will reach the U.S., but we'll be there to receive it and check it out.
A Fly Robin
The thin, slab-like Robin ($399) smartphone drew our attention at CES 2016 because it looked sort of like a Sony Xperia Z painted an eye-catching mint blue (you can also get it in midnight blue). Its shape is clean and uncluttered, as is the desktop of this Android phone. There's no bloatware. In fact, you won't see many of the more useful apps that typically fill a smartphone screen.
And that's the idea behind Robin, a no-nonsense smartphone that keeps things simple by keeping much of what you do on your own personal 100GB piece of it's cloud-based server.
Nexbit says Robin "automatically optimizes" the space on your phone by monitoring your app usage and moving the apps and data you don't use often to the cloud (the generous cloud storage is included with the price of the phone). The phone itself, which has a 5.2-inch 1080 display, comes with 32GB of storage. By default Robin only does this over Wi-Fi when your phone is charging to minimize impact on your data allowance and battery life. That's a good thing, too, because the battery has only 2680 mAh of capacity. Smartphones with such large displays typically require batteries with at least 3000mAh of storage to function for a full day on a single charge.

Robin has four tiny blinking lights on the back to let you know when it is communicating with the cloud server. Another LED on the bottom serves as an alert for important notifications. Other notable Robin features include a 13MP camera with autofocus and dual-tone flash; NFC for wireless file transfers and mobile payments; and a fingerprint sensor for unlocking the phone's screen without a password.
As you may have guessed, spec-wise, Robin is a mid-level smartphone. But that's all most people really need, given that the additional features you'll find on most top-shelf models are gesture controls and settings few people use.
If you want this phone, you had better hurry because Nexbit will stop taking preorders after Jan. 15. The Robin, which is sold unlocked, is available for both GSM (AT&T, T-Mobile) and CDMA (Verizon, Sprint) carriers.