Hurricane Harvey pummeled Houston and its environs and parts of Louisiana with rain for days on end. Their lives upended by water, residents are now faced with mucking out their homes, tearing out saturated drywall, and trying to recover as many keepsakes and family treasures as possible.
Saving your valuables can be a race against the clock because mold can form within 48 hours. To help, the Heritage Emergency National Task Force, cosponsored by FEMA and the Smithsonian Institution, has developed guidelines for how to salvage what you want and dispose of what can't be saved.
The first step is to determine what type of water you're dealing with—salty, dirty, or contaminated by sewage or chemicals. If your valuables have come in contact with toxic water during flooding, you might have to call a professional conservator because trying to clean them yourself can be a health risk. If the water was untainted, then take steps to reduce the humidity around your items as you work to clean and dry them. Here's how from FEMA's checklist:

Save Your Valuables
Prioritize. You may not be able to save everything after flooding, so focus on what's most important to you, whether for sentimental or monetary reasons.

Air-dry. Gentle air-drying indoors is best. Weather permitting, open your windows to increase indoor airflow. If it's too hot and humid, use fans, air conditioners, and dehumidifiers. Avoid using hair dryers, irons, ovens, and prolonged exposure to sunlight, which can do irreversible damage.

Handle with care. Delicate items can be especially fragile when wet, so be careful when you handle them. Separate sodden materials by removing photographs from damp albums and taking paintings and prints out of their frames. Place paper towels between every few pages of wet books.

More on Weather Emergencies
Clean gently. Loosen dirt and debris on fragile objects carefully with soft cloths and brushes. Avoid rubbing, which can grind in dirt.

Salvage photos. Clean photographs by rinsing them carefully in clean water. Air-dry photos on a plastic screen or paper towel, or by hanging them by the corners with plastic clothespins. Don't let the image come into contact with other surfaces as it dries.

Cold storage. Damp objects and items that cannot be dealt with immediately should be put in open, unsealed boxes or bags. If you can't attend to items within 48 hours, you can put photos, papers, books, and textiles in the freezer and clean them later. For more information, learn how to save family photos and records.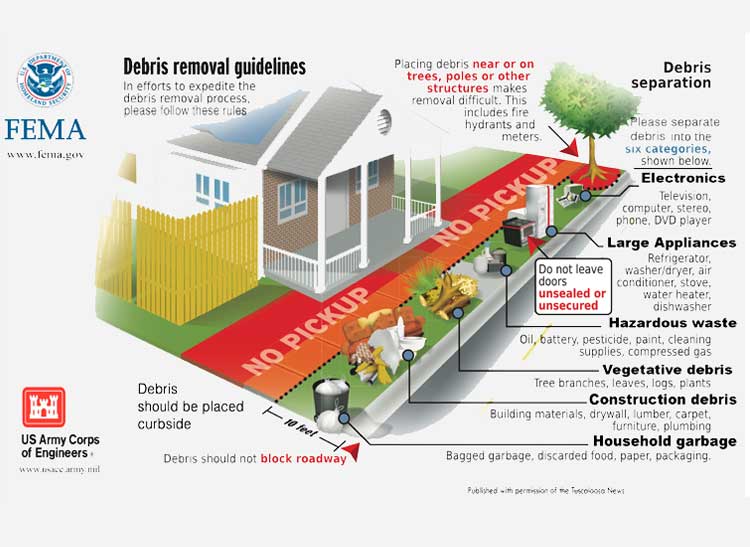 Dispose of the Debris
Once the waters in Houston recede, residents will be able to go back into their homes and start cleaning up, and piles of ruined household belongings will be put on the curb. Cleanup is expected to take months if not years.

Because mold creates a serious health risk, it's important to remove wet items from your home as soon as possible. FEMA recommends not waiting for your insurance adjuster before cleaning up. Instead, document the flooding damage on your cell phone or camera. Before dragging debris to the curb, check with your municipality on how it wants you to separate items for the garbage haulers. FEMA recommends sorting items into the following six categories:

Bagged household garbage such as food, packaging, and paper.
Building materials and furniture including drywall, carpeting, and mattresses.
Vegetation debris such as tree branches, plants, and leaves.
Hazardous household waste including batteries, paints, and cleaning supplies.
Large appliances such as refrigerators, water heaters, and air conditioners.
For more information and resources see FEMA's After the Flood: Advice for Salvaging Damaged Family Treasures, as well as the section of its website devoted to Hurricane Harvey and the floods it caused.
Shopping links are provided by eBay Commerce Network and Amazon, which makes it easy to find the right product from a variety of online retailers. Clicking any of the links will take you to the retailer's website to shop for this product. Please note that Consumer Reports collects fees from both eBay Commerce Network and Amazon for referring users. We use 100% of these fees to fund our testing programs.