Best Coffee Gear Under $50
Low-priced coffee makers, electric kettles, and insulated travel mugs that won't let you down
When you shop through retailer links on our site, we may earn affiliate commissions. 100% of the fees we collect are used to support our nonprofit mission. Learn more.
When it comes to coffee makers and other java-related gear, price doesn't always translate to quality.
That's where Consumer Reports steps in: Our ratings of drip coffee makers, single-serve, and cold brew models—along with reviews for electric kettles and insulated travel mugs—show that you can score quality coffee gear for under $50.
Whether you're into a speedy single-serve machine, a classic drip maker, or you're actually more of a tea person, we've got you covered. Below are some of our favorite hot beverage picks for $50 or less, listed alphabetically.
Willing to pay a bit more? CR members can also check out our full ratings for coffee makers and electric kettles.
Drip & Single-Serve Coffee Makers
This Bella 14755 drip coffee maker may have a modest price, but in our tests it definitely has some bragging rights: It earns an Excellent rating for convenience—it's easy to use and clean—and receives solid marks across the board for its brewing performance.
Like the Bella above, this programmable Black+Decker CM4000S is a steal of a deal for its price: It's incredibly easy to use and scores a Very Good for brew performance. It also features brew-strength controls, allowing you to adjust for different tastes. One minor issue: The reservoir markings are a bit difficult to see—a potential problem if you tend to brew your first pot when you're only half awake.
The 12-cup Capresso SG220 is a great choice, especially for those seeking something very easy to clean and operate. It's a simple machine with a large capacity, and CR's testers rate it Excellent for convenience. It also does well in terms of brew performance, so you won't be disappointed with its java. Though it lacks small-batch settings, it includes brew-strength controls and basic features, such as a drip-stop.

The Chefman InstaCoffee is a CR Best Buy at around $40. Though it costs hundreds less than other top models in our ratings, it will brew up a steaming hot cup of coffee just fine—and speedily. The Chefman scores Excellent in our test for first-cup speed and keeps delivering subsequent cups quickly. However, you'll have to add water before each cup is brewed, and there's no height adjustable drip tray; the Chefman can accommodate cups that are up to only 7.25 inches tall.
For more options, CR members can check out our full ratings for single-serve coffee makers.
The Asobu Insulated Portable Brewer KB900 is more expensive than most of the other manual models in our tests, but it's a superior performer. It offers superb convenience and is the only model in our ratings with a Very Good rating for taste. The Asobu isn't dishwasher-safe, but it has a stainless steel insulated carafe (rare for a manual model) and brews in 12 to 24 hours, depending on how strong you want your coffee.
The Primula Burke Cold Brew Coffee Maker PBPBK-5101 is the most inexpensive cold-brew coffee maker in our ratings—and it's one of the best. It receives an Excellent rating for convenience. This Primula comes with a glass carafe, and most of its parts are dishwasher-safe. It's the only model that calls for a full 24-hour brew time, but you might find the results to be worth the wait.

For more options, CR members can check out our full ratings for single-serve coffee makers.

This AmazonBasics kettle is made of stainless steel and is one of the least expensive kettles in our tests. It's small, though, holding just 4 cups of water—the least of the kettles we test. It's among the fastest to bring our testing standard of 4 cups of water to a boil, clocking in at just under 4 minutes and earning a Very Good rating in our time-to-boil tests. This kettle is the hardest to clean of the models in our ratings, however. The warranty lasts one year.
The 5-cup Bella is the only ceramic kettle in our ratings and weighs 4 pounds when empty, significantly more than some we tested. It takes almost 5 ½ minutes to bring 4 cups of water to a boil, among the slowest tested. And it doesn't keep boiled water warm as long as some. That said, it may provide more counter appeal for some—and it can get the job done if you're not in a hurry.
This 7-cup Hamilton Beach glass electric kettle is one the easiest to clean of the models we tested, garnering an Excellent rating in CR's cleaning test. It brings 4 cups of water to a boil in 4 minutes (which is about average), but keeps it warm for only 38 minutes (which is on the short side).
The 7-cup Secura Original electric kettle is plastic on the outside, stainless steel on the inside, and almost 11 inches high. It's the only model to snag an Excellent rating in our time-to-cool tests: It keeps 4 cups of boiled water warm for 75 minutes, longer than any of the other kettles. The warranty lasts two years.

For more options, CR members can check out our full ratings for single-serve coffee makers.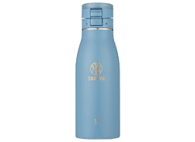 This handsome mug offers styling similar to the Zojirushi below, but it has an extra ounce of capacity and costs about a third less. Like the Zojirushi, you press a single button to pop the top and drink from this mug. It also excels at keeping drinks hot—for 6 ½ hours in our test—which helped it earn a rating of Excellent for temperature retention. The lid is easy to remove and clean, and there's a silicone pad on the bottom of the mug, which protects your desk and keeps the mug from sliding.
Thermos Stainless King 16 oz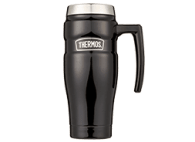 This stellar mug from Thermos keeps drinks hot for an impressive 7 ½ hours. It also has an easy-to-clean lid, which earns a rating of Very Good. One of the three lid gaskets cannot be removed or replaced, so when it goes, so goes your mug. The tapered design means the mug will fit in the cup holder of most cars. Bonus: It has a handy tea hook on the underside of the lid, so you can suspend a tea bag in water without losing it inside.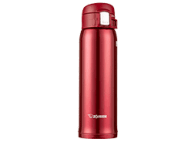 This slim mug is in a league of its own in terms of pure performance. It keeps drinks hot for an astonishing 13½ hours—6 hours longer than the closest competitor in our tests, earning a top rating of Excellent for temperature retention. The screw-on cap is easy to clean, with two removable gaskets. Our testers found the mug easy to open with one hand: Simply press a button on the side and the lid pops up so that you can drink out of the plastic spout. You can also lock the lid, a nice feature if you have young kids who are the type to tinker with a mug filled with scalding hot coffee. The slender design of the mug means it's likely to fit in car cup holders.