Compact washing machines and dryers are an appealing option when space is tight, and having these appliances at home eliminates trips to the Laundromat or your building's laundry room. Despite their reduced size, their price isn't—you'll spend $900 to $2,000 on each appliance.
Consumer Reports tested compact front-loading washers from Asko, Blomberg, Bosch, Electrolux, GE, Miele (shown above), and Samsung. These machines measure 24 inches wide and 34 inches high; depth varies from 24 to 28 inches. All of the models we tested are stackable. The results are in our washing machine Ratings.
Compact laundry appliances are expensive, in part, because expensive design solutions are needed to maximize capacity, unique tooling is required to manufacture the machines, and demand is low, says Danielle Whah, product director of front-load laundry at Whirlpool.
How We Tested
Using the normal cycle, or its equivalent, and 6 pounds of laundry, we tested each washer's ability to clean and remove common stains, noting the time it took and how gentle it was on fabrics. We determined the amount of water used and the energy needed to run the washing machine, heat water, and then dry the laundry using an electric dryer.
No one, especially someone living in a smaller space, wants a laundry appliance that makes a racket, so we rated each washer's noise level. Washer vibration matters, especially if the washer is installed on a second floor of a home, so we rated that too. And while a big capacity isn't why you buy a compact washer, we scored capacity to help you compare models.
Test Results
The best compact washer we tested is the Bosch 800 Series WAT28402UC, $1,250. Wash time was a brisk 60 minutes. And this Bosch compact washer was impressive at cleaning and excellent in our tests for gentleness, water efficiency, and noise. Claimed capacity is 2.2 cubic feet—that's about 10 full-sized bath towels. Vibration, however, was only good.
None of the compact front-loaders did very well in our vibration tests. These machines spin fast to extract more water, cutting dryer time, and that high spin speed causes vibration. (Most full-size front-loaders we've tested do not have this problem.) So make sure your compact washer is properly balanced when installed, and if vibration becomes an issue, choose a slightly lower spin speed to see whether that helps.
Check our washing machine Ratings to find out how the other compact washer models did in our tests.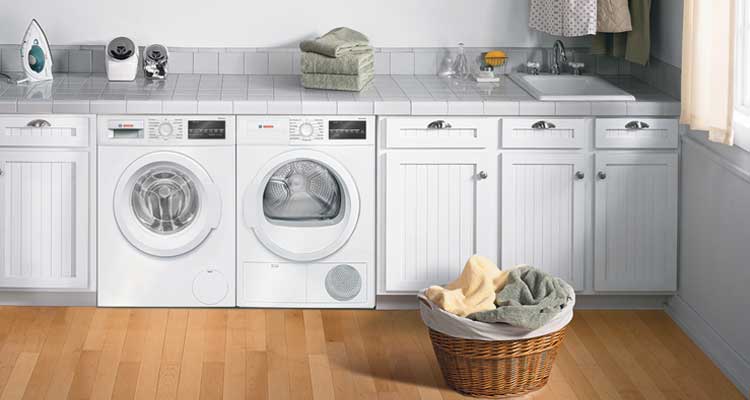 By the Numbers
Here's what our tests of compact washers reveal:
Overall scores: Good to high Very Good scores
Cleaning: Good to Excellent scores
Wash times: 60 to 145 minutes
Water efficiency: Good to Excellent scores. Water usage ranged from 8 to 15 gallons per load.
Energy efficiency: Very Good to Excellent scores. To wash a load in one of these machines then dry it in an electric dryer used 2 to 2.5 kWh of electricity.
Gentleness: Good to Excellent scores
Noise: Very Good to Excellent scores. They're all pretty quiet through most of the cycle, but the washers scoring a Very Good in our noise tests had faster spin speeds and sometimes made annoying sounds in the final spins. It might last only for a few minutes, but you'll hear it.
Vibration: Fair to Good scores
Capacity: Poor to Fair scores. These washers fit about nine to 11 full-sized bath towels.
What You Need to Know
Installation isn't that different from regular-sized washers, and the compact washers can be stacked with their matching dryer.
The Asko, Blomberg, and Bosch washers we tested require a 240V connection. The others use a standard 120V outlet.
Several washers lack a bleach dispenser, and the manual recommends against using bleach. The Features & Specs box on each washer's model page highlights useful features.
Warranties are for one year; Asko washers come with a two-year warranty.
Shopping tip. Washing machines are more complicated machines than dryers, so our advice continues to be choose your washer, then your dryer. See this story for a look at results from our tests of compact electric dryers.
Send your questions about laundry appliances to kjaneway@consumer.org.
Shopping links are provided by eBay Commerce Network and Amazon, which makes it easy to find the right product from a variety of online retailers. Clicking any of the links will take you to the retailer's website to shop for this product. Please note that Consumer Reports collects fees from both eBay Commerce Network and Amazon for referring users. We use 100% of these fees to fund our testing programs.