As law enforcement around the country continue to battle the opioid epidemic currently raging in the U.S., federal officials say they've made a sizable bust in New York City, seizing enough fentanyl and heroin "to kill half the population" of the Big Apple.
According to the U.S. Drug Enforcement Administration, official seized almost 20 pounds of what is believed to be fentanyl and heroin from an apartment building across the street from Central Park last week, as well as from a vehicle. Four people have now been charged in connection with the bust.
The busts
DEA agents were conducting surveillance near the building on Central Park West on Aug. 4 when they saw one defendant leaving with two boxes inside a large shopping bag. He got into a vehicle driven by another defendant, an Uber driver, with agents following behind.
Investigators stopped the vehicle, and observed the suspect sitting in the backseat with two boxes: One box was open and they could see a clear plastic bag containing a tan powdery substance inside.
After looking more closely at that box — the larger of the two — investigators say they also saw six large cylindrical packages wrapped in tape and plastic wrap.
RELATED: DOJ Shuts Down Online Dark Market Peddling Opioids, Guns, Hacking Tools
And in the smaller box, officials spotted a large cylindrical package wrapped in tape and plastic wrap, and a clear plastic bag containing a tan powdery substance.
Agents seized the packages, and arrested both the Uber driver and the passenger. Meanwhile, investigators kept watching the building, and eventually observed a man previously identified as a member of a drug trafficking organization exiting with another man. When questioned by agents, he said he lived in the building, and admitted to having a gun and drugs in the apartment.
Officials obtained a search warrant, and a search of the apartment resulted in two large ziplock bags containing about three kilograms of a suspected fentanyl and heroin combination, as well as 1,100 individual dose glassine envelopes that had been filled with powder and stamped with the brand name "UBER."
Agents also found a loaded pistol, $30,000 in cash, several identification cards for other individuals, multiple cellphones, and ledgers.
Not only that, but supplies and paraphernalia that are consistent with what one would need to mill heroin and fentanyl were discovered, including: Stamps, rubber bands, folding tables, boxes of ziplock bags, a heat sealing device, gloves, masks, and empty glassines branded with names like "McDonald's," "Uber," "Walking Dead," and "Black Friday."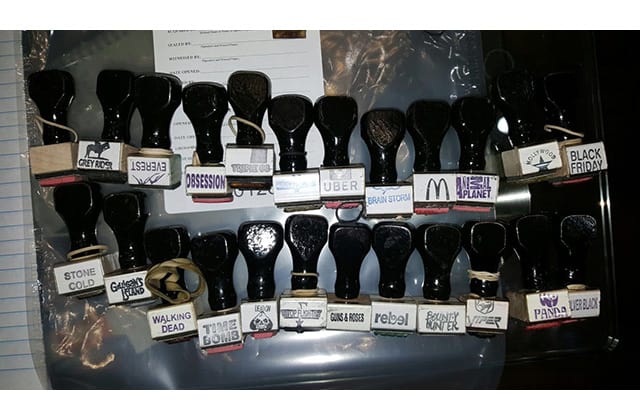 The drugs were sent to the DEA New York Division laboratory for testing. While the street value of the drugs is estimated at about $3 million — at least — it could be more, depending on the potency and proportion of fentanyl to heroin.
A very dangerous problem
Fentanyl is about 50 times stronger than heroin, and officials say they're finding it mixed more and more into the illicit narcotics supply in NYC: According to the city's department of Health and Mental Hygiene, fentanyl is driving a spike in fatal overdoses, which reached an all-time high of 1,374 deaths in New York City in 2016 – a 46% increase over 2015.
"Fentanyl is the deadliest street drug to ever hit this country," said DEA Special Agent-in-Charge James J. Hunt. "This seizure alone contains enough potency to kill half of the population of New York City, if laboratory analysis proves it is all fentanyl. Fentanyl is manufactured death that drug dealers are mixing with heroin."
If he's being literal, well, the population of NYC is somewhere between 8 and 9 million people. Either way, that's a lot of drugs.
The opioid crisis is an issue that's migrated from isolated areas to suburbs and big cities as well. To that end, the President's Commission on Combating Drug Addiction and the Opioid Crisis recently urged the Trump administration to declare a national emergency.
Editor's Note: This article originally appeared on Consumerist.