It's been rumored for months, and recently leaked in detail but finally, confirmation day has come: Apple announced new iPhones and a slew of other stuff today at an event in Cupertino.

CEO Tim Cook began by honoring late Apple CEO Steve Jobs, for whom the company's new theater on Apple's new campus (the praises of which Cook sang at length) was named, and asking everyone to consider donating to relief efforts for those affected by Hurricanes Harvey and Irma before getting into the meat of his presentation.
Yes, there are new phones
After a decade, it's definitely no secret: New year, new iPhone.
Apple's shaking things up a little bit this year, though. They're skipping the 7S generation that we might ordinarily expect a year after the 7, and going straight to the iPhone 8 and 8 Plus.
The iPhone 8 and 8 Plus promise to use fancy new A11 "Bionic" high-speed chips and provide spectacular color displays, as usual, and alas, the headphone jack does not come back. This time, however, the aluminum in the phone is covered in glass both on the front and back for extra breakability, although Apple claims it is the "most durable ever in a smartphone."
What that glass does buy you, however, is wireless charging. "Words can't describe how much nicer it is to just pick it up and put it down" rather than having to plug it in, Apple exec Phil Schiller said, explaining that Apple is working with other companies worldwide to standardize the tech it's using, Qi, so wireless charging works in cars, restaurants, and with your furniture.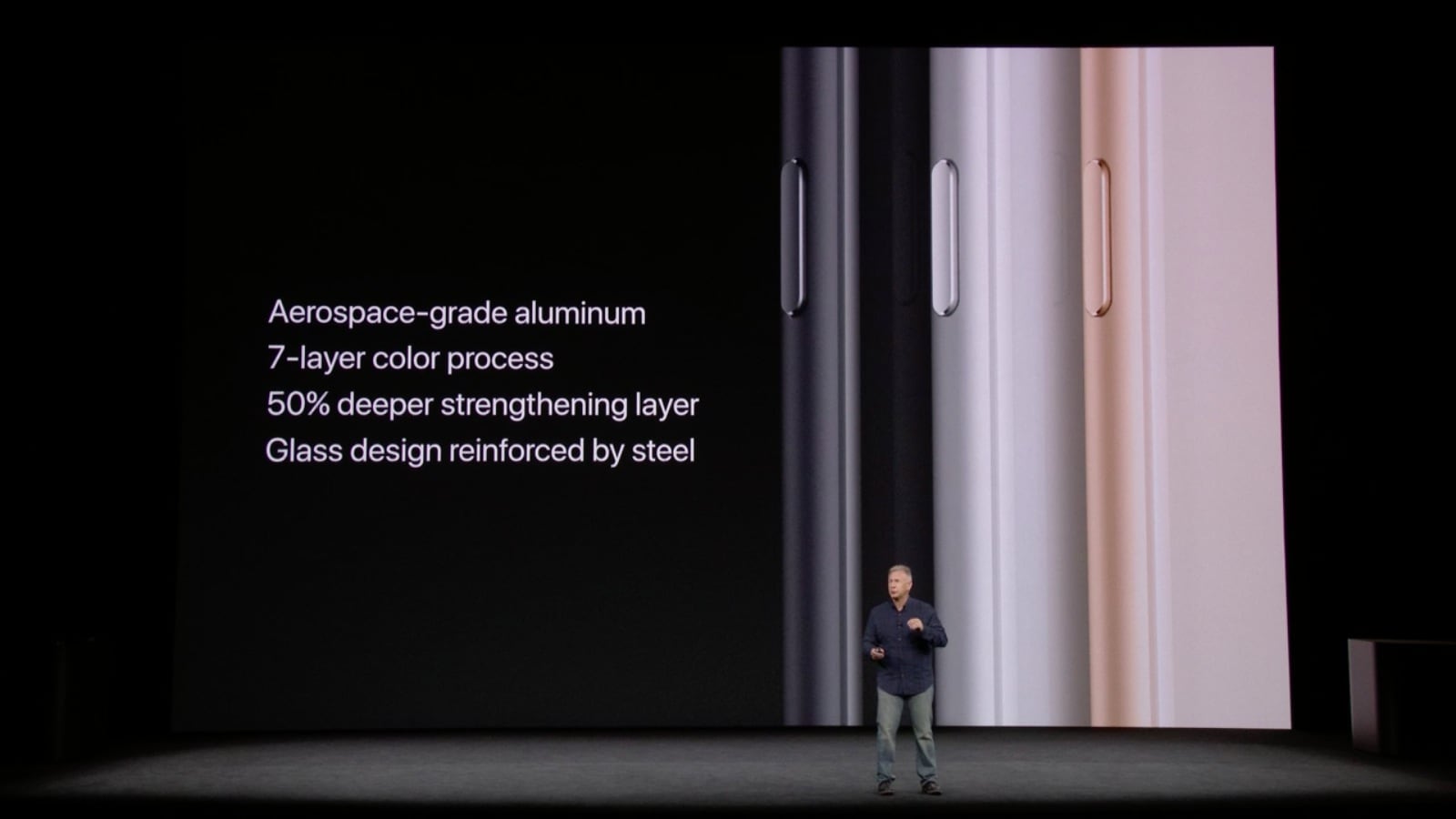 The phone comes in three colors: Silver, "space grey," and gold, and Apple touts increased "splash" resistance. So maybe don't jump into the pool with your iPhone in your pocket, but it might survive if it's on the table when your beverage of choice takes a tumble.
Apple also praised the updated cameras in the iPhone 8, displaying a wide array of images taken to highlight the camera's perception of color and texture, then touted the 4K capabilities of the iPhone 8's video camera, as well as deep-diving on features designed to make augmented reality a thing people will want to use more than we largely do right now.
Apple is eliminating the lower-storage-capacity versions of the iPhones. The 64 GB iPhone 8 will cost $699, and the 64 GB iPhone 8 Plus will run $799. (The 256 GB models are $849 for the 8, and $949 for the 8 Plus.) You can pre-order both on Friday Sept. 15 and buy on Friday, Sept. 22.
THAT OTHER PHONE
Cook also introduced a third model of phone: The long-rumored tenth-anniversary, high-end iPhone X.
"This is all screen," Schiller announced, although unlike Samsung's "Edge" phones the iPhone X does still appear to have a minimal bezel at the sides.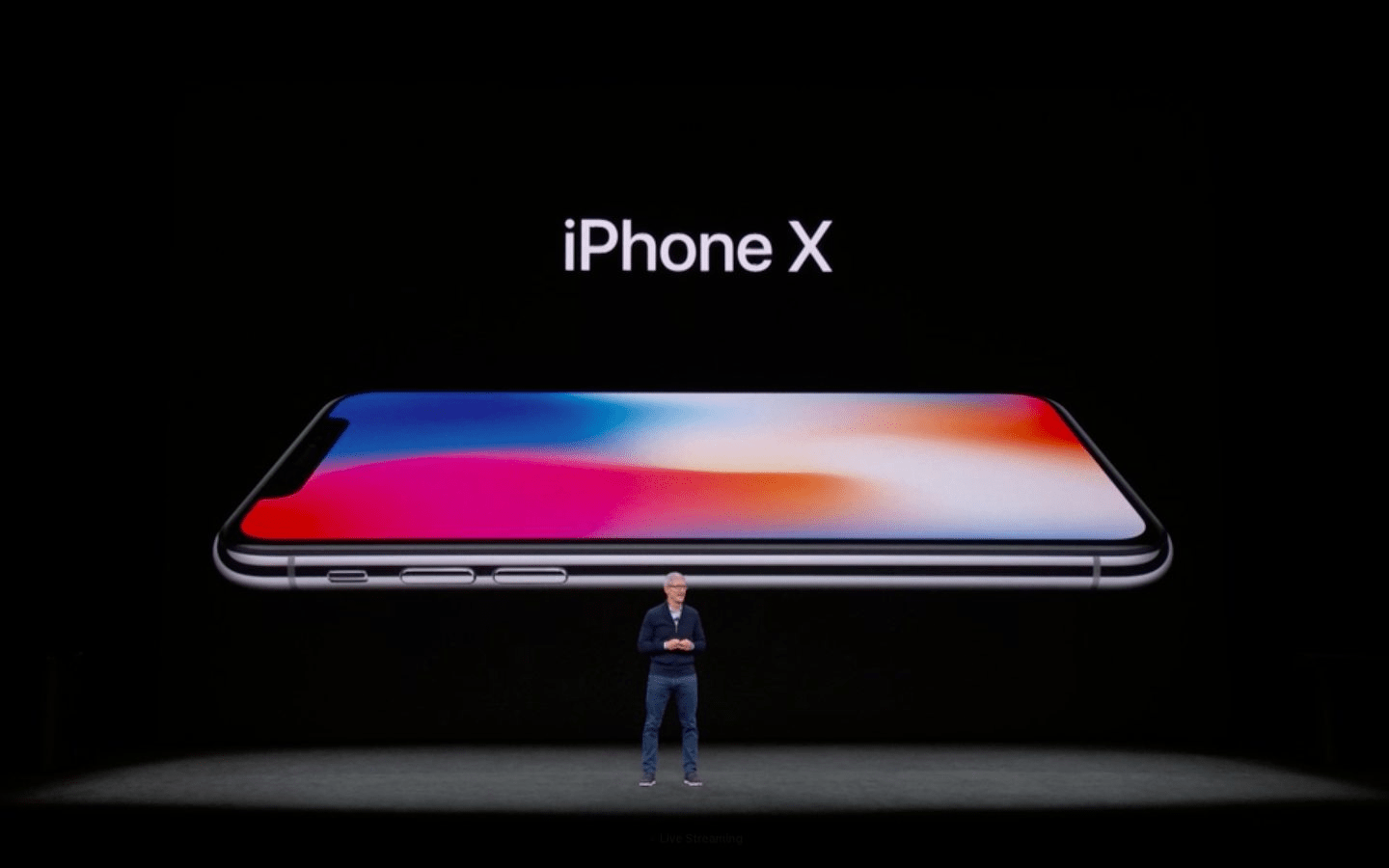 The iPhone X is, as rumored, basically the super-premium version of the iPhone. The "Super Retina" OLED screen spans almost the entire front of the device. The X removes the "home" button, instead putting its functions either under the touch screen, onto the side key, or — for unlocking — into the whole phone itself, which now unlocks with "Face ID."
You don't actually pick your phone up and intentionally put it into selfie mode to match your face; instead, the phone operates "invisibly" to detect if the person picking up and tilting the phone is you, and to unlock your screen if you are. Apple also promises that Face ID, unlike some other facial recognition software, is less vulnerable to being unlockable with a printed picture of a face, or even a life-like mask of one.
Schiller also emphasized that the phone requires "user attention" to unlock, so it won't start displaying everything on your screen if you're distracted, looking away, or otherwise not paying attention. And yes, Apple says, it considered the "Evil Twin" possibility.
As rumored, Apple also promised to use all that face-absorbing technology to let you control "Animoji" with your face, so that frowny face you put in your irritated text can frown when you do. You can also record animated messages with them and use them to send infinitely looping cartoon nagging to your friends and family, who will no doubt love you for it.
As with the 8, Apple once again discussed the features of the phone's camera and A11 chip at length, then promised to add two hours to battery life over the iPhone 8 (including wireless Qi-based charging, which Apple plans to call AirPower).
The iPhone X is available to order starting Oct. 27, and should begin shipping to customers Nov. 3.
Right, but — how much?
The other rumor about the iPhone X, circulating around the internet for the past few months, also came to bear: The fancy phone is Apple's first to hit and cross the four digit mark. The 64 GB iPhone X starts at $999; Apple didn't announce the price for the 256 GB version but it's probably a minimum of $1049. (Update: Once the Apple store came back after the event ended, the price of the higher-capacity phone was revealed to be $1149.)
A $999 phone paid over the standard two-year (24 month) time frame would cost about $42.63 per month — a fairly hefty ask, especially if you're upgrading two or more phones on your account.
Splitting it up over three years (36 months), if available, would reduce the cost to a more manageable $27.75 per month, per device. Though then you'd need to make sure not to lose or damage your phone for three years, which can be a hefty ask for many folks. It's also worth noting that the iPhone X is now the same price as a MacBook Air, which also starts at $999.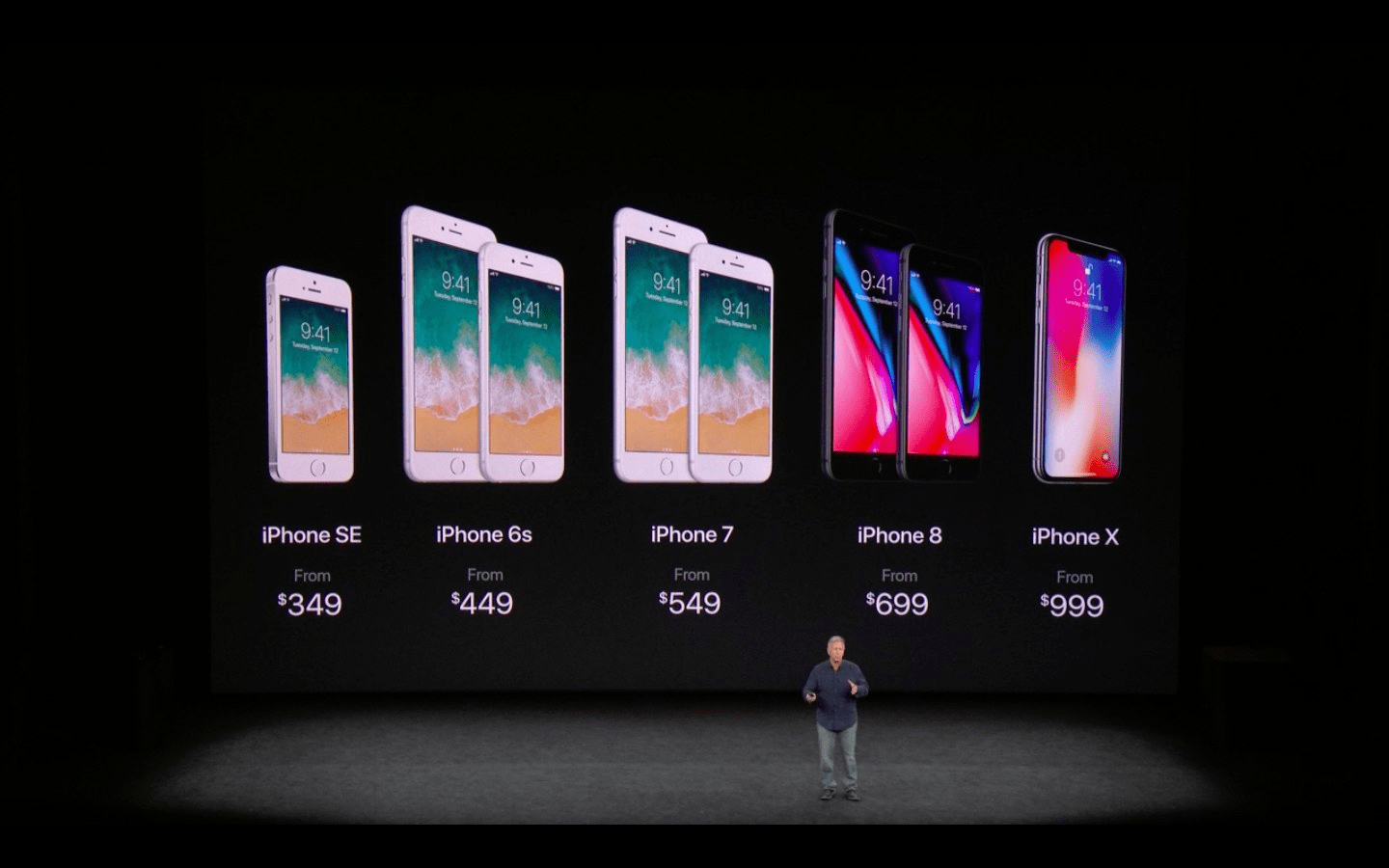 All about upgrading
The real question many iPhone users are probably thinking right now, though, is: How can I upgrade, and what will it cost me?
Apple offers its own upgrade program for device owners.
Some participants in the Apple iPhone Upgrade Program filed a lawsuit against the company last year, saying that last year's iPhone 7 rollout didn't go so well for them because the company prioritized new customer pre-orders first. Hopefully, this year's upgrading process will run more smoothly.
Your wireless carrier will, of course, also be happy to let you spend your dollars with them:
You may be waiting a while.
The Wall Street Journal recently reported that production of the new iPhone has been "plagued by production glitches this summer."
Related: It takes dozens of companies to make your iPhone
The production and assembly challenges that the new iPhones faced over the summer aren't expected to dampen pre-orders or buyer enthusiasm, but they do mean that you could be waiting longer than you'd orginarily expect in order to get your pre-ordered device in your hands. Sources tell the WSJ that Apple's timeline got bumped back by about a month overall from where the company expected it to be.
Not into it?
For high-end phone owners who aren't feeling the whole iPhone thing this year, Samsung's Galaxy S8 has been out since April and its Galaxy Note 8 (non-exploding, hopefully) will be on store shelves Friday. Google is also expected to announce the Pixel 2 during the first week of October.
There's other stuff, too!
iPhones are Apple's headlining product, but far from their only one.
Apple Watch
Cook proudly informed viewers that the Apple Watch is now the number one smart-watch in the world by some undisclosed metric, before finally introducing the newest iteration of the software, WatchOS 4, and the new device, the Apple Watch Series 3.
Apple pushed hard on all of the features in the new version of the Watch OS that apply to folks who like to stay active: biometric monitoring, especially with relation to heart rate and heart rhythm, and the ability to track resting heart rate in order to potentially give early warning of undiagnosed health conditions.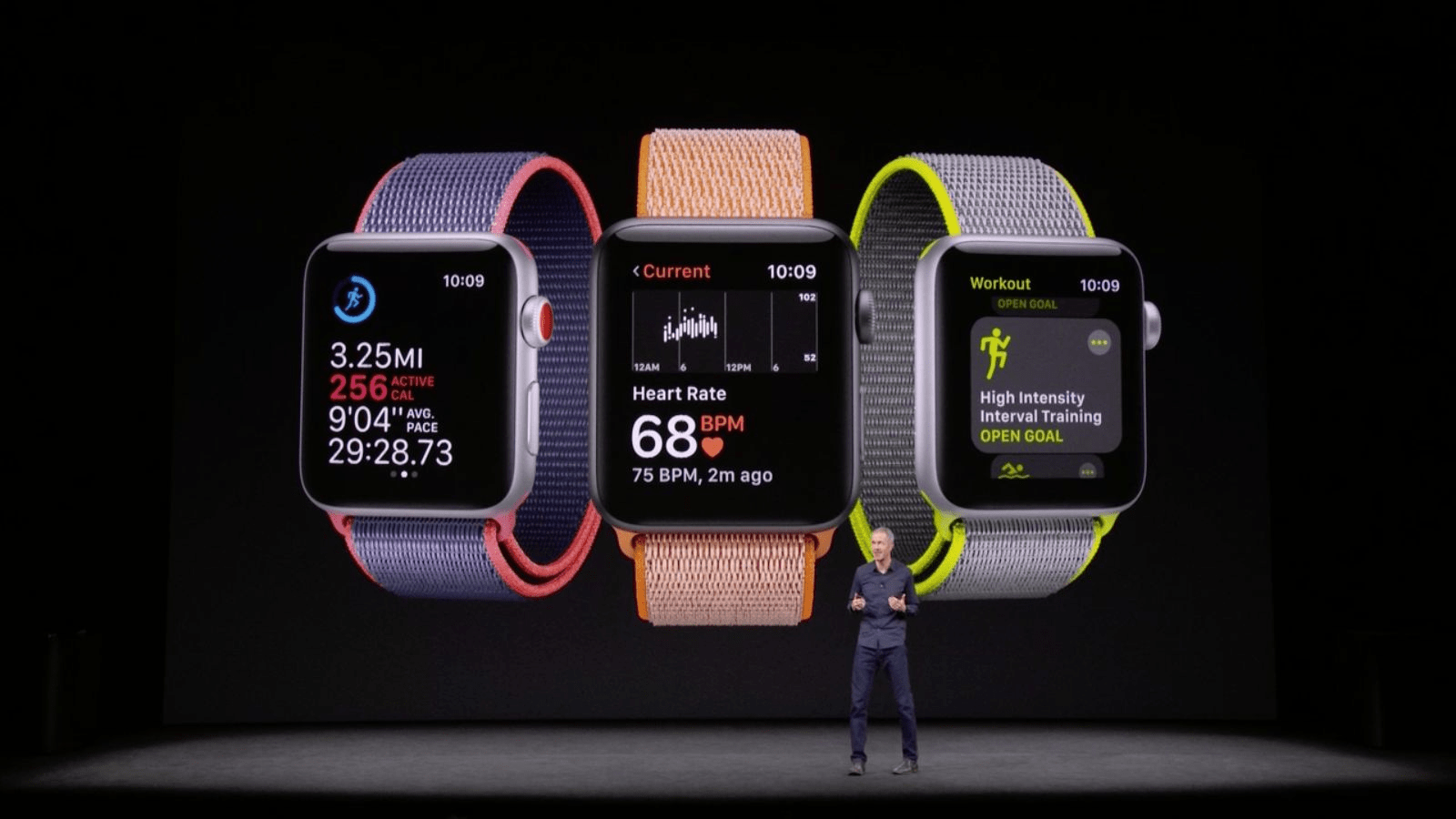 The Series 3 Apple Watch, meanwhile, has integrated cellular communication capabilities — meaning you no longer need to have it connected with your phone in the next pocket, or in fact even near you at all.
The new Watch also responds to Siri voice commands and boasts water resistance, plus full integration to some messaging apps. The benefits Apple touts are on-the-go connectivity when you don't want your phone nearby — like, say, at the beach, or while going for a run. Because you can stream Apple Music directly to the watch, and negate the need to have your giant phone strapped to your arm while careening through city streets.
WatchOS 4 is coming to all existing Apple Watches on Sept. 19, and the new watch will be available to pre-order beginning Sept. 15, and actually to buy on Sept. 22.
The version without cell connectivity will cost $329, the version with will cost $399, and Apple promises you can still get a full 18-hour day of battery life from either one.
AppleTV
Apple, like everyone else, wants to get in on 4K right at the beginning of its era. And the product is, oh-so-creatively, called AppleTV 4K.
The new device will support both 4K and HDR color, in case you have a TV that can actually display those things already. Movies purchased on iTunes in 4K version will cost the same price as HD films, Apple added, and HD movies you've already purchased will get a free 4K upgrade.
Apple also touted content to watch on the new device, particularly live sports and the addition of Amazon Prime Video to Apple TV (
finally
) later this year, then brought out game developer Jenova Chen to showcase
Sky
for iPlatforms, including the Apple TV, later this year.
The cheapest version of the new AppleTV 4K starts at $149, will be available to pre-order on Sept. 15, and starts shipping Sept. 22.
Editor's Note: This article originally appeared on Consumerist.